Barcelona, December 17th, 2020.– BCN3D a leading manufacturer of 3D printing solutions and Distrinova, part of Unitum Group BV, a distributor of additive manufacturing technologies, based in Belgium, announced today their partnership distribution agreement to provide the best possible local experience in the Benelux market. Under this new agreement, Distrinova becomes the exclusive distributor of BCN3D in Benelux.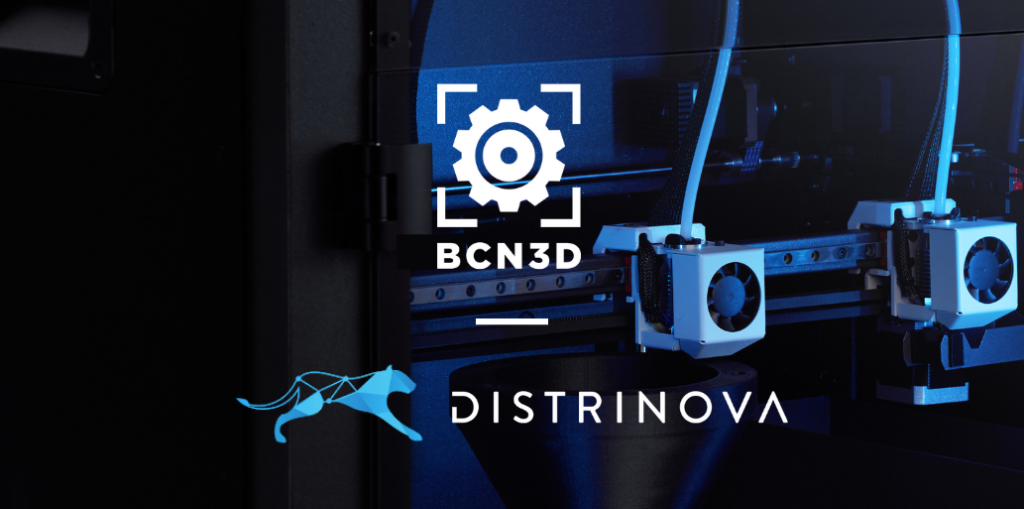 Distrinova is a full-service additive manufacturing solutions distributor with a strong link between the manufacturers and the end users in the whole Benelux region. Distrinova aims to combine a great service with fast deliveries, in a range of only the best products the market has to offer. 
This new partnership arrives after BCN3D has presented the next generations in its additive manufacturing product line, the Epsilon Series and the Sigma Series. With the new Epsilon Series, BCN3D provides industrial power for the seamless daily operation of applications such as low volume production, functional end-use parts, and manufacturing aids in the workbench segment; while the Sigma Series offers a high-quality desktop 3D printing solution, optimal for quick iteration and prototyping processes.
"We are very proud to introduce BCN3D and their high-end solutions into our product range. With this addition, we can provide our partner network not only reliable, state-of-the-art 3D printers, but also the opportunity to offer their customers high value-added solutions for a broad range of new application areas. In addition, the introduction of BCN3D corresponds perfectly with Distrinovas' strategy to develop strong partnerships with the leading innovative global manufacturers of 3D printers," stated Guy Van der Celen, CEO of Unitum Group BV.
"We are pleased to cooperate with Distrinova, an alliance which will support us in increasing our sales & support initiatives in the Benelux market. Their considerable experience in additive manufacturing, combined with a top-quality technical know-how, makes Distrinova the right fit to help us grow and serve Benelux customers in the best possible way", stated Xavier Martínez Faneca, CEO of BCN3D.
About Distrinova
Distrinova, part of the Unitum Group, is a specialized distributor of 3D printing solutions in the Benelux region for a number of 3D printing specialists. By adding BCN3D 3D printers, accessories, and materials to the portfolio, Distrinova can supply even more powerful 3D printing technologies to engineers, designers, educators and other professionals. As part of the collaboration, Distrinova now takes on the distribution of the Epsilon W50, Epsilon W27 and Sigma D25, as well as the accessories, spare parts and consumables through its extensive network of channel partners.
About BCN3D
BCN3D Technologies is one of the leading Spanish and international manufacturers of professional 3D printing solutions,  reaching more than 60 countries. Its main clients include Seat, BMW, NASA, Camper, and the Hospital Sant Joan de Déu in Barcelona. Recent investment has brought BCN3D's total funding to €5,5 million since its spin-off in 2019.
Media Contact:
BCN3D
David Martínez
PR Manager
Phone: +34 935 954 3 43
dmartinez@bcn3d.com
Barcelona (Spain)