BCN3D will show for the first time in Barcelona the new BCN3D Epsilon 3D printer in Advanced Factories. The new machine with the largest capacity for professional use will be presented together with the new filaments.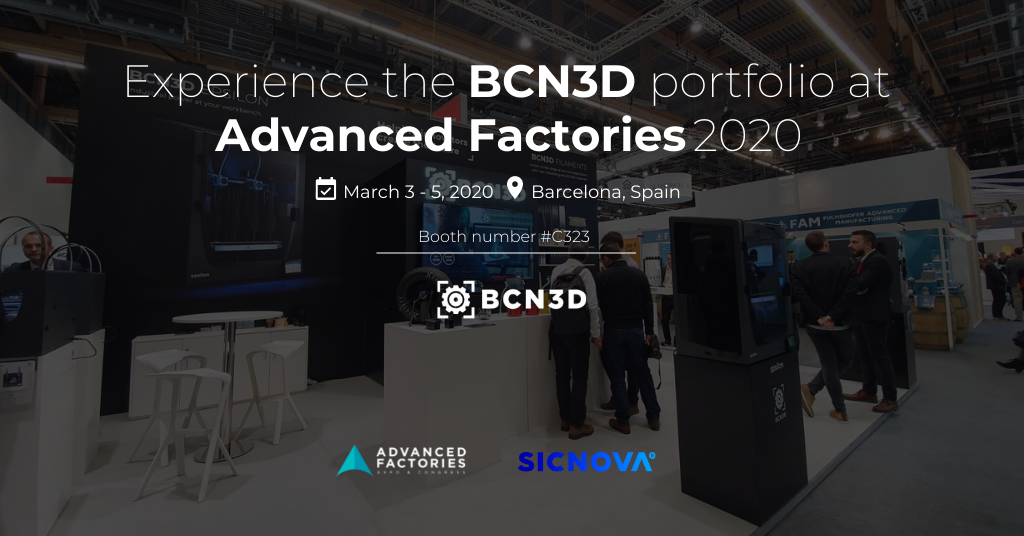 During the next days 3 to 5 March 2020 at the Advanced Factories fair to be held at the CCIB in Barcelona, BCN3D will show visitors its new and powerful printer BCN3D Epsilon. The BCN3D Epsilon is a powerful professional 3D printer, designed to manufacture large scale parts with industrial materials, thanks to features such as its closed design, which allows greater control of temperature inside the chamber.
Equipped with our revolutionary Independent Double Extrusion (IDEX) system, the BCN3D Epsilon prints functional and durable parts with extreme quality and precision. The BCN3D Epsilon is equipped with the latest connectivity features. You can easily send your print files over the wifi network with the BCN3D Cloud online platform. And forget about manual firmware updates thanks to Over The Air (OTA) updates, which will ensure that your printer is always up to date (optional feature).
BCN3D has partnered with renowned chemical companies such as BASF and Mitsubishi Chemical (MCPP) to develop new references for their filament portfolio, and to ensure the BCN3D Epsilon is compatible with them. Thus, from now on, BCN3D's filament offering includes the following materials: ABS, PP, PET-G, PA, PLA, TPU and PVA.
The new BCN3D Epsilon printer and all its filaments can be visited at the SICNOVA booth C323 in the Advanced Factories.