The BCN3D professional desktop 3D printers will be showcased during INDUSTRY 2019. The advanced fabrication event will be taking place on October 29 – 31 at the Fira Barcelona Gran Via Exhibition Center in Barcelona, Spain.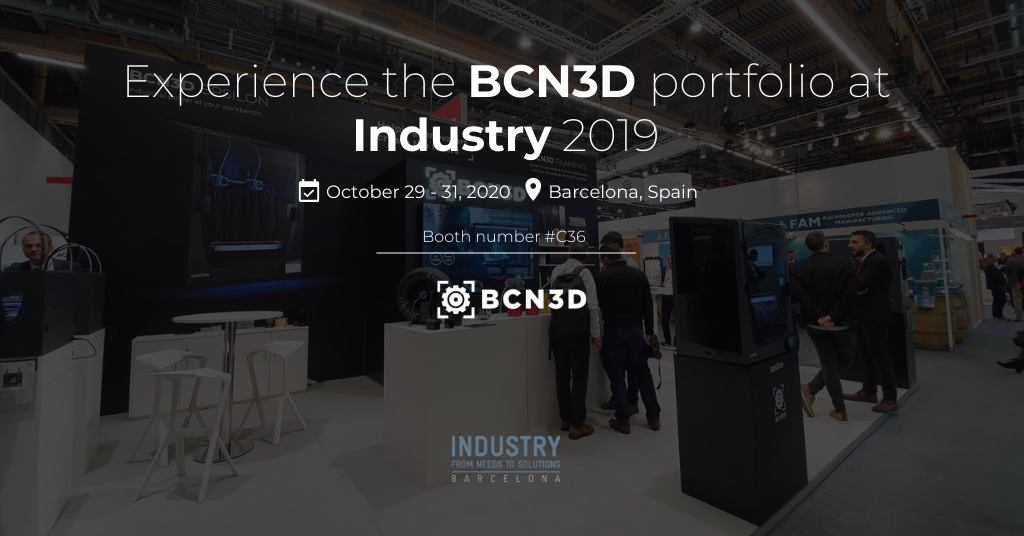 Placing the entire technological universe within the reach of the industry, in its fourth edition, IN(3D)USTRY becomes INDUSTRY, From Needs to Solutions, an event focused on discovering solutions for smarter manufacturing and maximizing results.
At BCN3D, we will be attending in order to provide intelligent manufacturing sollutions for a wide range of sectors such as automotion, aerospace, architecture and research. You will be able to find us in our dedicated space on booth C36, where desktop 3D printers Sigma and Sigmax R19 will be showcased in action.
Visitors will be able to see the capabilities of the IDEX (Independent Dual Extruder) technology, which delivers high-resolution multi-material parts simply and effectively. On top of that, IDEX system equips BCN3D printers with two exclusive and highly productive print modes: mirror and duplication. These allow to print the same model or its symmetrical with both toolheads simultaneously, and consequently, double the production capacity.
The BCN3D R19 printers stand out for their mighty extrusion system composed by some of the most renowned components of the industry —which ensures the finest printing performance-, and a brand-new firmware version equipped with multiple new features, making the operation of the printer smooth and intuitive.
If you are attending INDUSTRY 2019, this is a great opportunity to experience the world of BCN3D printers. Realize the full potential of our 3D printers and discover how they can help your business grow and cut down on production costs while achieving high-quality end results.