Today we announce a new software version for our Sigma and Sigmax 3D printers: BCN3D Cura 2.0, based on the latest version of Cura 3.2. New interface, reduced printing time and new slicing features!
A few months ago, thanks to the feedback provided by our users, we published BCN3D Cura 1.1.0. It represented a great improvement in terms of print quality, reliability and double extrusion management. After a beta period, today we officially release the new BCN3D Cura 2.0.
UI improvements
– Brand new UI: Use recommended settings for quick and easy print setup using intuitive sliders to prepare your print, or use custom settings to individually tweak over 200 unique slicing parameters.
– Reduced print time and material consumption: Recommended mode has new default settings that aim to save print time, material usage, and material costs.
– Layer view: The existing Layer view has been updated and now includes a virtual print head that simulates the printing strategy. This can be used to preview the printing sequence of infill and walls, and if line ordering affects overhangs. The layer path slider has been added to navigate through the printing strategy of the selected layer.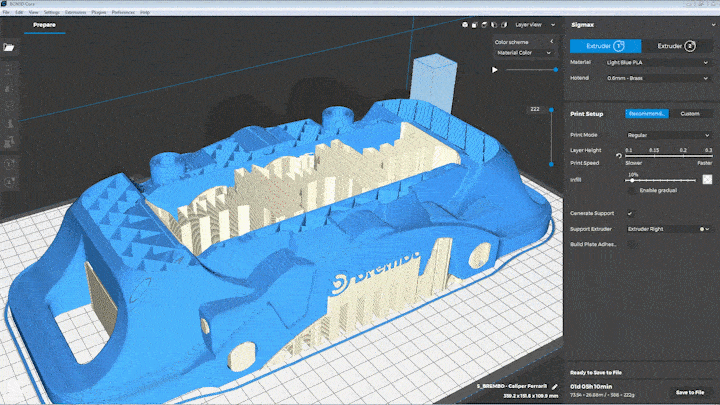 – Rasterized build plate. The build plate now shows graduations of 10 mm and 1 mm for more accurate model positioning.


– Quick camera controls: New buttons have been added to the interface that can quickly reposition the camera view of the build plate. This includes an isometric, front, top, left, and right views.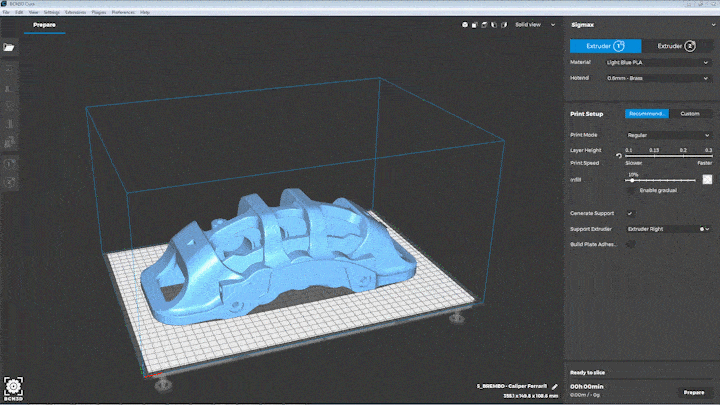 – Copy all changed values to all extruders: New option right clicking any parameter in the sidebar.
New slicing features
– Automatic position for the Prime Tower: Select which area you prefer the tower and Cura will find the best position for the tower following your preferences.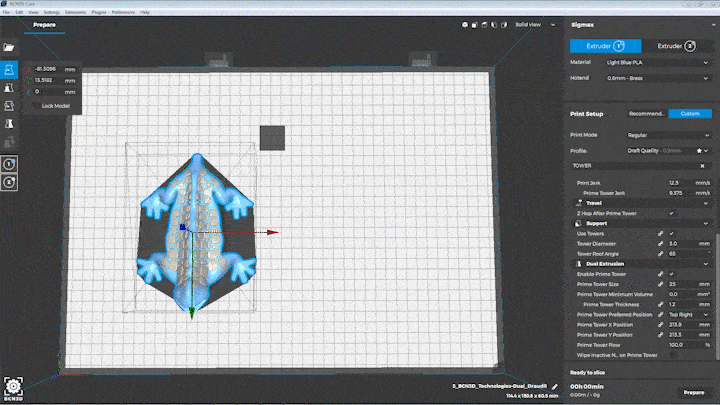 – Purge Before Printing: New option to purge in bucket before start, avoiding start gcode edition.
– Purge At Tool Change: Add an extra prime amount in the bucket to compensate oozed material while the Extruder has been idle.
– Print Mode: Allow your Sigmax to print in Duplication/Mirror modes.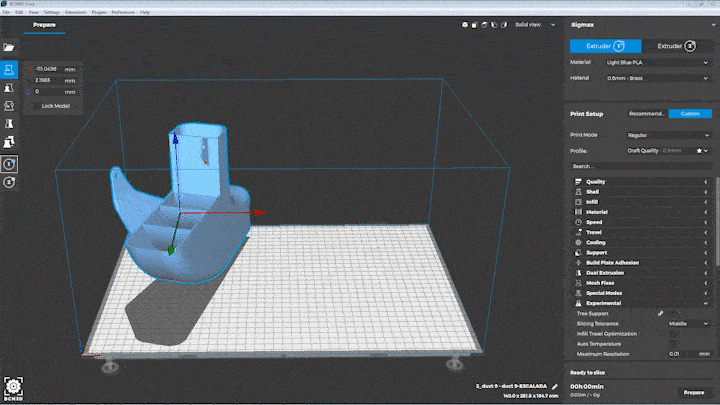 – Z seam options: Gives the user control over where to place the seam – hide it in convex corners or in easy to remove locations such as concave corners. This doesn't let corner angles influence the seam position.
– Slicing tolerance: A new setting in the quality settings category that affects the intersect point to influence the dimensional accuracy for diagonal surfaces. The user can select the behaviour: 'Inclusive' makes gaps narrower, 'Exclusive' makes gaps wider, and 'Middle' is the fastest to process. When using 'Middle', the first layer will be taller by half of it's height to compensate for the added half layer. A potential use of this feature is to create better tolerances for printed screw holes.

Experimental features
– Adaptive layers: Until now, slicing has been limited to a fixed layer size. Adaptive layers offers an alternative, where layers are printed a variable thickness which adapts to the angle of the model's surfaces. The slicing algorithm assigns a narrower layer height to sloped surfaces, and a wider layer height to vertical surfaces. The result is a high-quality surface finish, at the cost of a marginally increased print duration. This setting can be found under the experimental category.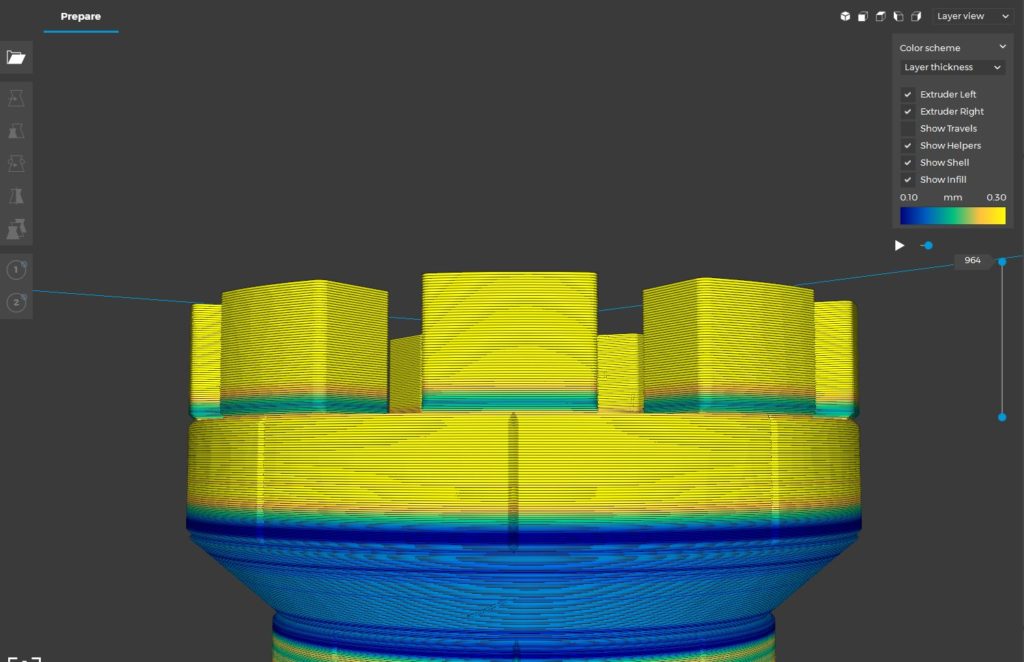 – Tree support: Tree support is an experimental support method which uses 'branches' that 'grow' and multiply towards areas that need support, with fewer points of contact on the model, giving better surface finishes. This makes it ideal for organically-formed prints. It is possible to use tree support in tandem with other support methods.

Update now
You can read all the new features and new developments of this new BCN3D Cura 2.0 on our Github. If you have any questions or comments that you want to share with us, you can share it on our GitHub or contact us via email sat@bcn3dtechnologies.com.
Download BCN3D Cura 2.0
Disclaimer: Some of the notes have been copied from Ultimaker's release notes.