The easy-to-install upgrade kit will equip your BCN3D Sigma with the latest R19 features:
· Hotends: The hotends provide a smooth and reliable extrusion under different printing environments for FFF.
· Filament Runout sensor: A mechanical switch to detect filament presence, allowing to prevent from one of the most common and frustrating failure reasons. In case of running out of filament during a print job, the printer will automatically pause and warn the user to load new filament to resume the print, letting to save time and money.
· New graphic user interface: The refined R19 GUI and UX include new informative screens, maintenance recommendations and guided assistants, as well as access to advanced printing settings.
· Dual gear feeder by Bondtech™: New extruder made with aluminum CNC machined body and hardened steel drive gears powered by Bondtech. An incredible grip is provided thanks to its high-tech dual drive gears, that have proven to be the best feeding extrusion system, getting rid of grinding issues, no matter the filament used.
What's in the box:
Everything you will need to assemble the components is in the kit. It takes between 1 and 2 hours to be assembled and an online manual is provided.
· 2x Filament runout sensor set (1)
· 2x Bowden entry part (2)
· Set of Shims to properly print with Mirror and Duplication modes (3)
· 1x Industrial μSD with Firmware files (4)
· Set of Calibration gauges (5)
· 1x 2mm hex key (6)
· 2x Extruder subsystem with Bondtech gears (7)
· 2x Hotends 0.4mm (8)
· 2x Calibrated Stepper Drivers (9)
· 1x 5,5mm Socket wrench (10)
· 4x black clips (11)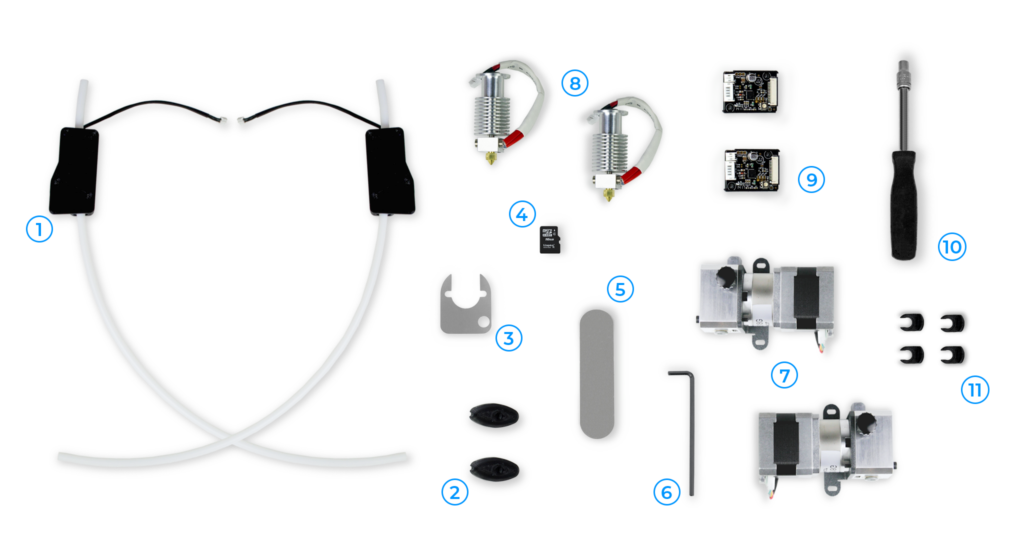 This kit is compatible with any version of the BCN3D Sigma 3D printer, except the Sigma R19 version itself, which already includes these features.