Teton Simulation SmartSlice for BCN3D Stratos features sophisticated print parameter optimization to eliminate costly print-test-redesign cycles and ensure your printed part will perform as expected.
We've wasted no time after the release of our BCN3D Stratos slicing software, quickly putting our heads together with Teton Simulation to create SmartSlice for BCN3D Stratos. While savings vary depending on part and use case, the average SmartSlice user reports 30%+ reductions in print time and material usage. 
"Teton Simulation's SmartSlice is an innovative tool that really empowers its users to unlock cost and time-effective, functional 3D printing. It really matches BCN3D's mission to provide solutions to change how the world is made, so it was a no-brainer decision to integrate SmartSlice into BCN3D Stratos. However, what excites me the most about this partnership is thinking about the disruptive potential that simulation and optimization can have in the daily 3D printing workflow in the mid-term. This integration is just the very first step in the right, future-proof direction."  – Eric Pallarés, CTO of BCN3D. 
Step by step 
The SmartSlice software will be pre-installed within Stratos and will automatically grant a month-long free trial to anyone with a BCN3D account.
The SmartSlice workflow begins with the selection of material and baseline print settings, and the definition of requirements for part performance. SmartSlice then validates the design, after which the user can manually run tests for different materials and settings, or use the SmartSlice optimization tool to minimize print time and material use. 
The helpful features of SmartSlice for BCN3D Stratos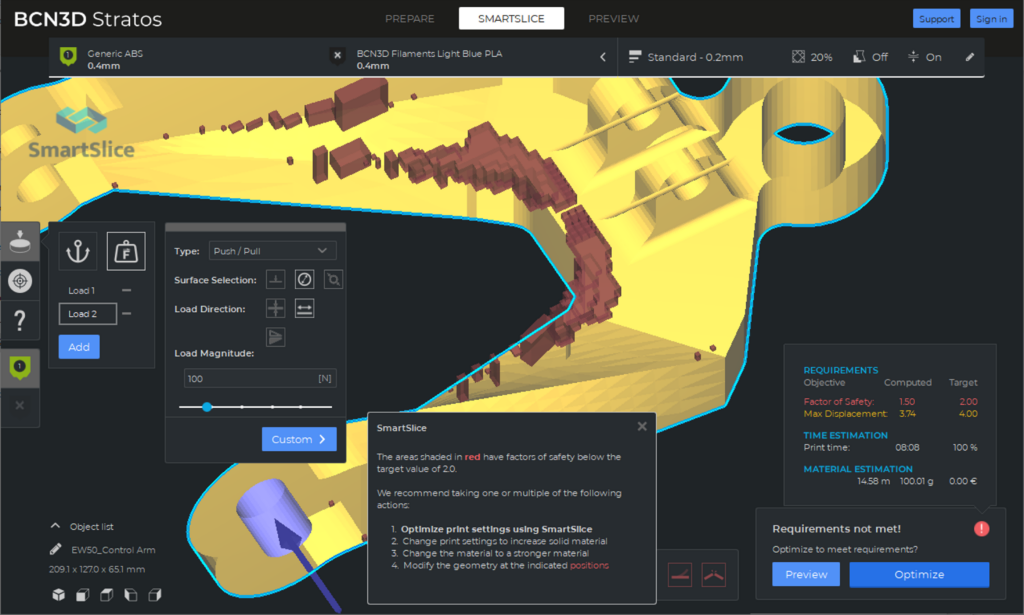 One of the defining features of SmartSlice for BCN3D Stratos is the ability to make smart decisions determining print parameters, optimizing them for performance demands and manufacturing efficiency to reduce print time and material use. Ultimately, that means you will obtain a higher ROI on your projects by saving countless hours and print-break cycles, and you will use  less material, an especially useful feature when paired with IDEX technology. 
The SmartSlice materials database supports a variety of BCN3D Filaments, allowing you to virtually qualify a material for structural applications prior to purchase. In just seconds, the plugin can validate the as-printed performance of your part, allowing you to evaluate whether it's under or over-designed by comparing simulated part deflection and safety factors to limits you define. 
"BCN3D has proven to be a leader in industrial FFF, and providing access to the innovations of Teton Simulation's SmartSlice to their customers within BCN3D Stratos will continue to advance the state of 3D Printing as it moves to production level workflows, allowing users to minimize print time, remove unnecessary print cycles, and reduce material usage – all while ensuring parts will perform as expected." – Doug Kenik, CEO at Teton Simulation
Printing preparation is just as important as the printing itself, so get accustomed to having the SmartSlice for BCN3D Stratos in your life to make wasted time, money, and material a thing of the past!
Get a first look at SmartSlice for BCN3D Stratos at Matterhackers' booth E7247 at Rapid, North America's largest additive manufacturing event taking place on the 13-15th of September at McCormick Place Lakeside Center in Chicago, IL.