Normally, when we think models we relate them to an intense manual work, we never consider advanced technologies of production. But to form something so complex as archaeological deposit, it does that this is not like that. The new technologies of 3D printing They have come to give the solution. The model of a deposit blind person turns out to be the whole challenge as for the process of synthesis of the information for the Blind person, that bases on that one that his hands perceive an exact idea to be done of what exists. Just using the sense of the tact, it can manage to discern the different typologies of materials , to understand the concrete designation of every independent space and those perceive all Particularities That the designer of the model expects to communicate.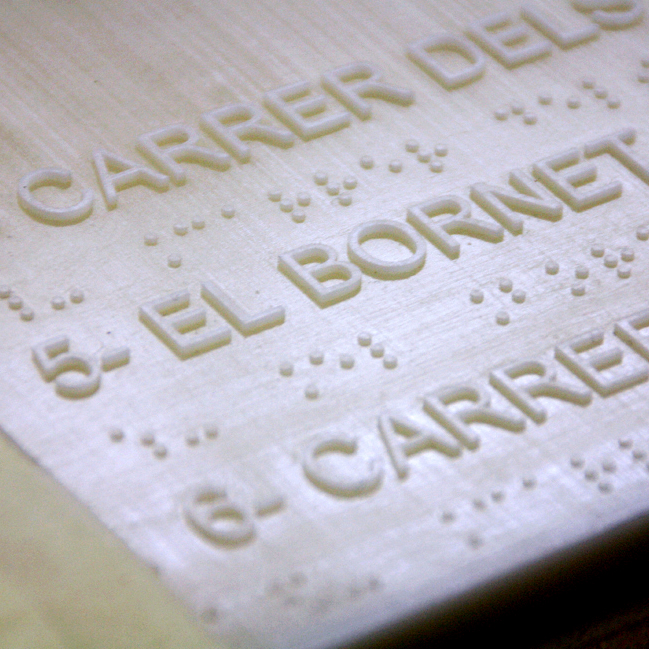 East itself is the aim for which The Born Centre Cultural with the advice of Institut Municipal de Discapacitats, entrusts to the Fundació CIM the reproduction of a tactile totally interpretable model for the recipients of the skin. One makes possible it thanks to the codification of the information and the creation of a suitable language of surfaces for blind persons.
There is synthesized the information , emulating the regulation Braille to facilitate the comprehension of the space. By means of the integration of a light high place – relief of square section of 5x5mm, there have been represented the walls that border each one of the housings identified to the deposit. This way, the user can distinguish the different dimensions of the houses, simultaneously that the reliefs indicate when it is an interior space, low ceiling, or exterior. For the pavements of stone a texture has been in use in squared pattern, the pavements of sand are marked by means of plucked and the section of the Count Irrigation ditch has been marked by waves.
We cannot forget the process of construction of the model of dimensions 1200x600x12 mm, which integrates the technology of stratigraphy (SLA) of an alone piece, an innovation that overcomes the conventions of manufacture. The procedure allows a finished identical mirror the file CAD 3D And his later one assures
The combination of the most advanced technologies and of to be able to play the role of the professionals they have given like proved a model that reflects our potential as industrial country . From the archaeological remains of a defeat, a message of which we have a present and technological future that is to the service of the persons.