BCN3D and Turkish distributor 3Dörtgen are pleased to announce their partnership with a Distribution Agreement. 3Dörtgen is now entitled to distribute across the Turkish market the well-known BCN3D printers Sigma and Sigmax, as well as the full range of filaments, accessories and spare parts from the Barcelona-based 3D printing company.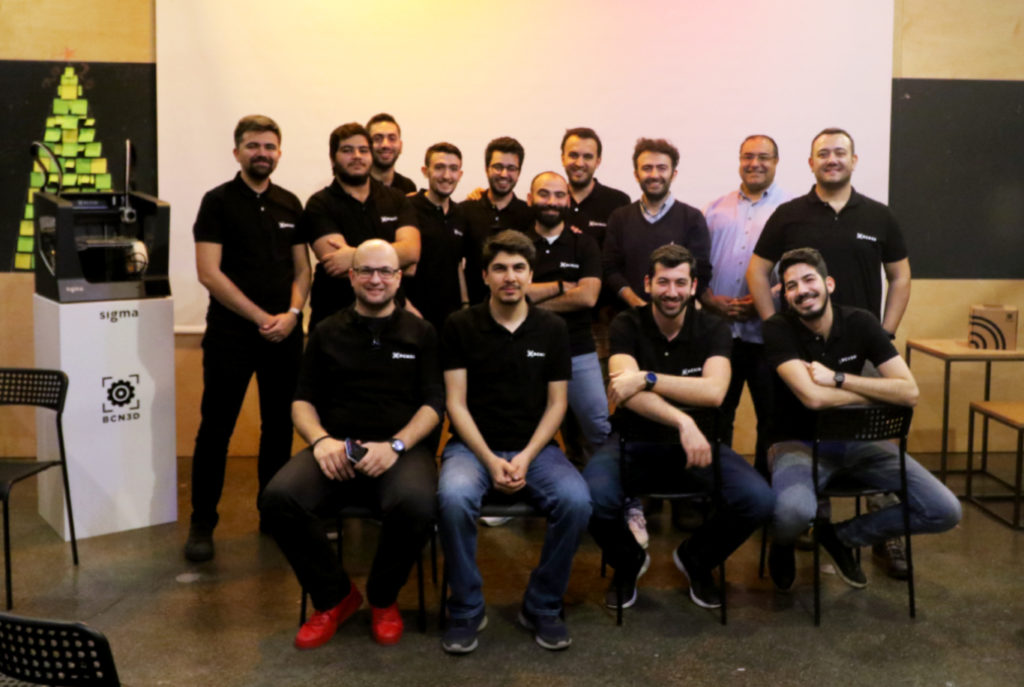 The global expansion momentum has also reached the Turkish market, where BCN3D's existing presence will be strengthened by one of the fastest-growing distributors on the Turkish landscape of desktop 3d printers. Thanks to this new strategic partnership, all Turkish industries and professionals will benefit from the best of BCN3D and 3Dörtgen: cutting-edge technology and high-quality after-sales service.
3Dörtgen started to operate in the 3d printing industry in 2013 in Istanbul, as one of the first 3d shops in all the region. Their growth in the last 6 years is nothing short of impressive: they started in a small office and have now built up a successful company counting on a marketing team a technical service department, and a warehouse, amongst others.
Their 3d Printing Cafe was the first one in the whole of Turkey, a very special location where 3d printers are free to use, so people can just print their own projects.
As for BCN3D, in its firm will to expand knowledge about the many professional applications of 3D printing, as well as the latest developments of their 3D printers and Open Source technology, they continue to expand the frontiers of its distribution network by entering now the Turkish market.
The BCN3D 3D printers portfolio ensures maximum efficiency with the Sigma and Sigmax desktop machines, a professional workbench 3D printer designed to meet the highest demands in the most demanding professional environments where the highest volume of 3D printing is required.
The new agreement between BCN3D and 3Dörtgen will reinforce both parties, as BCN3D's distribution network has gained a reliable partner who will boost its sales and brand awareness in Turkey, while 3Dörtgen's position will be consolidated as an experienced distributor and additive manufacturing solution provider with a portfolio that includes the leading brands in 3D printing.
"We are pleased to cooperate with 3Dörtgen, an alliance which will support us to increase the sales in the Turkish market, where there is a high potential for the IDEX system and the distinctive duplication, mirror and multimaterial printing modes. Their considerable experience in additive manufacturing, combined with a top-quality technical know-how makes 3Dörtgen the right fit to help us grow and serve Turkish customers in the best possible way", stated Xavier Martínez Faneca, CEO of BCN3D.
Vehbi Yavuz, CEO of 3Dörtgen, said "we are extremely excited to announce that our cooperation with BCN3D, one of the leading 3D printer manufacturers of the World. The IDEX technology that BCN3D's 3D printers have, will absolutely attract the attention of manufacturers who need a low-volume mass production. BCN3D's decision to enter the market with 3Dörtgen is an honor for us. We think that the power which both companies have, will feed the ecosystem that created by 3D printer sector in Turkey".

BCN3D IDEX's technology
BCN3D's Sigma R19 and Sigmax uses an Independent Dual Extrusion (IDEX) system for printing multiple materials in the same job, or, and here's why it rules, simultaneously. Indeed for boosting productivity, the Sigma boasts a few print modes that put both print heads to work at the same time, increasing output without skipping a beat.
3D printing is gaining in popularity and is increasingly used in various industries. The popularity of 3D printers also drives the development of the entire 3D printing industry and increases the range of applications. They are becoming more and more commonplace. As their popularity grows, the number of applications increases. They are mainly used for prototypes and models. As of today, 3D printing is already present in almost every industry ranging from the advertising, automotive, plastics, or aerospace industries. The use of 3D printers enables rapid prototyping of complex electronic components and parts for a variety of devices in larger companies.
About BCN3D
BCN3D Technologies is one of the leading manufacturers of desktop 3D printers worldwide. Based in Barcelona (Spain), the activity of BCN3D began in 2012 as a division of the CIM-UPC center, a Technology Center of the Polytechnic University of Catalonia (UPC), the leader in additive manufacturing in the South of Europe. The manufacturing company aims to change the traditional manufacturing status quo by providing reliable, versatile and productive processes. BCN3D Sigma R19 3D printer have been awarded Editor's choice 2019 3D Printer by ALL3DP
About 3Dörtgen
3Dörtgen was founded in Turkey in September 2013 becoming one of the first distributors of desktop 3d printers. They're official distributor of Ultimaker, Raise3D, Colorfabb exclusively and reseller of Formlabs and they created the first 3d printing cafe in the whole of Turkey, where they have some 3d printers free to use, so people could just print their own projects for free. They started to operate in the 3d printing industry in 2013, in Istanbul as one of the first 3d shops in all the region.
The growth they had in 6 years is really impressive: they started with a small office, they have now build up a 3D printing Cafe with some free-to-use units, 1 marketing office, meeting rooms, offices, technical service department, and warehouse. Attached a picture when we visited their headquarters.
Media Contacts:
BCN3D
David Martínez
Phone: (00) +34 934 13 77 52
dmartinez@bcn3d.com