BCN3D is proud to have been nominated for two categories on the 3D Printing Industry Awards (3DPI Awards). These awards are organized by 3D Printing Industry, and the winner for all 20 categories will be made public in a gala dinner in London on June 6th.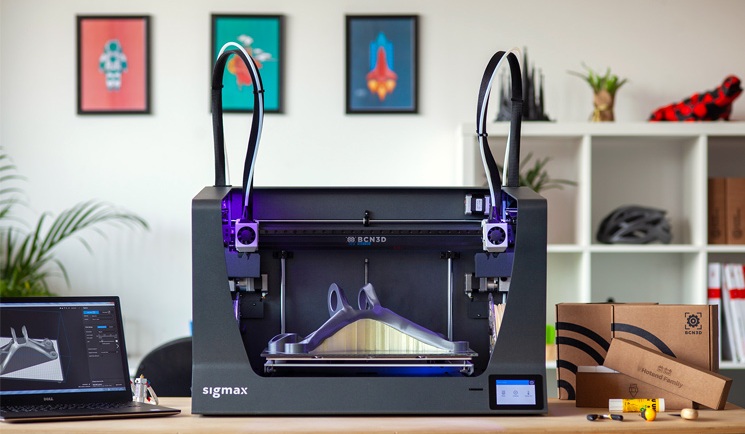 This is the second year in a row that our Sigmax 3D printer is shortlisted in the Desktop FFF 3D printer of the year category. We are also happy to have had our collaboration with the University of Girona recognized, as this collaboration has also been shortlisted as one of the best Medical, dental or healthcare application in the industry.
3D Printing Industry invited its readers to make nominations on up to 20 categories. More than 5,000 responses were received during the nomination phase. According to the publication, this makes the 3DPI Awards "the largest survey of the 3D printing industry in 2019".
Please take a moment to cast your vote. To vote for Desktop FFF 3D printer of the year look for question 9. If you want to vote for Medical, dental or healthcare application as well, look for question 15.
3DPI Awards Categories
BCN3D has been nominated for two categories:
Desktop FFF 3D printer of the year.
BCN3D Sigmax is already among the 8 best printers in the industry, and we couldn't be happier. Sigmax R19 is our large professional desktop 3D printer and combines IDEX technology with a massive printing volume to deliver industrial grade parts and increase production capacity.
Medical, dental or healthcare application.
BCN3D and a team from the University of Girona led by Dr. Teresa Puig joined forces on a research study that aimed at obtaining a device that would isolate those cells responsible for causing cancer relapses.
Five months ago the results were out, and they were one of the most important medical milestones in the research of triple negative breast cancer, cancer that is within the most aggressive cancers and a high relapse rate. Using the BCN3D Sigma, the research team was able to manufacture three-dimensional scaffolds used to separate stem cells, responsible for causing relapses, in order to study them later to devise pharmaceuticals capable of eliminating them without affecting other cells and avoiding the occurrence of relapses in patients.
You can read more about our use case here.

3DPI Publications
3D Printing Industry (3DPI) is a global media company providing a dedicated resource for anyone interested in 3D printing and 3D scanning. This publication is rapidly establishing itself as one of the most influential publications in the industry. They are dedicated to offering their content and services with extreme care, openness, honesty and independence. BCN3D Technologies is proud to have been considered by 3DPI readers.