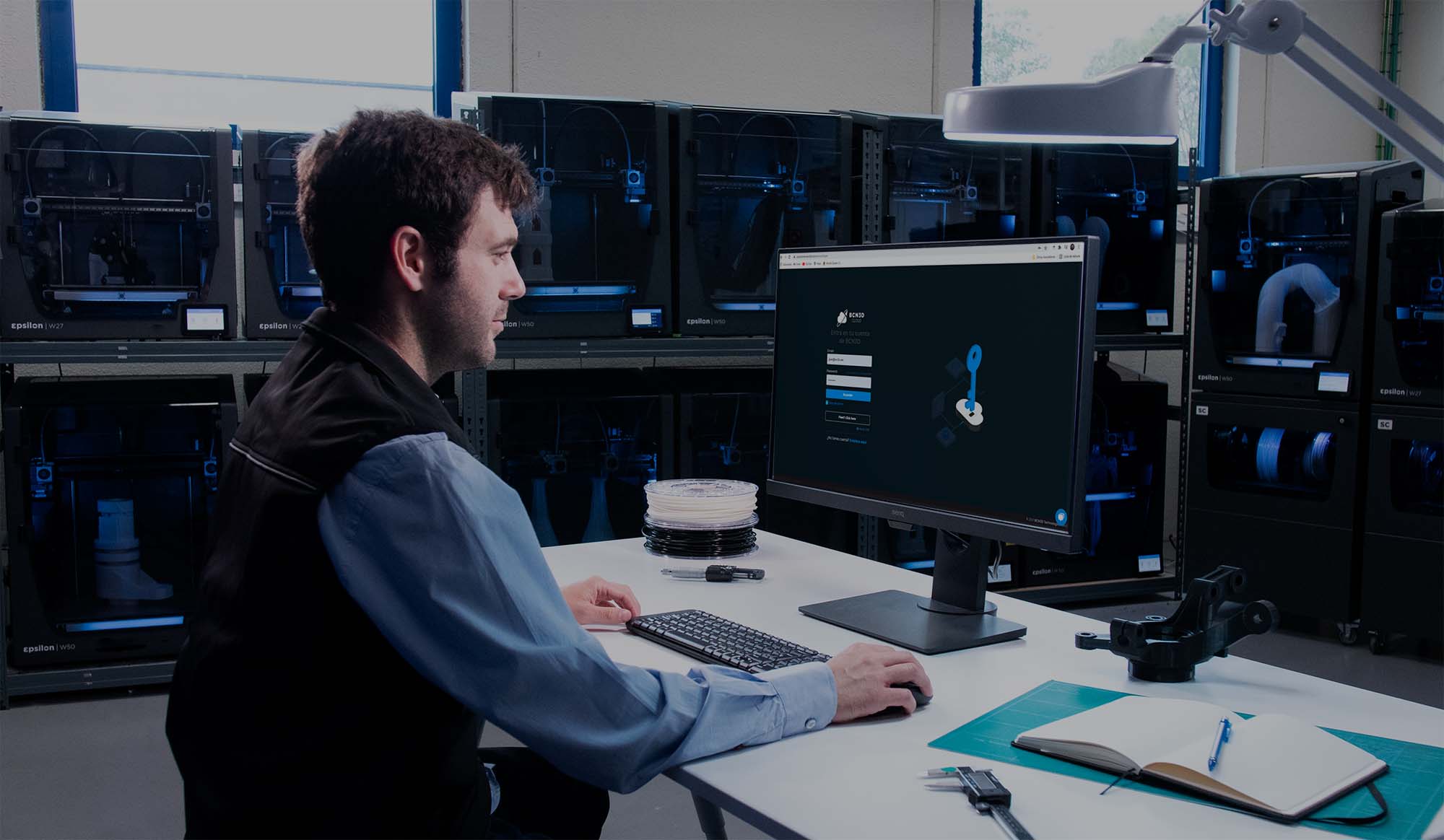 BCN3D Cloud
A powerful control panel to manage your fleet of 3D printers in real time and stay informed about their operation. Organize your company members into teams and allocate responsibilities for handling files, printers, queues and data to establish a simplified, systematic workflow. The BCN3D Cloud is compatible with all Epsilon models and the Sigma D25.
Plans
BCN3D
CLOUD
Elevate your efficiency with our Cloud software
The Standard Cloud plan is ideal for those at the beginning of their 3D printing journey. You'll easily get accustomed to the variety of functionalities designed for your small business to become more efficient, organized and in the know about your 3D printing operations.
Close contact with customer support
For any question or query, getting assistance has never been easier. With the built-in access directly to our support team, we're by your side so that your printing always stays on track.
BCN3D
CLOUD
TEAMS
Take control of your company with Teams
The BCN3D Cloud Teams plan allows you to administrate a departmental structure with customized roles and permissions for members, meaning you can optimize your resources, and reduce operation times as a result.
BCN3D
CLOUD
PRIVATE
Obtain maximum security and privacy with the Private plan
This plan is dedicated to large corporations that must be absolutely certain that their specific privacy and security requirements are being met. Rely on the Cloud for full control on access to a system of exceptionally restrictive security policies for your peace of mind.
Local deployment

Enjoy the same features of Teams with the added reassurance of maximum security and privacy. Be in charge of your own unique system without ever worrying about any transfers of information from going in or out of your LAN.

Federated authentication (SSO)

Users' electronic identity and attributes are stored across multiple distinct identity management systems. This is through SAML, a secure way of passing user authentications and authorizations between the identity provider and service providers, meaning users can join the platform using the credentials of the organization itself. OpenID also makes it possible to easily connect to Google Account and Microsoft Active Directory. Federated authentication is also available in the Teams plan.
Plans & Pricing
BCN3D
Cloud
Unlimited printers
Share your printers with unlimited users
Store files up to 5GB storage space
Monitor from anywhere
Unlimited clusters
Print and cluster queues
Print history
Analytics
BCN3D
Cloud
TEAMS
All standard features plus:
Teams
Roles and permissions
Unlimited storage
Printing workflow
Team analytics
Federated authentication (SSO)
495 €/year (595 $/year)
3 months probation period.
BCN3D
Cloud
PRIVATE
All Standard and Teams features plus:
Software deployment on local server
Specialized in-house training
Consultancy
On-demand development
Each request for this plan will be individually evaluated.
Detailed information about each plan
The sky's the limit with BCN3D Cloud
Discover in detail how each feature works with the following videos.