As an Environmental Engineer, Middle School Educator, and Co-Founder of Closed Loop Plastics (CLP), Will Amos along with co-founders Aldrin Lupisan and Sharon To are innovators in the 3D printing and additive manufacturing, just a few short years out of university.
"We started in 2018, fresh out of college, as a way to take red HIPS plastic party cups and turn them into 3D printing filament. That idea has now blossomed into a pretty cool company that takes plastic waste and turns it into 3D printable material." 
Entering into their fourth year of business, they are creating new materials, new colors, and allowing anybody with access to a 3D printer to participate in the circular economy by printing with their products. 
"We give people access to certified and fully sustainable material right in their printer without any huge adjustments or changes to their process." 
Will tells the story of how CLP got its start: 
"I got started with 3D printing in 2015 as part of a team at UC-Irvine for the Solar Decathlon, which is a solar house building competition. I was put in charge of the tool room of the future, mostly because I was a second-year engineer and didn't know much, so, I brought along Aldrin [co-founder of CLP] with a few other college buddies and created this tool room. We got a printer donated and that was the first time we really thought, "Well, we're Environmental Engineers and this is a sustainable household. How can we throw a sustainable spin on 3D printing?" It was a neat prototype tool, but it wasted a lot of plastic, so we wanted to find a solution for recycling the plastic that went back into the 3D printer.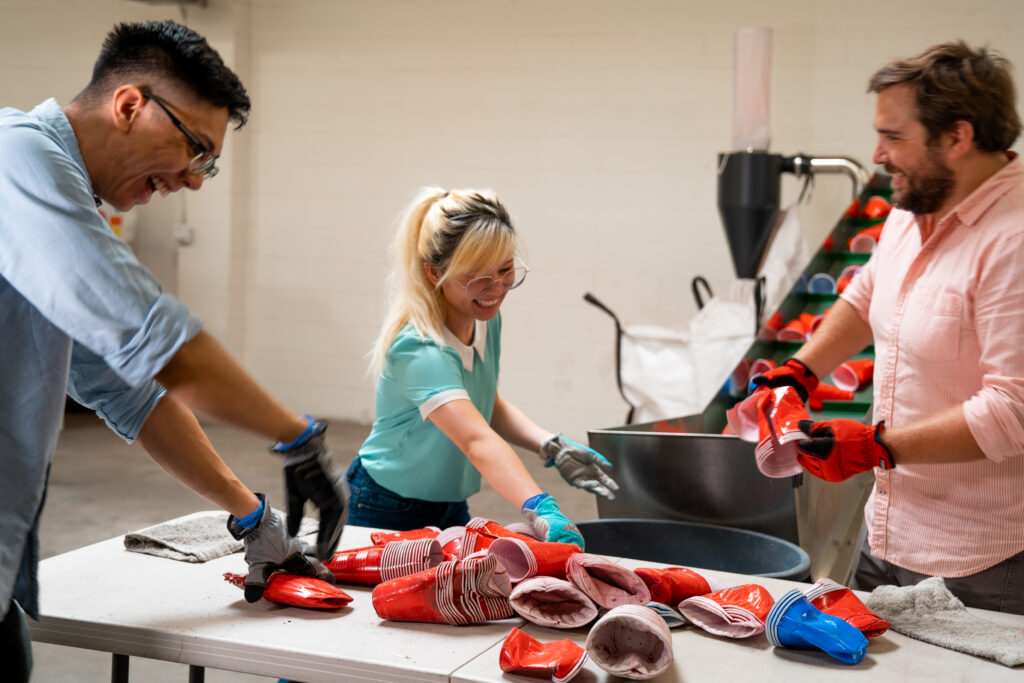 Our first takeaway was to just think about recycling. We first recycled plastic that was printed, but we realized we didn't have a critical mass of plastic waste from 3D printing alone. It does produce a lot of waste but not enough to supply itself. We figured out how to inject waste from other highly wasteful areas, like food containers, for example, to really tackle this problem and to create an element of upcycling of High Impact Polystyrene (HIPS) material. We gave people a way to actually use material for a really cool purpose instead of sending it to the landfill. So, we started thinking about how we could make 3D printing sustainable, and then it became clear that our mission was to figure out how do to make plastic usage, in general, a sustainable thing on this planet.  
Our ideas definitely scaled up. To give you a sense, our first product that we were going to sell as a company was a recycling cart (similar to an AV cart) and the idea was that it could be wheeled around in the lab to recycle plastic waste. Flash forward a few years, and now we are at the scale where we are applying for municipal bonds to build county-level infrastructure so that CLP can create these facilities that process hundreds of thousands of people's waste plastic every day. It's amazing when we stop to really think about it. 
We've gone from a lab-based decentralized approach to an infrastructure-based treatment plant approach. I think that is cool and it's reflective of the education that Aldrin and I received as Environmental Engineers, combined with our other co-founder, Sharon To's education as a Computer Engineer. Aldrin and I can think in large-scale infrastructure and Sharon can think in focused control systems, and it's all led to a successful team dynamic. We trust each other and our skills, which has allowed us to pivot as needed and grow our scope."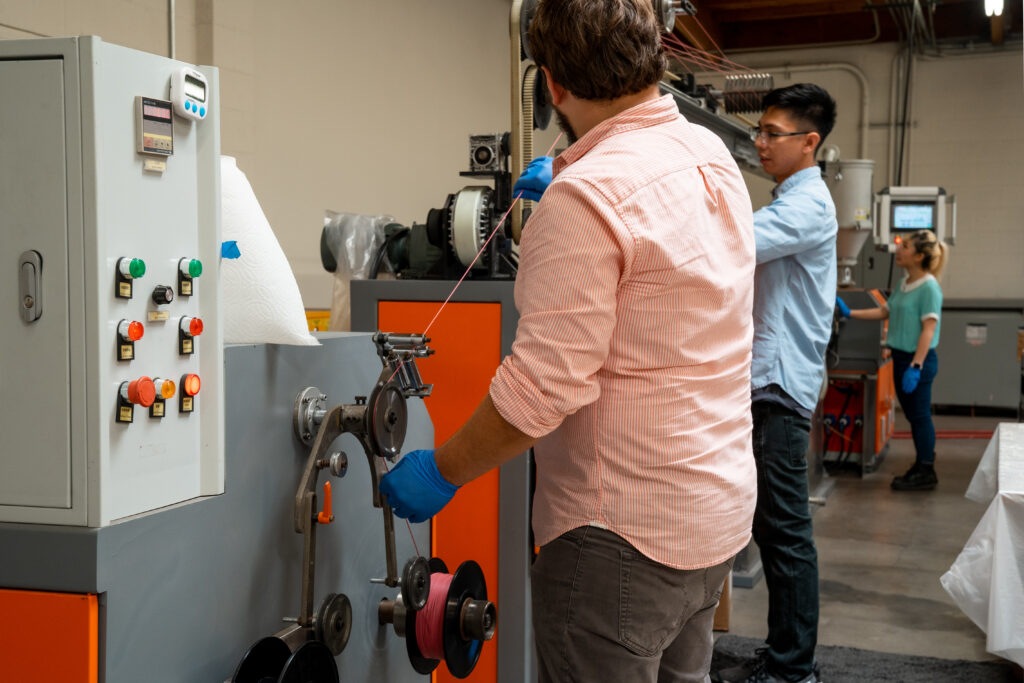 Initially, Closed Loop Plastics was focused on High Impact Polystyrene (HIPS) material (as Will goes on to explain), but the application provides boundless opportunities across every nearly every plastic type. 
"We went after HIPS because we wanted a plastic that came from the post-consumer world, that wasn't so specific it was only used in 3D printing. We wanted something that could be used in 3D printing but wasn't exclusive to it. HIPS plastic is a commonly used support material, or a draft material in 3D printing. We wanted to try recycling it because it's a great thermoplastic and is very easy to recycle it in a virgin state. 
After we decided on HIPS, we had to focus on getting it clean and into a 3D printable state. We first offered it in a Party Pink color, which was an unpigmented color, essentially a blend of all the different HIPS plastic that we put into our system. As we grew, our customers were interested in additional colors, which is when we added Nebula Black. That was our first-time putting additives of any kind into the process. It was a great experience, forcing us to learn a lot. There was clogging here, and we were running out of machines parts there, but we learned that we could create a new, differentiated product. We are still doing tests on other colors and even new materials. We're going to be testing 3D products from new plastics like PLA and PETG and ABS. We are continuously thinking about creating something that is more accessible to the market because HIPS isn't as widely used as some of these other plastics."
CLP ensures the quality of their filament by monitoring the diameter and dynamically controlling the output. Diameter tolerance is a key point of failure with any filament, as Will explains, "We knew if our filament has bad diameter tolerance (getting wider, smaller, changing shape, etc.) then users would have a difficult time printing with it. So, we created a system that monitors the ovality and diameter of the filament approximately a thousand times a second. It's taking tons and tons of samples, then we can adjust how fast we are extruding and pulling the material. We can change it during the process. A lot of plastic manufacturers will produce a bad batch and have to throw it all out, so our ability to adjust during the process of printing is really beneficial. 
"We have seen some amazing adoption with our filament product. Because our U-HIPS is a high-strength material with no contamination (after processing) printing with it is easy, and it doesn't need surface refinishing. It's even able to be used in a system that is not enclosed. There are a lot of things about our U-HIPS product that make it really unique allows makers of all experience levels the ability to participate in the circular economy at every level right now. We have a customer, Leviathan 3D printing on the East Coast, who posted about getting our product from Matterhackers and just being stoked on the printing results. They were using it to create student projects for accessibility reasons. Students were designing things for other people to use who had disabilities with their hands. This is the epitome of recyclability and the circular economy, and to see our product used in that way is really gratifying."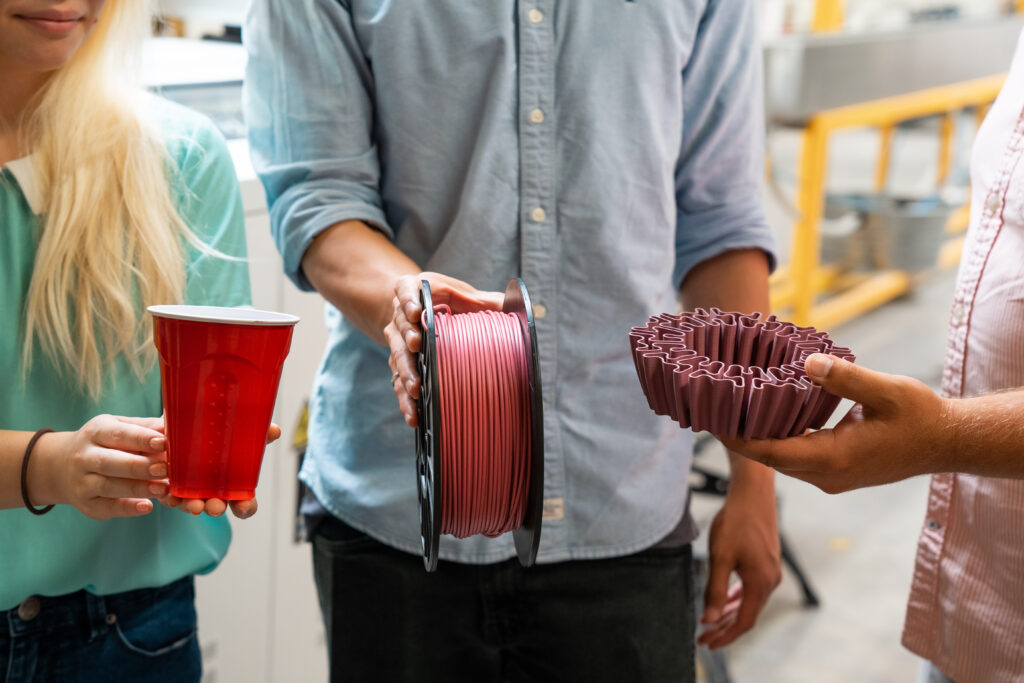 CLP has gained a decent fan base that is really excited to use their products, and makers have found some really innovative uses for it. The company recently featured some fantastic hand planes for body surfing that were made by a middle school teacher in Orange County on their blog. He surface-treated and painted them and they look like a finished product.
"In the early days, we had a lot of people who thought the adoption of it wasn't going to be great because it was too difficult of a material to use," Will explains. "As we've grown and as our product quality has improved, we've seen a lot of people who have adopted it and are dedicated to making it work on their systems. We've had people making prototypes in their labs, students using it for various projects, and even a few professional prototyping agencies who are using it to create all kinds of cool stuff.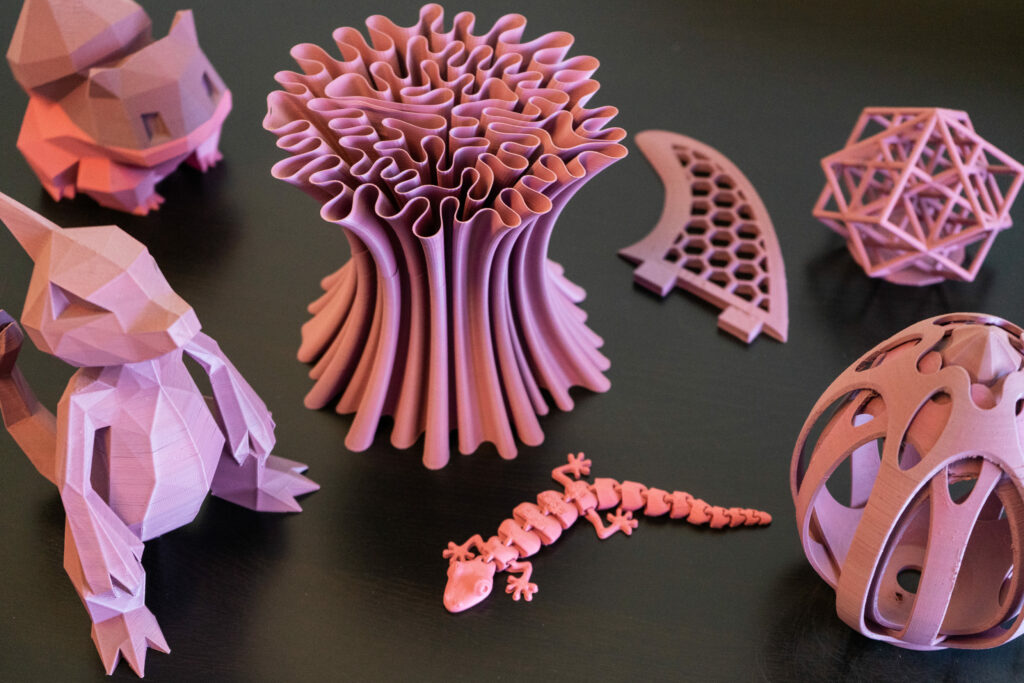 We are having some great success this year with our fundraising and we are continuing to gain traction with our filament products as we continue to increase our abilities to manufacture our products quickly and address new materials within that space. Expanding our materials portfolio and expanding our workforce in Long Beach, CA are a couple of goals we continue to work toward. Over the next 5 years, our hope is to expand and open up three new facilities that can process at 2,000-10,000 pounds of plastic an hour and really start processing plastics so that we can get more recycled material into more makers and manufacturers hands. In the short term, we also hope to expand our reach into the world of injection molding to show off the versatility of our products. We want to let people know that in addition to 3D printing, we can have an impact on the world of plastic manufacturing as a whole with our process for giving plastic waste new life as upcycled filament, flake and pellets."