From its Tuscan headquarters, footwear manufacturer Tre Zeta Group creates soles for classic shoes and sneakers using 3D printing centering jigs for its carding process. The team chose the BCN3D Epsilon W50 for its advantageous IDEX technology and material Tough PLA for its top-tier mechanical properties. Our partner CREA3D did an exploration with a camera in tow to see the benefits for themselves!
There's no denying that when it comes to footwear, both comfort and style will always be top priorities. To continue improving these aspects and expand upon what's been done before, designers need to be creative, innovative, and up to date on the latest trends – including the newest additive manufacturing technologies. Our partner CREA3D got a first-hand look at Tre Zeta Group's facilities in Tuscany to see how, with a BCN3D Epsilon W50, the team has cut its printing time in half and is experiencing a more efficient, cost-effective manufacturing process. 
Founded in Tuscany, Italy, in 1967, Tre Zeta Group initially began in the sphere of classic shoes, and this business has now expanded into sneakers. The company has always had sustainability as one of its main pillars and internal recycling took shape in 2021 when the company opened a new plant to further the development of its shoe soles. 
The company's drive to innovate exists not only within its design process but also within finding solutions for the issues within its internal processes. 
"Innovation has always been one of our prerogatives, and this has led us to learn about new technologies such as 3D printing." – Jacopo Genre, Marketing and Sales Manager.
Stepping into Tre Zeta Group's shoes
Tre Zeta Group creates soles made from polyurethane; since this material has the tendency to oxidize, it needs to undergo a process of oxidation known as carding. This procedure usually entails traditional machines and skilled labor. 
With the BCN3D Epsilon W50 printer, came a new way to manufacture said polyurethane soles. 3D printed centering jigs take away the element of so much work having to be done by hand. After being put into CNC machines, an end-use sole is born, while avoiding any impurities or imperfections along the way.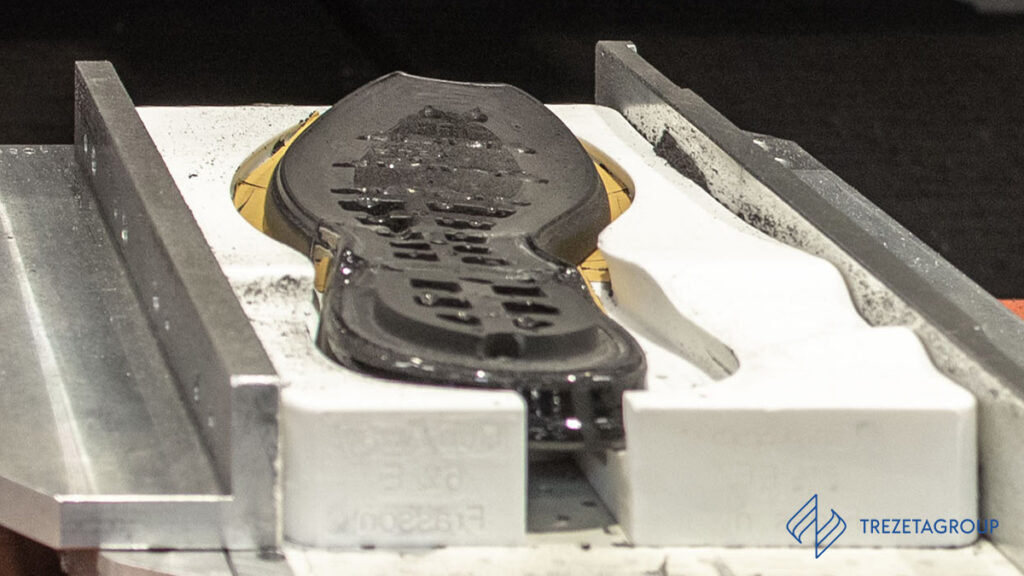 Tough PLA has been Tre Zeta Group's material of choice. Not only does it provide better mechanical properties than regular PLA, but the fact that it is made from waste from other processes lets the company follow its prerogative for recycling whenever possible. 
The switch to 3D printing has therefore resulted in more consistency and shorter processing times. On top of that, IDEX technology has meant that the printing time has been cut in half. 
"This has brought improvements in several aspects: a consistent product and well-defined processing times, without the need for skilled labor." – Gianfranco Cipriano, CAD/CAM Manager.
In the case of Tre Zeta Group, it's clear that the team has explored multiple technologies and found 3D printing to be extremely beneficial to its overall production. IDEX technology has prevailed as the number one advantage, creating parts extremely rapidly without sacrificing quality, and 3D printing has once again shown that it paves the way for a future of more sustainable manufacturing.