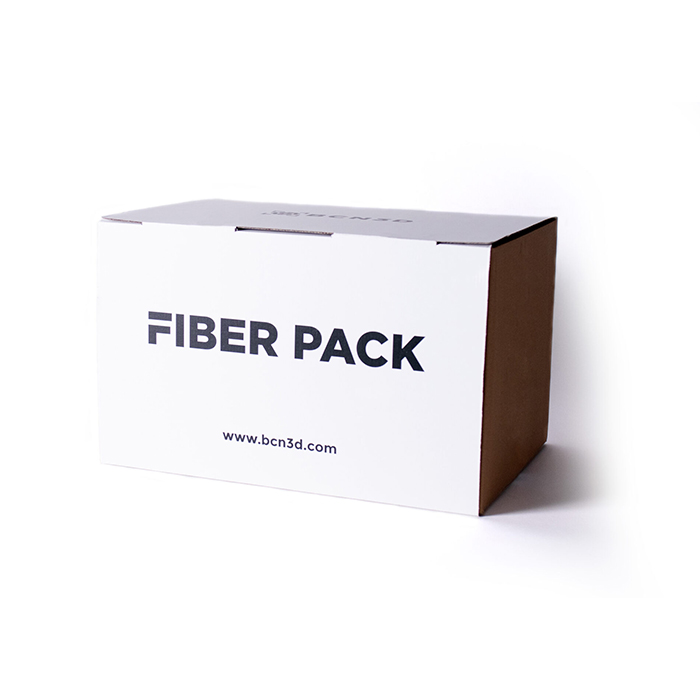 Fiber Pack
799,95€
Out of stock
If you're looking to equip your parts with elite mechanical properties, the BCN3D Fiber Pack is here for all you need to print with fiber-filled materials.
This pack contains a set of filaments and consumables specifically designed for the use of materials with a percentage of carbon and/or glass fibers for applications requiring high mechanical resistance.
We strongly recommend having the Smart Cabinet (SC) together with your BCN3D Epsilon W50 or W27 to keep the filaments in optimal humidity conditions thanks to the Smart Drying technology integrated in the SC. 
What's inside
PAHT CF15 (15% carbon fiber reinforced Polyamide) is characterized by its excellent resistance when pitted against chemical and aggressive environments. It leverages a combination of strength, durability, and dimensional stability while still being lightweight. 
The easy-to-print, heat-resistant PET CF15 (Polyethylene Terephthalate carbon fiber reinforced) combines high dimensional stability and very low moisture absorption.
Finally, water-soluble support material BVOH is a unique way of printing multi-component models and mechanisms while improving your part's surface quality and mechanical properties. 
Alongside these filaments, you'll find adhesives specific to each one and two specialized steel alloy Hotend Xs with 0.6mm nozzles. 
To sum up, you'll receive:
2x PAHT CF15 2.85ø/750g

2x PET CF15 2.85ø/750g

2x BVOH NATURAL 2.85ø/500g

2x Magigoo Original 50ml

2x Hotend X 0.6ø
For a complete rundown on implementing this pack and putting it to use, visit our knowledge base article. 
Printed part examples