Today we announce new firmware and software versions for our Sigma and Sigmax 3D printers. These new versions have been developed largely thanks to the feedback provided by our community and these include new exciting features and bug fixes.
BCN3D Cura 1.1.0 now available
A couple of months ago we did a major step forward launching BCN3D Cura 1.0. It represented a great improvement in terms of print quality, reliability and dual extrusion management. As we stated, though, that was just a starting point.
Thanks to the feedback provided by our customers from the very beginning, we have been able to fix some bugs and enhance the custom functionalities of BCN3D Cura. As a result, and after an intensive beta testing period, we are glad to put everything together and launch new BCN3D Cura 1.1.0. Some highlights:
– Firmware upgrade. BCN3D Cura allows the user to safely upgrade the firmware of both the Sigma and the Sigmax. Go to Settings → Printer → Manage Printers → Upgrade Firmware. If you have not done it before, connect your printer to the computer via USB and choose between Upgrade Firmware or Custom Firmware. Then, just follow the instructions.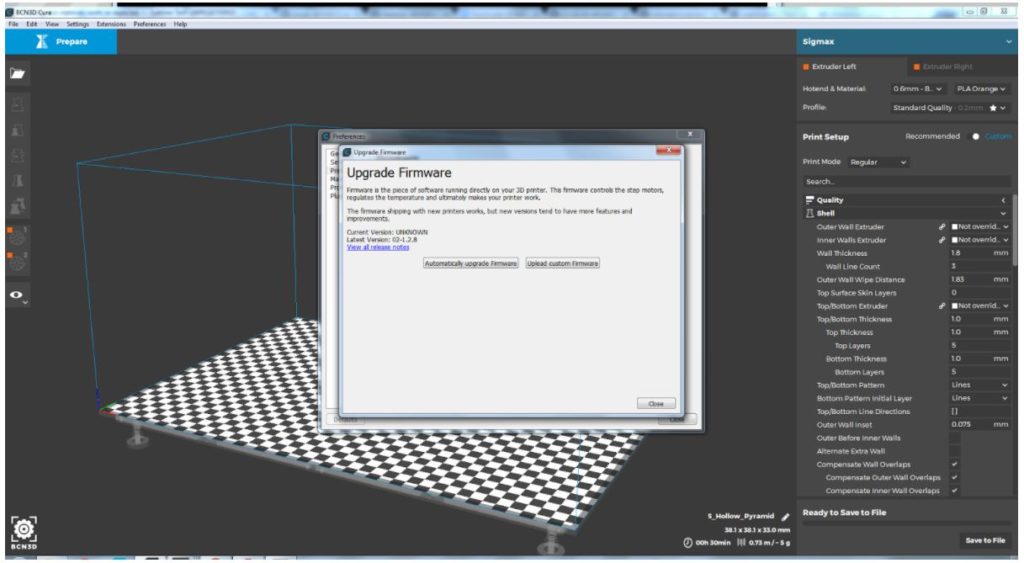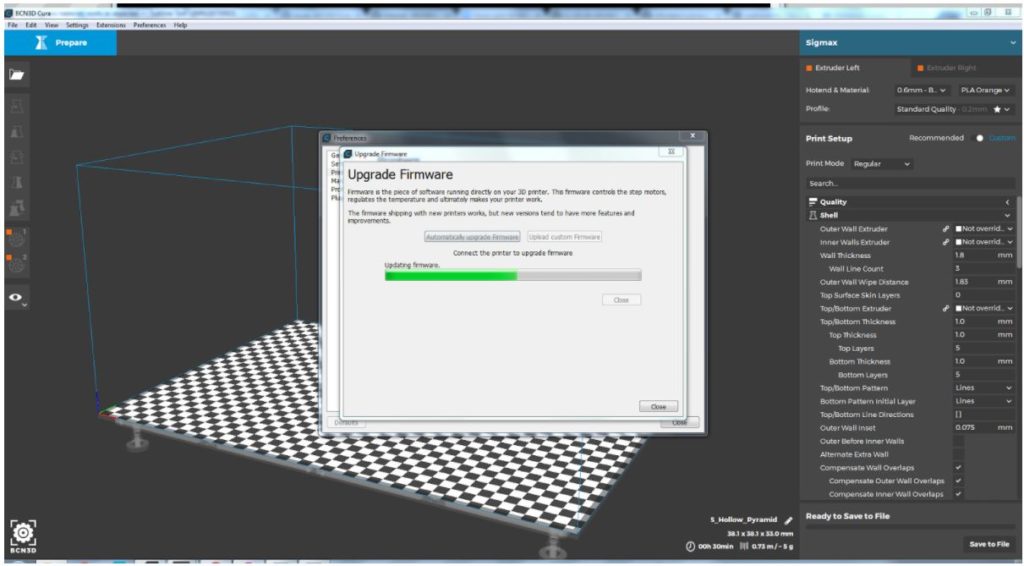 Please note that for versions older than v02-1.2.9 (Sigmax) and v01-1.2.7 (Sigma) BCN3D Cura won't be able to detect the Current Firmware version. It will just call it "UNKNOWN".
– New arranging strategy (align). Objects in platform will be sorted following a grid pattern.
– New parameter to set minimum time to cool down to standby temperature. When printing with both extruders, now you can set the minimum time needed for the idle hotend to cool down.
– New configuration profiles. Seeking for the most versatile base parameters so your prints finish flawlessly, right out of the box. We have changed a few parameters in order to improve your machine's reliability and print quality:
These changes include refinements to get a better surface finish while printing slightly faster.
When using both extruders, prime tower is enabled by default to get the highest reliability. Note you can always turn it off and switch on SmartPurge to prime only in the purge tray.
For the same reason, auto temperature is disabled by default. Enabling it, Cura will choose automatically the right temperature to print each layer, avoiding print temperature value even if it's been manually adjusted.
We have also added profiles for Colorfabb composite materials.
– Bugfixes.
Creating new materials works as expected.
Multiplying works as expected when duplication/mirror mode is enabled.
Smart Purge is set correctly per extruder.
First extrusion fixed in special cases.
Now slice doesn't show errors when using duplication/mirror and 1.00mm Hotend.
Centering models doesn't rotate them.
Other minor fixes.
Download the new BCN3D Cura version following this link (Windows, Mac and Linux).
New Firmware versions for Sigma and Sigmax: v01-1.2.7 and v02-1.2.9
By the way, you can check the new firmware upgrade feature by installing the brand new firmware versions and keep your printers up to date. The v01-1.2.7 version (Sigma) and v02-1.2.9 (Sigmax) include the following changes:
– LED RGB control implementation. Edit the LED lightning using the command M535 via terminal.
– Lighter and faster LCD handler. Better general behaviour and time response.
– Bugfixes. 
Solved an issue which could freeze the screen in some situations.
FanSpeed is saved when a print is paused.
Some potential bugs have been fixed in the Print menu, when listing the files in the SD.
– Changes.
Load/unload filament functions have been modified when the print job is paused.
Better handling for temperature changes in the settings menu.
Read more about these changes and improvements visiting the Firmware repositories at our Github account.
And don't forget to share your feedback with us!