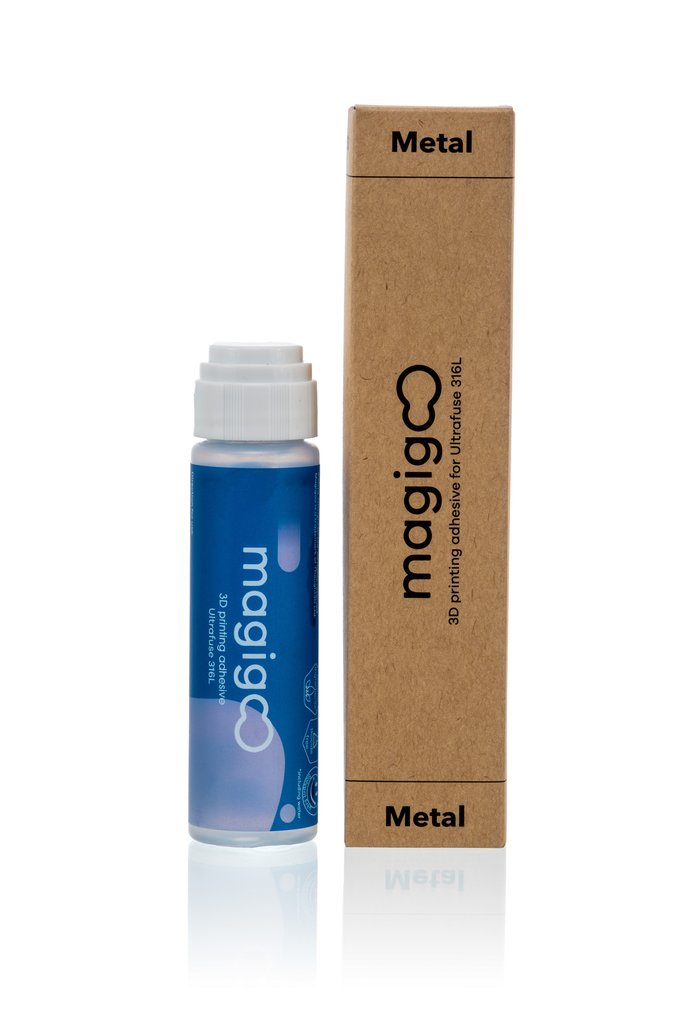 Magigoo Pro Metal
41,00€
In stock
Magigoo Pro Metal is designed to work exclusively with metallic materials, such as BASF's Ultrafuse 316L and 17-4 PH, and obtain perfect adhesion in the first layer. This non-flammable adhesive enables easy part removal of green parts from the build plate. 
Due to the thermoplastic nature of the binding materials, parts printed with BASF Ultrafuse 316L are susceptible to warp. Furthermore, due to the delicate nature of the green part, care must be taken when removing parts to avoid part deformation. Magigoo Pro Metal ensures reliable adhesion during printing with easy removal of the printed part through submersion in water, thus avoiding potential damage to the green part.
If you want to know more about how to print with metal with the Epsilon Series, such as how to install the pack and how the workflow works, take a look at our product page: Metal Pack.
Some features of Magigoo:
Easy release: adhesive properties designed to release the 3D print once the build plate has cooled.

Easy clean: easily cleaned with water.

Long-lasting: an average of 100+ prints.

Odourless: safe to use, be it in a closed room or in an educational workshop with kids.

Non-toxic: no need to worry about nasty chemicals.
How to use it
Setting the build plate temperature between 95°C and 105°C is recommended for the proper use of Magigoo Pro Metal. Nevertheless, please be aware that printing conditions may vary from one material to another.
Shake the bottle.

Apply to the desired area by pressing the nib on the bed (activating the inner valve) and spreading as needed.

Print according to your filament or printer manufacturer's recommendations.

Allow the part to cool before removing it. If the part is difficult to remove, use a scraper to help you. 

Clean the glue from the bed using a hard, wet sponge to remove all residue. Once the glue is wet, it forms a white layer which can be easily scrubbed off with an abrasive sponge. Once the layer of glue is completely loose from the glass, it can be wiped away with a wet cloth and then cleaned with a dry paper towel.
Tips:
Clean the build plate and level it well before printing.

An enclosed printer is recommended.

Initial printing speed of 15-50mm/s.
Safety:
Safety Datasheet:   English, Spanish
Technical Datasheet: English