With the release of the new BCN3D Epsilon 3D Printer, BCN3D has extended its filament portfolio, partnering with BASF and Mitsubishi Chemical (MCPP) to develop new technical materials for the most demanding applications.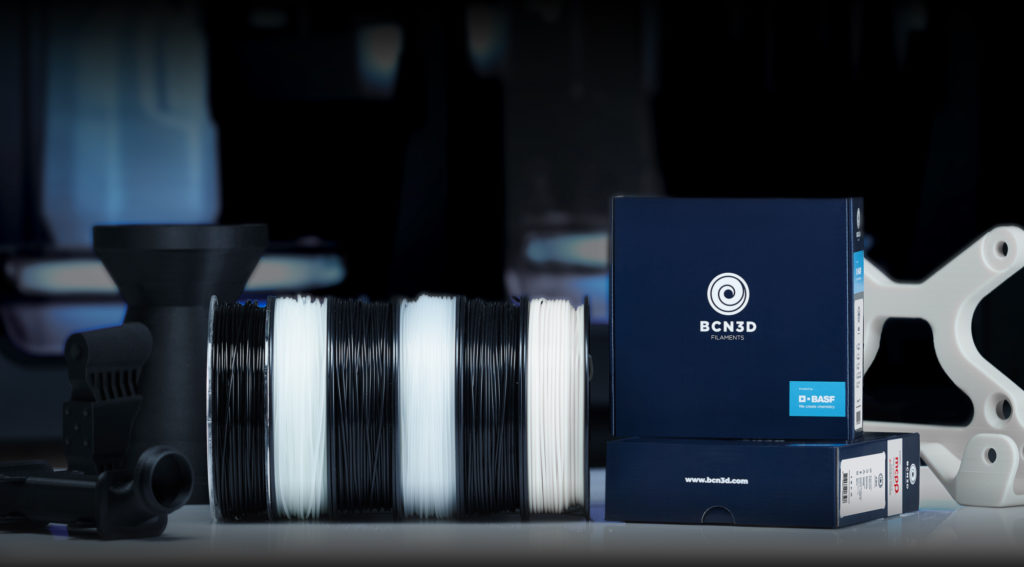 BCN3D has partnered with renowned chemical companies BASF and Mitsubishi Chemical (MCPP) to develop new references for the BCN3D Filaments portfolio and ensure the readiness of the BCN3D Epsilon to work with them. So as of now, the BCN3D Filaments portfolio includes the following materials: ABS, PP, PET-G, PA, PLA, TPU, PVA, PP GF30 and PAHT CF15.
An extended material portfolio to cover all professional needs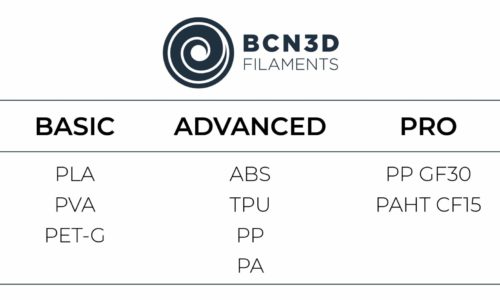 ABS: Engineering material which combines rigidity and resistance to impacts. It is the ideal material for technical applications and moving parts.
PP: Lightweight material with very high chemical resistance, ideal for water-tight containers and durable parts.
PET-G: Versatile technical material, as easy to print as PLA, but with an improved balance of mechanical, chemical and thermal properties.
PA: Thanks to characteristics like durability, flexibility and wear resistance, PA is ideal for multiple applications in the 3D printing field, like end-use parts or custom jigs and fixtures.
PLA: Is the most common used filament in FFF 3D printers for its ease of use and wide range of applications, specially those not mechanically or thermally demanding.
TPU: With Shore-A hardness of 98, TPU is a resistant material for several industrial applications, with outstanding mechanical properties and excellent chemical resistance.
PVA: Water soluble polymer, ideal to work as support material to print complex geometries, large overhangs or intricate cavities.
PP GF30: PP GF30 (glass fiber 30%) combines the low density and chemical resistance of polypropylene with the stiffness and dimensional stability given by the glass fiber.
PAHT CF15: This high temperature PA with carbon fiber can resist constant temperatures of up to 150ºC. Its 15% carbon fiber reinforcement also makes this material much stiffer than standard PA.
Stiffness and Flexibility
When a force is applied, stiff materials exhibit a strong resistance to deformation. On the other hand, flexible materials are able to deform to great extent without breaking.
A very stiff material is the best choice when high dimensional stability is required. It is the case of structural elements, such as brackets, levers, actuators, housings and covers. ABS is a perfect fit for such applications, thanks to its rigidity, and, when very strong forces are at play, a filled material like PAHT CF15 guarantees exceptional performance.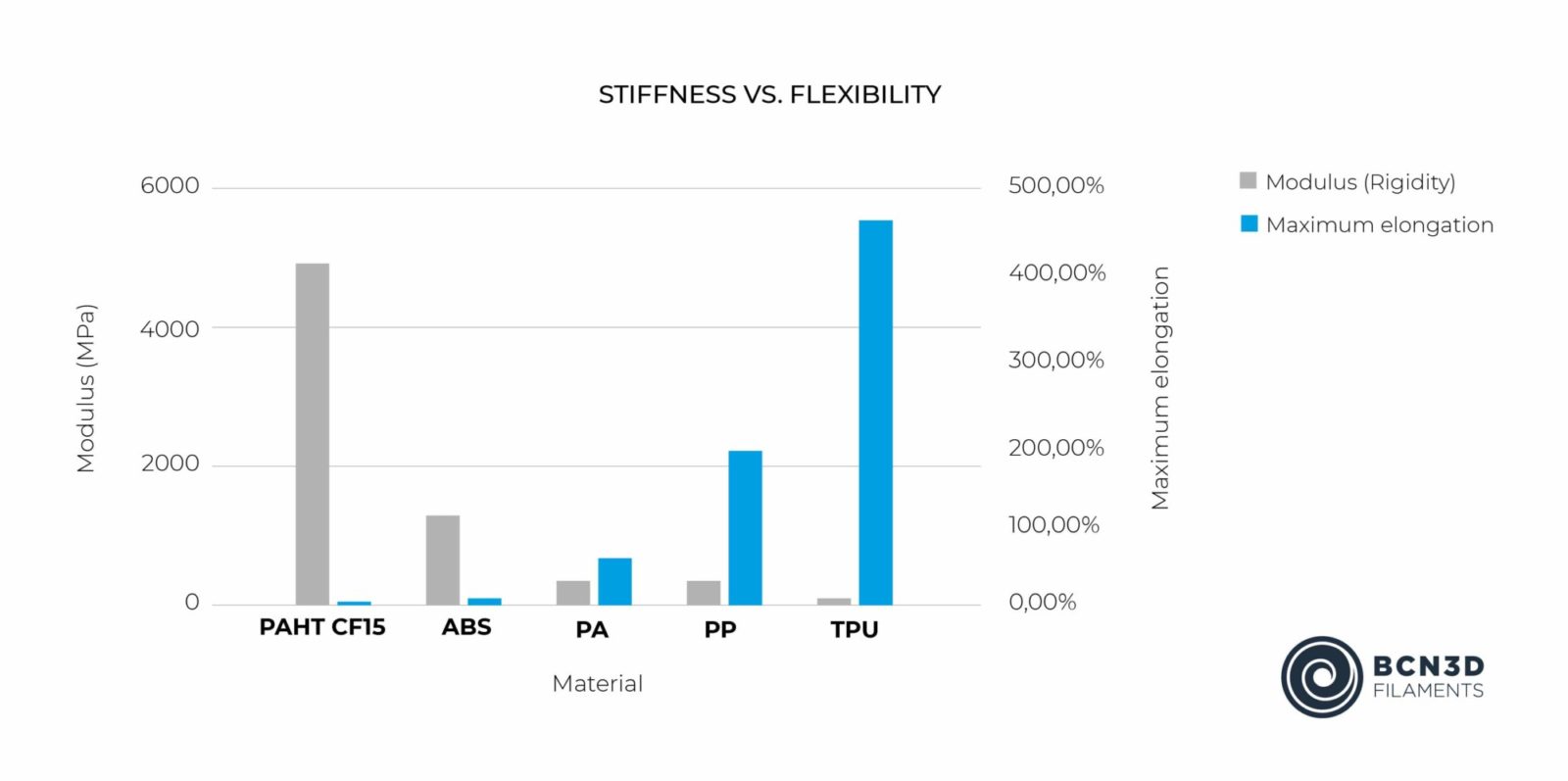 Flexibility comes in handy when an object is required to absorb mechanical strain in an elastic way, by changing its shape. This is the case of springs, hinges, pipes and seals. PA and PP offer a balance of flexibility and rigidity, while TPU behaves like natural rubber, withstanding deformations of up to 4.5 times its original length without breaking.
Tensile Strength vs. Impact Strength
When stretching an object, tensile strength is the maximum load that the object can bear before being pulled apart and breaking. A strong part will be able to support heavy static loads and guarantee dimensional stability and integrity of the whole object.
Strong and stiff materials are normally brittle, which means that they will abruptly fail and shatter if dropped from a great height or hit by a hammer. Impact strength measures this phenomenon, since it is the maximum amount of energy that an object can absorb as consequence of an impact. Tough materials have a combination of both tensile strength and impact strength, which is highly desired, and is the prerogative of engineering plastics, used for the most demanding applications.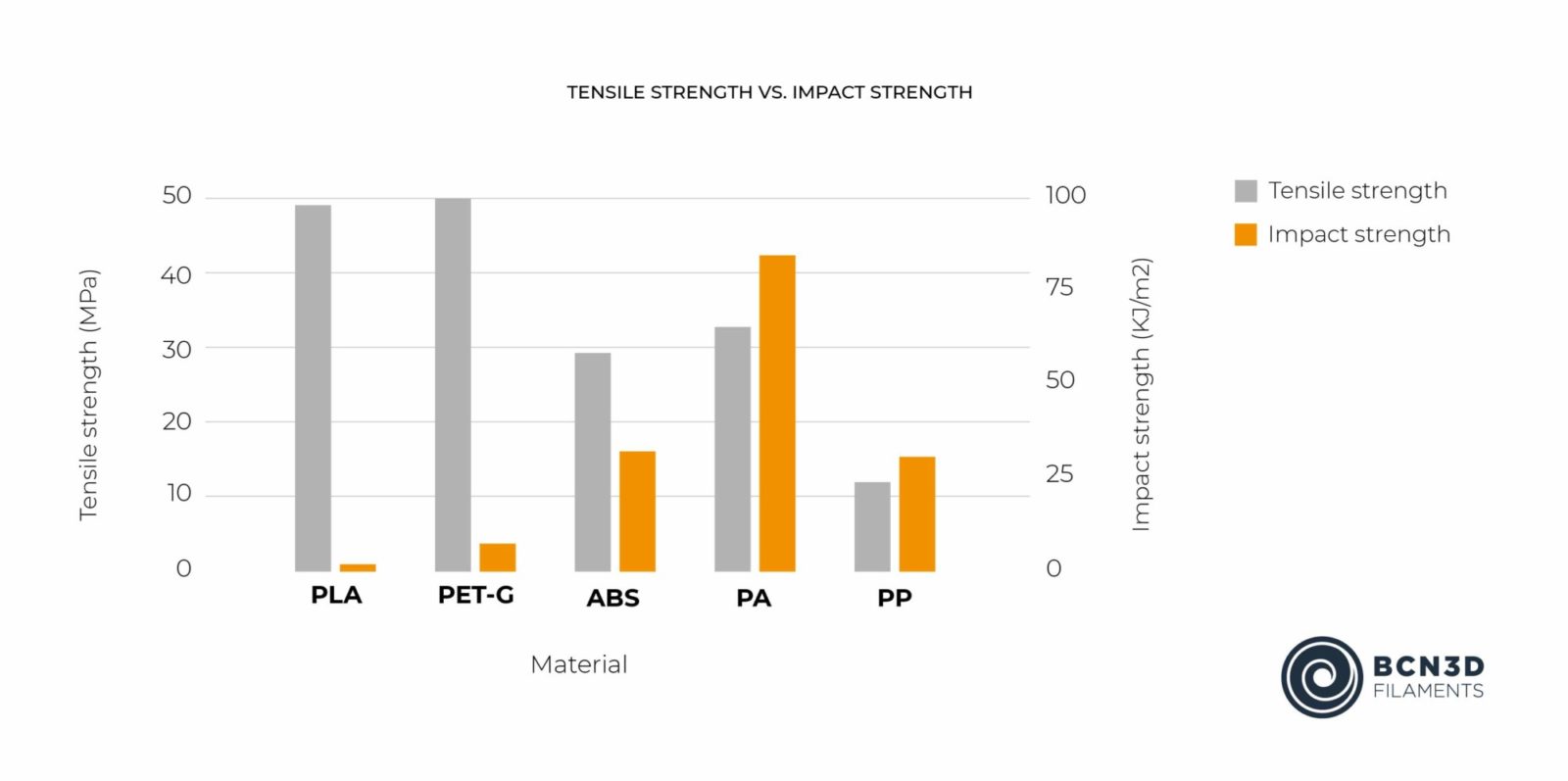 A material like PLA is strong but brittle and can therefore be used only in the presence of static loads, being not ideal for moving parts. PET-G has a better mechanical profile, with similar tensile strength but a higher resistance to impacts. ABS and PA are very tough materials, able to withstand stretching forces of up to 30 MPa and impact energies between 30 and 80 KJ/m². PP is resistant to impacts and, while being softer than ABS, it makes up with an exceptional chemical resistance.
Unlock more industrial applications with the new Hotend X
Many more industrial applications are also within reach thanks to the new Hotend X, made from a special alloy of tool steel. When paired with the BCN3D Epsilon, it enables printing with fiber filled materials, so you can print stiffer parts, designed to resist the most demanding jobs.
A good example of these technical materials are the new PP GF30 (30% of glass fiber) and PAHT CF15 (15% of carbon fiber), developed by BASF in exclusive for the BCN3D Epsilon.
The new Hotend X will only be supported by the BCN3D Epsilon.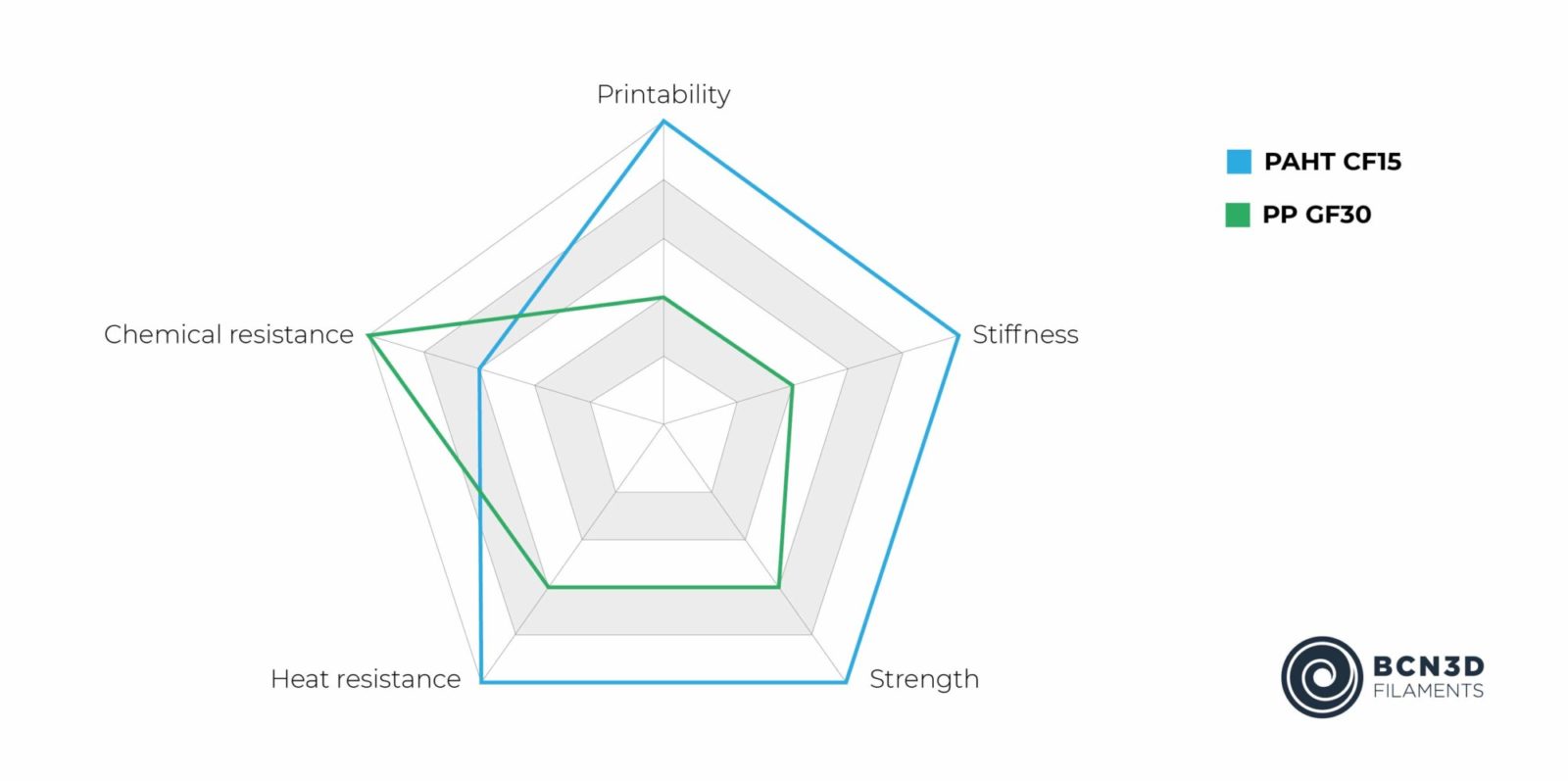 Compatibility with BCN3D Printers
All the new BCN3D filaments will be compatible with the Sigma R19 and Sigmax R19 3D printers, except for the fiber filled ones, PAHT CF15 and PP GF30, which will be supported only by the new BCN3D Epsilon.
BCN3D will be presenting to the public the new BCN3D Filaments portfolio during the Formnext tradeshow in Frankfurt (19th-22th Nov 2019) at booth F51 on hall 11.1. Come and visit us!
The new BCN3D Filaments will be available for purchase from the first week of December 2019 via the BCN3D website and the BCN3D international distribution network.
In addition, in the coming weeks we will release version 3.0 of our 3D printing software BCN3D Cura, including new filament configurations for all new materials, as well as the new BCN3D Cloud platform.