Last but certainly not least in our interview series for Women's Month is Rhonda Grandy. Rhonda is the Senior Marketing Manager at MatterHackers, and told us her views on how to build women's confidence up, and ensure that opportunities for inclusivity keep growing.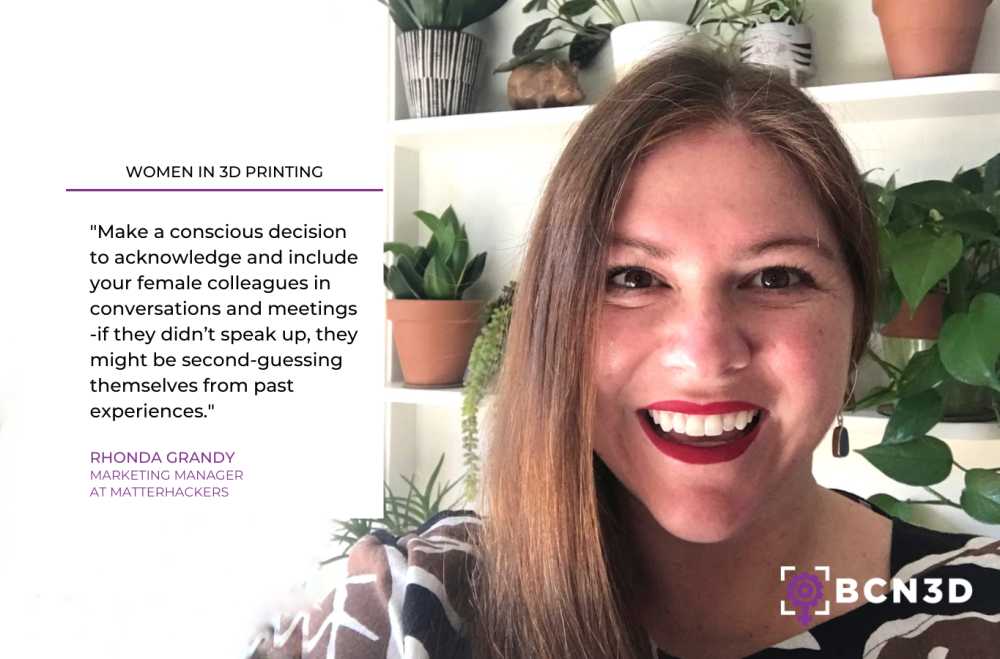 What made you want to work in 3D printing?
"This might be surprising to some, but I was never searching for a career in 3D printing – I didn't have a tech background at all. I was fresh out of school and looking for any opportunity that sounded exciting – a humble job listing for a "hip 3D printing startup company" caught my attention. I truly didn't know anything about the technology other than hearing about it attached to buzzwords like "cutting edge" and "game-changing," but – I took a shot and applied for Administrative Assistant because it seemed exciting and different. When I got the job at MatterHackers, I was blown away by the endless possibilities of what 3D printing can accomplish – and now, nearly 7 years later, I'm still equally as blown away as I was on my first day. The excitement of discovering what people can create using 3D printers is what makes me want to continue to be part of this industry."
What's your favourite thing about working in the 3D printing industry?
"The people! My colleagues at MatterHackers, our partners, and members of the 3D printing community are all creative people with diverse backgrounds from across the world. The fact that I get to be connected with them all through the common ground of 3D printing is simply the best."
What advice would you give to yourself when you were just starting out?
"Don't hold back on sharing any idea that you have. What I've learned from my time working at MatterHackers is that even off-the-wall ideas can lead to stimulating conversations that take you in a new direction that can benefit the business."
Do you think you faced more challenges to get to where you are today compared to your male colleagues?
"I have always felt support from my colleagues at MatterHackers, but I do acknowledge that many women are not as lucky as I have been to find a career at a company that is inclusive and lifts one another up. I've had friends share horror stories – we've all heard them – so I know that women do face more challenges when compared to their male colleagues."
Do you think women have to try harder to be taken seriously in industries such as 3D printing?
"Yes, and it's not just in tech fields where we see this – it's honestly everywhere. Women are still battling it out for equal pay in industries from tech, to entertainment, to sports."
What actions can we take in our day-to-day work to accelerate women representation in the industry?
"Make a conscious decision to acknowledge and include your female colleagues in conversations and meetings – if they didn't speak up, they might be second-guessing themselves from past experiences, but asking their thoughts can help build their confidence, and that's a massive step forward."
How can women make sure their voices are being heard?
"By never giving up on being an advocate for yourself and other women around you. As cliche as this may sound, we truly are stronger in numbers!"
What are your expectations for inclusivity in this industry in the future?
"We have to lead by example – start by changing what's inside your own walls and set a good example by creating more leadership positions and opportunities for women in tech fields. I'd also like to see more companies take action to include STEM-focused initiatives to set up future female generations to believe they can belong (and thrive) in the tech world."