Meet the 3D printer accessories that each 3D printer should have to perform at its maximum ability. Since the smaller details can make the difference in Additive Manufacturing, having the right tools and using them correctly is a must in order to be a 3D printer expert.
In this article, we talk about the most necessary accessories to accompany a 3D printer in order to ensure the quality of the prints and to do the right maintenance so you can avoid production delays due to printer issues.
Content table:
Hotends

Tool Kit

Adhesives

Lubrication Kit
Hotends: The most common 3D printer accessories
You may think that hotends are part of the printer but nothing could be further from the truth. In fact, a hotend can be bought separately from the printer and only be used for a certain material, according to the quality or according to the printing speed you want to achieve.
On the one hand, there are hotends with different nozzle diameters, from 0,3mm to 1mm, the larger the diameter is, the faster the print is going to be at the expense of a lower definition. On the other hand, there are certain filaments that need to be printed through specific hotends such as Fiber Filled Materials with hotend X and Metal filaments with hotend M.
Tool Kit: Keep your 3D printer in good condition and avoid repairs
As 3D printers can be quite complex, it is mandatory to have a tool kit with all the 3D printer accessories you are going to need during the printing process. This kit should include:
Allen keys: to loosen or tighten the screws that need to be adjusted.

A spatula: to safely remove the printed figures from the printing surface.

Calibration gauge: to perfectly calibrate the nozzle height.

Pliers: to cut filament and to do maintenance labor.

Other tools like an SD Card, shims, or glue stick.
All of our BCN3D printers come with a tool kit so our customers can start printing from the moment they get the machine, having peace of mind that they have the necessary tools to keep their printers running day and night.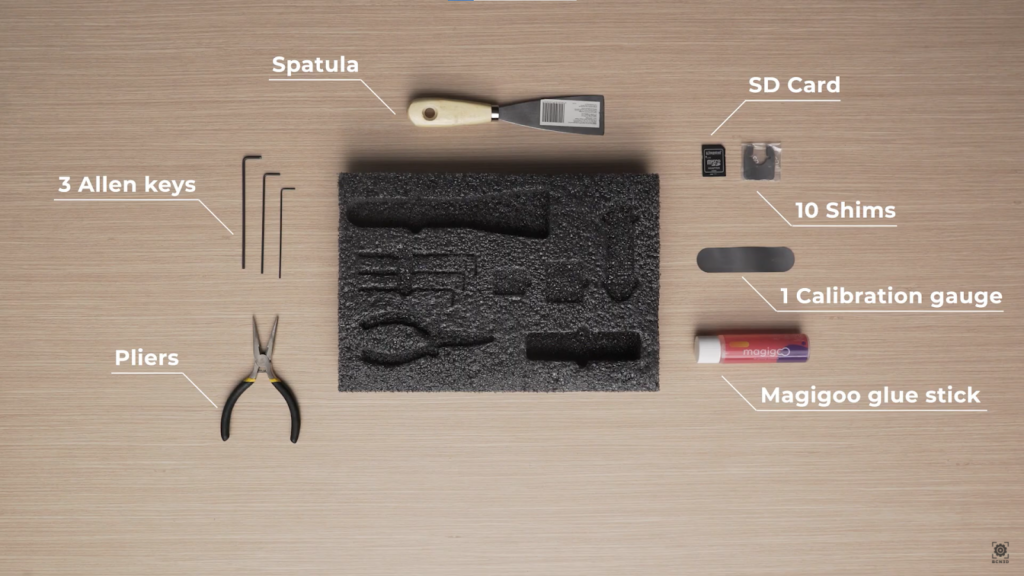 Adhesives: Use them before every print
Adhesives ensure that the first layer sticks to the printing surface so you can avoid warping issues. Using the right amount of glue stick is as important as choosing the right type of glue stick. From BCN3D, we recommend Magigoo glues since it is a cost-effective and reliable adhesive. There are different types of Magigoo glues:
Magigoo 50ml: To print most of the materials (PLA, ABS, PET-G, )

Magigoo PRO PA: To print polyamide (nylon) plastics. 

Magigoo PRO PP: To print polypropylene plastics.

Magigoo PRO PPGF: To print glass-filled polypropylene plastics.

You can learn more about Magigoo in this article and purchase it in our online store.
Lubrication Kit: Let your hotends run a marathon
To reduce friction and wear between printer mechanisms it is recommended to lubricate the printer axes periodically. Our BCN3D printers will remind the user to lubricate the axis every time the hotends have run a certain distance. The best 3D printer accessories that the lubrication kit should have are:
Grease

to smear into the Z-axis leadscrew.

Solvent

to clean the dust and filament remnant that may fall in the guide rails.

Lubrication Oil

to lubricate X-axis and Y-axis.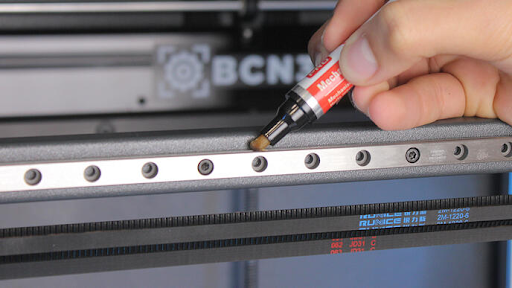 If you do not have one yet, you can order it here: Lubrication kit
To conclude, having the right 3D printer accessories is a must for those users that need their printers working 24/7 and don't want to waste time or money buying new spare parts. These accompanying tools also give 3D printers experts the upper hand for printing advanced figures such as metal prints or figures with fiber-filled materials.