Barcelona, September 5, 2018 – BCN3D Technologies, the worldly renowned Open Source 3D printer manufacturer, announced today the unveiling of a new generation of FFF dual extruder printers: the Sigma R19 and the Sigmax R19. Featuring new extrusion system with an unmatched performance composed by extruders powered by Bondtech™ and hotends optimized by e3D™, new filament runout sensor to detect material presence, Mirror and Duplication print modes, refined GUI and UX and new slicing software BCN3D Cura 2.1.0.
Today BCN3D Technologies has released the new 2019 printers generation. The new Sigma R19 is a reliable and easy-to-use desktop 3D Printer with IDEX (Independent Dual Extruder System) architecture that delivers high-resolution multi-material parts in a simple and effective way. On the other hand, the new Sigmax R19 is a professional 3D printer with IDEX architecture and a massive printing volume, ideal for those who need to increase their production capacity and manufacture industrial-grade parts.
"The new Sigma R19 and Sigmax R19 are equipped with one of the most powerful extrusion systems so far and also with the unique IDEX architecture. Such a great combination turn both printers into two of the most productive and reliable 3D printers ever seen," states Xavier Martinez, BCN3D Technologies CEO. "We've partnered together with top world manufacturers such as e3D and Bondtech in order to equip our 3D printers with the top-grade components available nowadays in the 3D printing industry."
Hotends designed and manufactured by e3D™. Sharper details. Accurate prints.
The new hotends have been optimized by the global specialist e3D™. This new partnership with the English manufacturer has allowed BCN3D to work closely with the renowned company in order to equip the printers with top-level features in terms of hotends and extrusion systems. The improved hotends include the machining and engineering know-how acquired by e3D, which ensure the highest quality standards, providing a smooth and reliable extrusion under different printing environments. The new e3D hotends are fully compatible with all previous Sigma and Sigmax printers.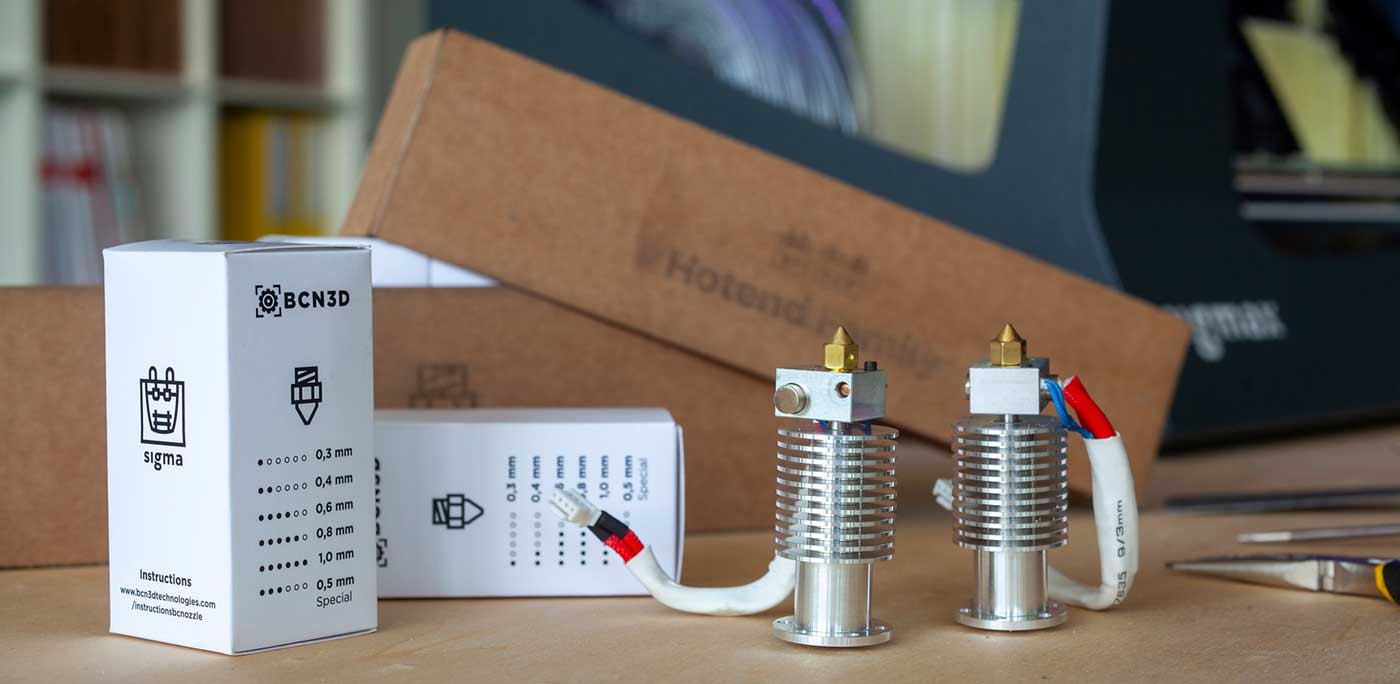 High-tech dual drive gears by Bondtech™. More power. More control.
The extruder of the new R19 printers is made with aluminum CNC machined body and hardened steel drive gears powered by Bondtech. It provides an incredible grip thanks to its high-tech dual drive gears that have proved to be the best feeding extrusion system, getting rid of grinding issues, no matter the filament used.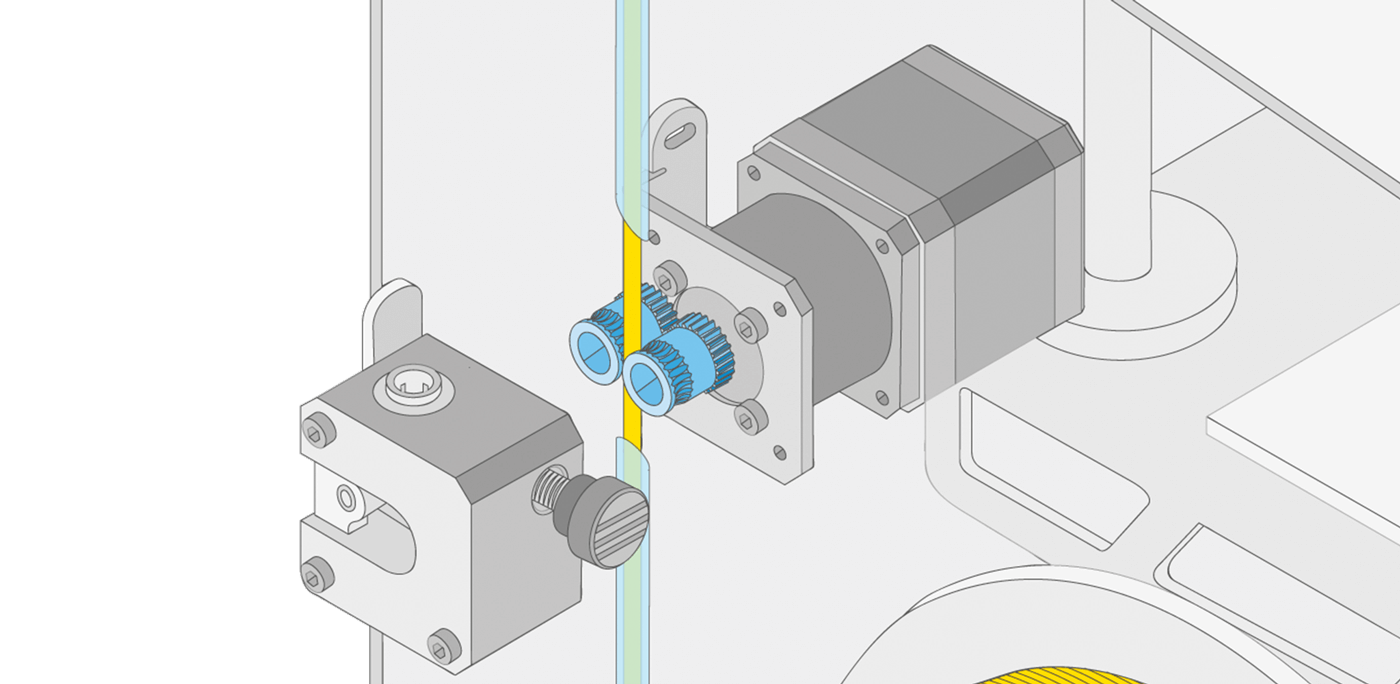 Filament runout sensor.
The new R19 printers include a mechanical switch to detect filament presence, allowing to prevent from one of the most common and frustrating failure reasons. In case of running out of filament during a print job, the printer will automatically pause and warn the user to load new filament to resume the print, letting to save time and money.
Improved GUI and UX. Operate flawlessly.
Through the full-color touchscreen BCN3D users will be able to operate the printer flawlessly thanks to the refined interface that incorporates several new features, offering a smoother and more intuitive user experience.
"For this new generation of BCN3D printers, not only have we worked on creating a great hardware but also in improving the user experience, creating a refined graphic user interface with new informative screens, maintenance recommendations, new guided assistants and access to advanced settings," states Marc Felis, BCN3D Technologies Marketing Manager. "The ultimate test of a product comes when the users confront it, not just from a list of its specifications. That's why we've taken special care of each phase of the user experience."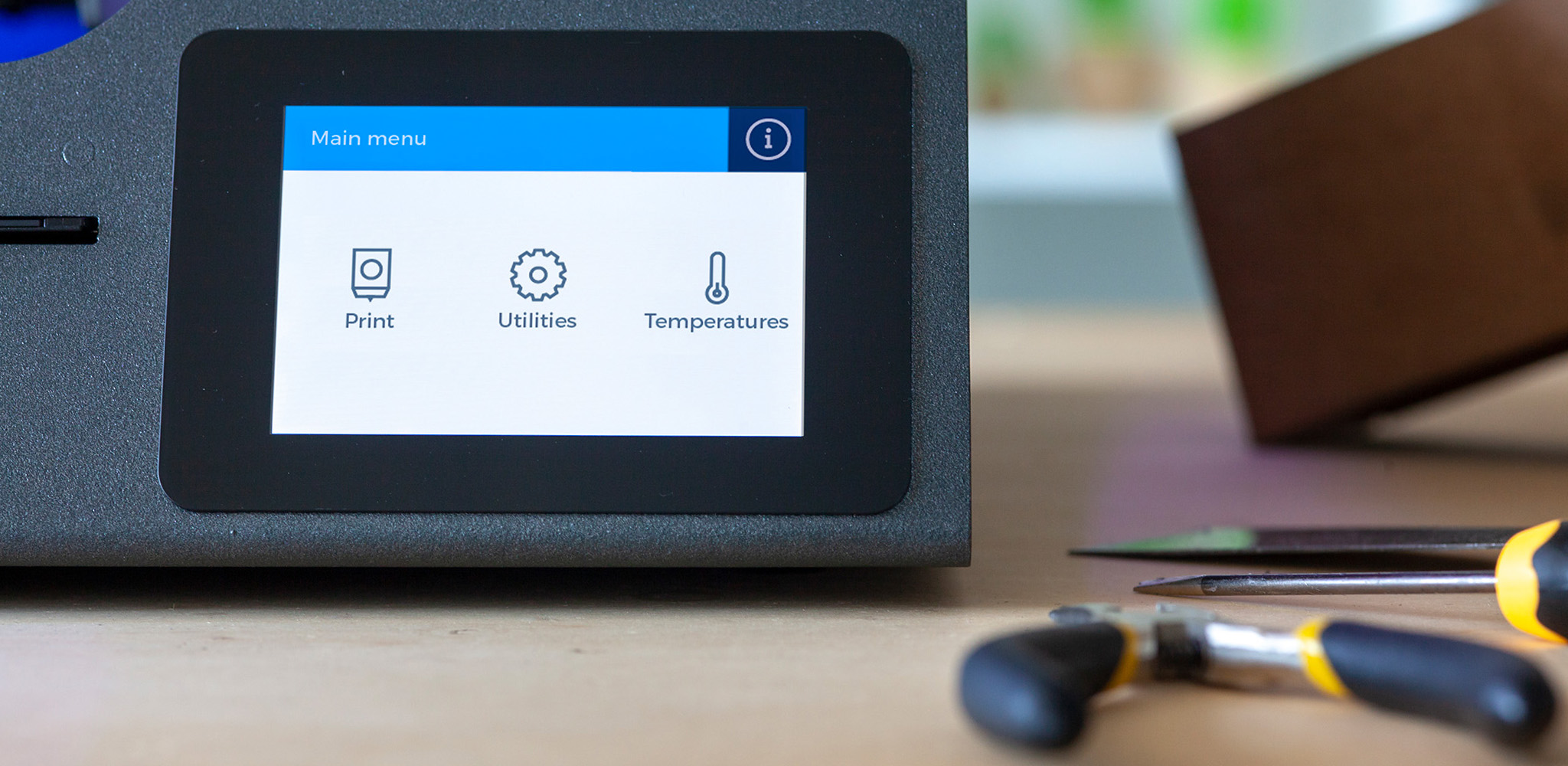 IDEX architecture. Enabled Mirror and Duplication modes.
All BCN3D Printers are equipped with a unique dual extrusion architecture introduced back in 2015: the Independent Dual Extruder system (IDEX). It allows to print with 2 different colors for an aesthetic finish, or use PVA water-soluble support for intricate parts with overhangs, while ensures the finest surface finish. The idle toolhead remains parked, preventing the dripping of molten plastic into the part.
To take profit of the IDEX architecture, in 2017 BCN3D announced the Sigmax 3D printer with 2 new highly productive printing modes: mirror and duplication. These modes allow to print the same model or its symmetrical with both toolheads simultaneously, and consequently, double the production capacity.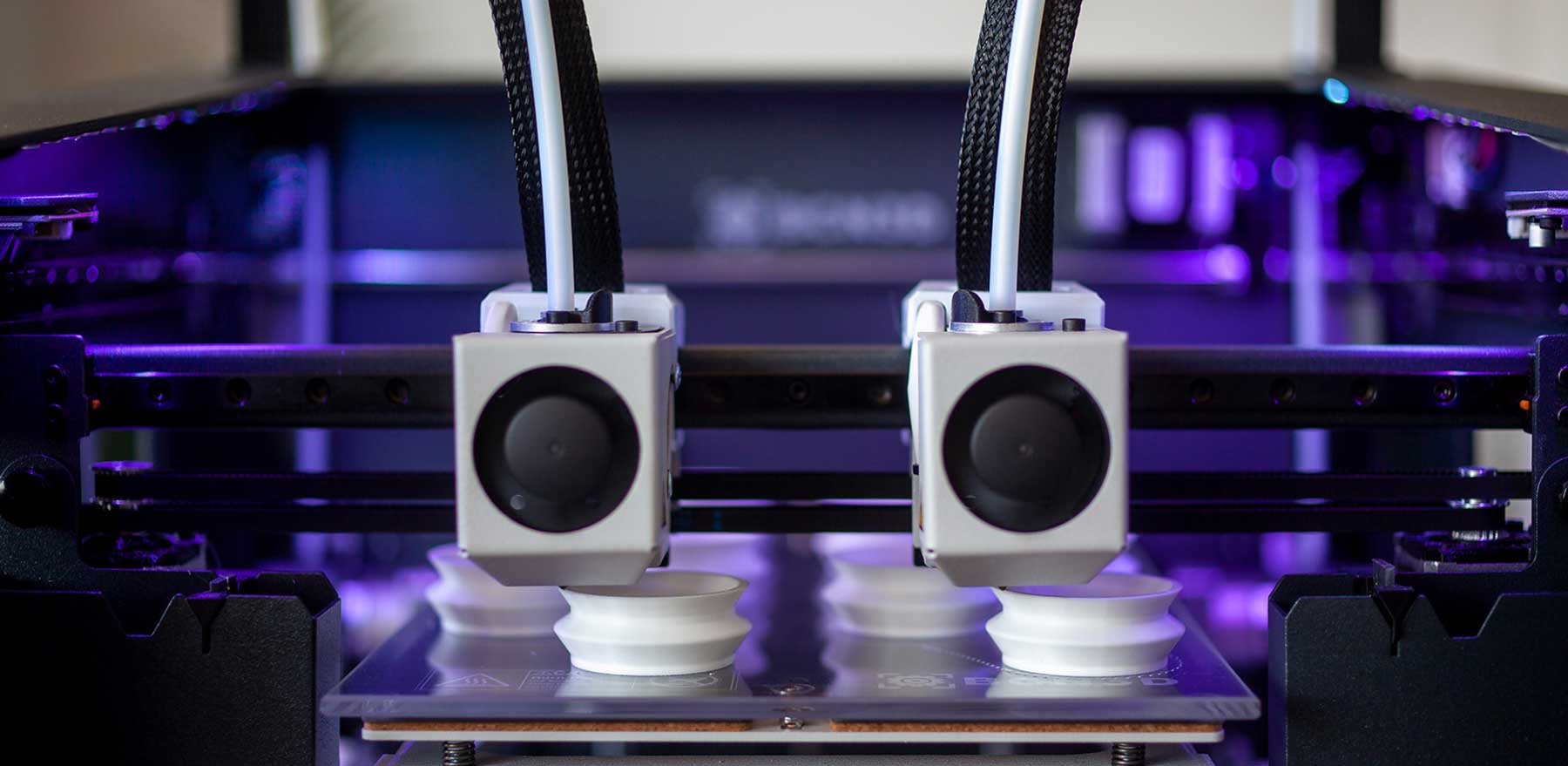 Now, both the Sigma R19 and the Sigmax R19 are capable to print with these powerful modes.
Interchangeable toolheads. Unleash your creativity.
The new R19 printers are compatible with the Hotend Family, a range of six hotends (with nozzles from 0.3mm to 1.0mm) that enhances the versatility of 3D printing. Small nozzles are ideal for detailed models. Instead, big nozzles allow users to fabricate more resistant parts or for rapid prints.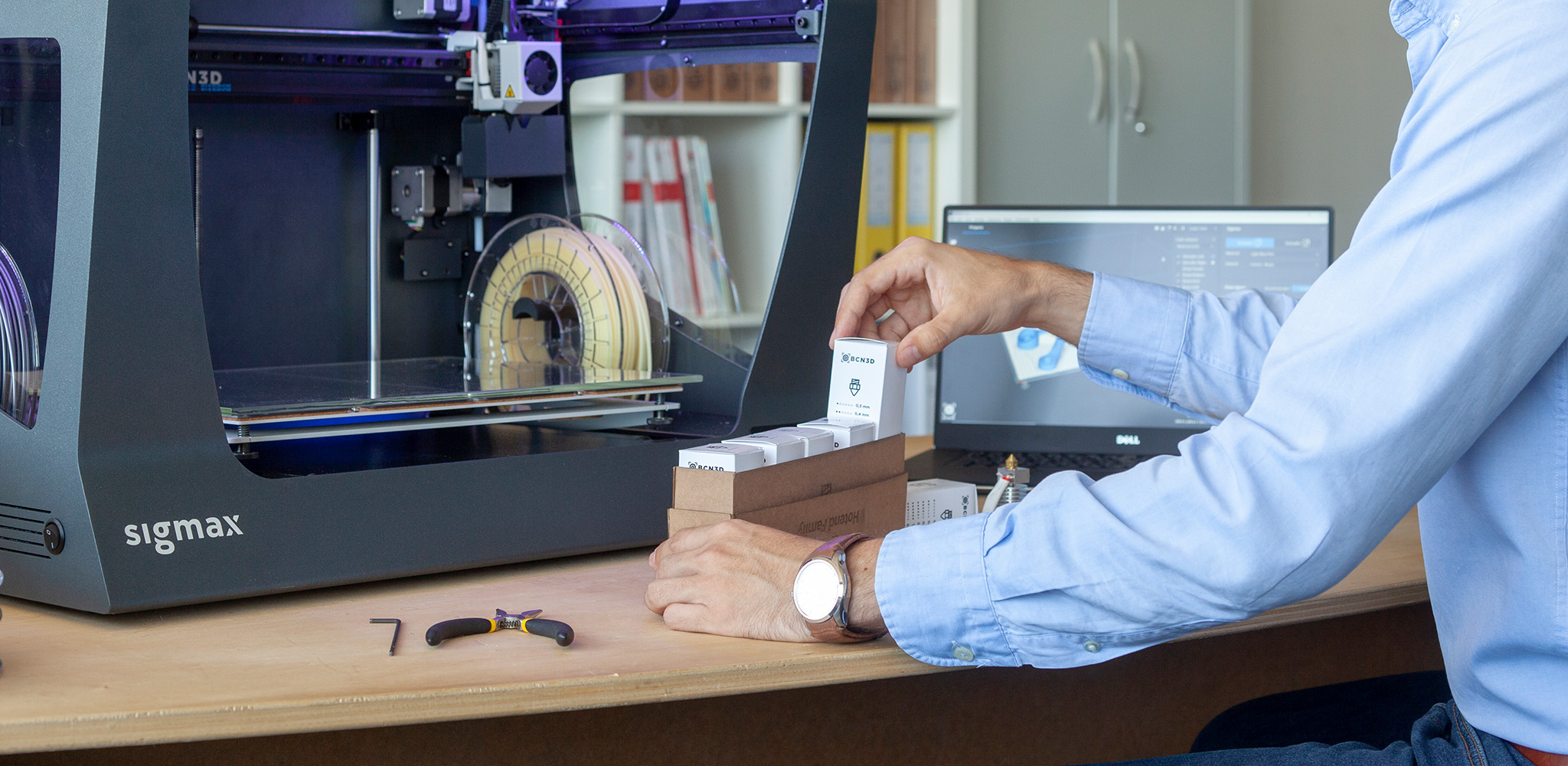 Additional enclosure for technical materials. Engineered for reliability.
The new enclosure for R19 printers allows getting a constant interior temperature to prevent warping in technical materials such as ABS, Nylon and PET-G. Furthermore, protects the working environment from potentially harmful particles thanks to the HEPA filter.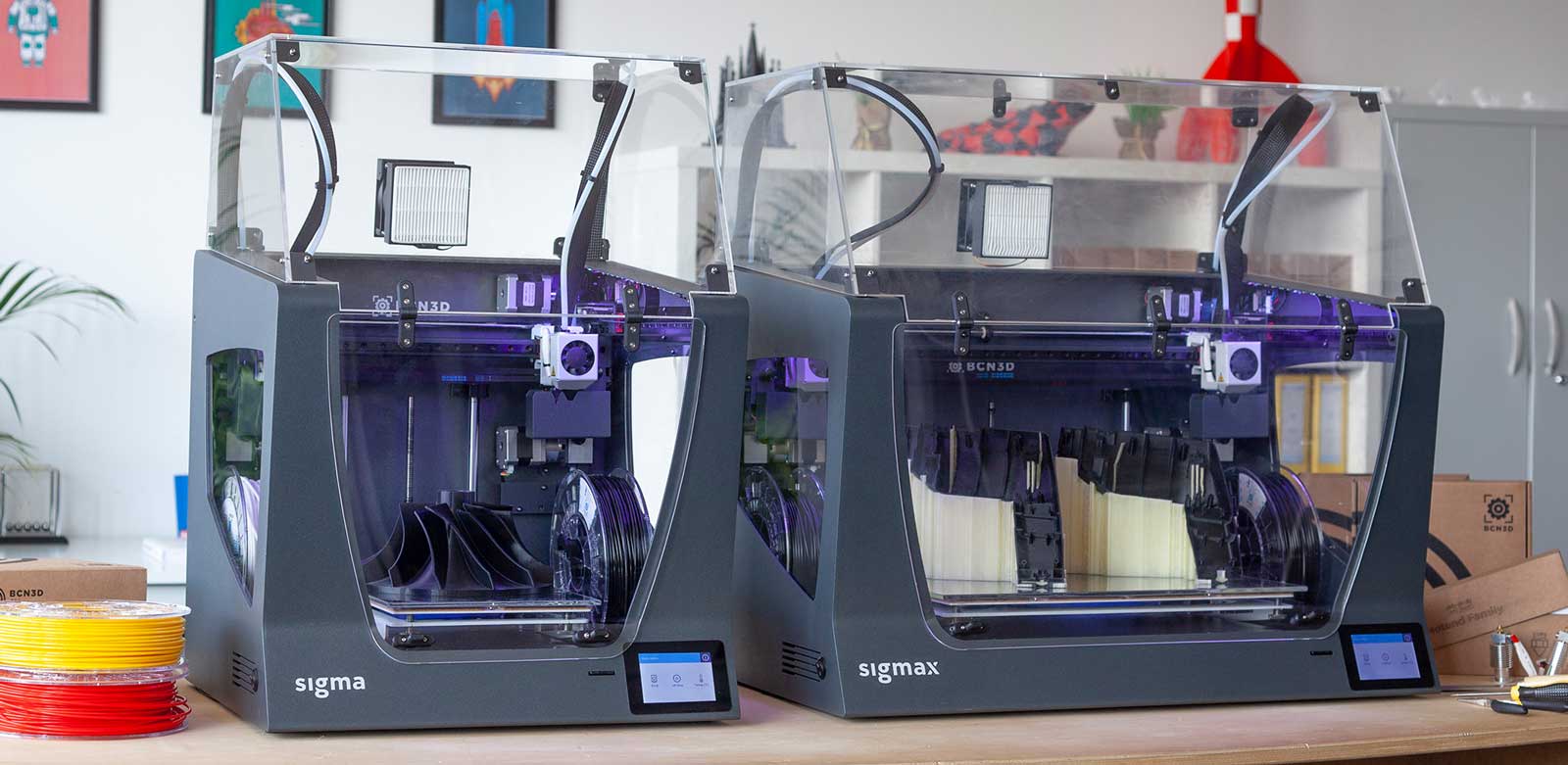 BCN3D Filaments: Industrial-grade materials portfolio.
The new Sigma R19 and Sigmax R19 support the full BCN3D Filaments portfolio, composed by common polymers in several industries that cover the majority of the technical applications: PLA, ABS, Nylon, PET-G, PVA, TPU, Composites and Carbon Fiber.
New slicing software update: BCN3D Cura 2.1.0.
BCN3D Cura is a free and easy-to-use 3D printing software that prepares your model for 3D printing. It provides an intuitive user interface and an improved workflow, both for newcomers and expert users. It includes preconfigured profiles of BCN3D materials so the user can enjoy a better 3D printing experience. BCN3D Cura 2.1.0 has been released together with the Sigma & Sigmax R19.
Upgrade kits to R19 coming for previous versions of BCN3D printers.
With the intention of bringing all these new improvements to the customers that already own a Sigma or a Sigmax, we have designed the new R19 enhancements in order to be able to be offered also as an upgrade kit. Therefore, any owner of an Original or R17 Sigma will have the possibility to update their machine with the new features incorporated into the Sigma R19 thanks to the Upgrade Kit Sigma R19. The same for those users of an Original BCN3D Sigmax, they will able to upgrade their printer with the Upgrade Kit Sigmax R19.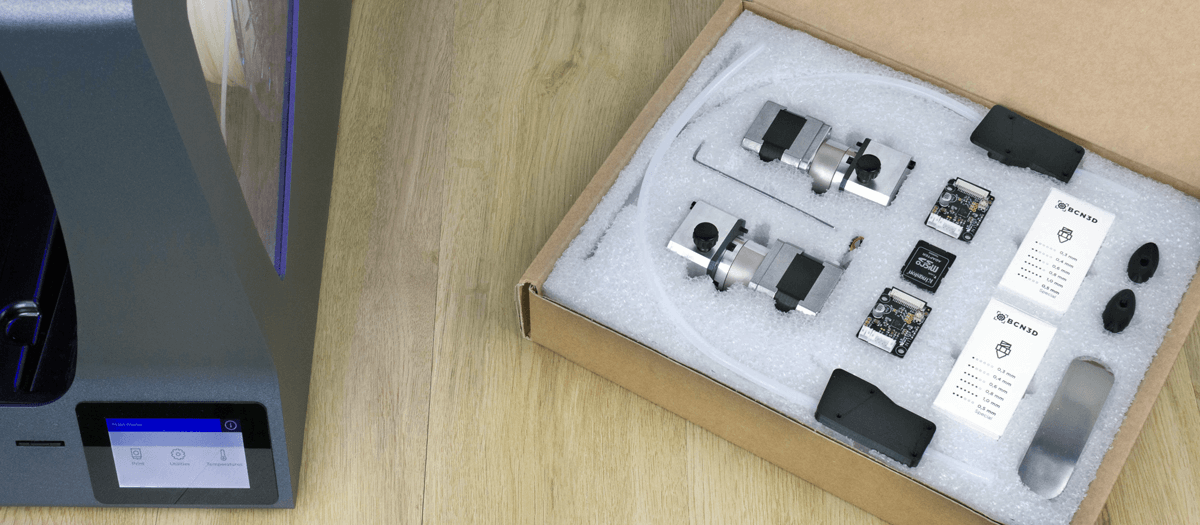 "Our experience says that being Open Source it has no sense to keep old users trapped in old features wanting them to purchase a new machine to catch up with the rest of the community. Instead, we want the maximum number of users to enjoy the new features, that's why we will release these kits," states Xavier Martinez. "Furthermore, following our commitment with the Open Source community, all CAD files of the new R19 3D printers will be published during the following months."
The R19 Upgrade Kits will be available on November.
Sigma R19 & Sigmax R19 Availability. Shipping starts next week.
Sigma R19 and Sigmax R19 are already available from today at dev.artesans.eu/bcn3d and via BCN3D authorized resellers network. Find your local reseller here. Printers are scheduled to start shipping next Wednesday 12th of September. Certified technical support is included with all BCN3D printers.
BCN3D will be presenting to the public the new generation of 3D Printers at the TCT Show of Birmingham (25th-27th Sept 2018) at booth L47. Come and visit us!
Would you like to receive a personalized quote? Fill out this form and a sales specialist will get in contact with you.