3D printing to save lives
For many, 3D printing offers the chance to make innovative, creative designs a reality. For humanitarian aid agency Field Ready, 3D printing can help save lives.  As an international NGO, Field Ready helps people in disaster, and conflict-affected areas make the critical items they need, where and when they need them. 
Frustrated by a lack of materials needed to help people when he arrived in disaster zones as an aid worker, Executive Director Eric James co-founded Field Ready in 2013 to remedy that problem by making items on the ground, right where people needed them. The organization's very first effort that year saw volunteers go to Haiti and use 3D printers to make medical devices and items to help restore power in remote areas still suffering the devastating effects of the 2010 earthquake. By using digital design, 3D printers and locally available materials, Field Ready worked in Haiti for a short-time and partnered with local aid groups, making items such as umbilical clamps for new mothers and their babies and parts needed for solar panels to restore power. They also began training local individuals to design and make additional needed items to help area residents. This approach serves as a model for all their aid efforts. They make items on the ground, train others, connect them with local manufacturers to make more items and help them reach sustainability. And they've been working in the most remote and challenging places on the planet ever since.  The use of 3D printing has played a large part in that journey. 
Medical device repair project
For instance, Field Ready began their medical device repair project in Syria in 2020 to help rebuild the hospitals and medical facilities in that country's war-torn northwest region. After a decade of war, more than 13 million people are displaced and thousands who need critical care suffer and die because of a lack of healthcare facilities and equipment. After surveying more than 40 healthcare facilities to learn what they needed, Field Ready's Syrian team relied on their 3D printers to help print 215 desperately needed parts to repair medical devices and medical equipment. The repaired items included infant incubators, blood pressure cuffs, defibrillators, ECG machines, nebulizers, sterilizers, a CT scanner, even an industrial sized chiller for a medical center. The team also printed 13 whole, new devices. In 2022, an independent audit showed that Field Ready's  repair work served more than 100,000 people.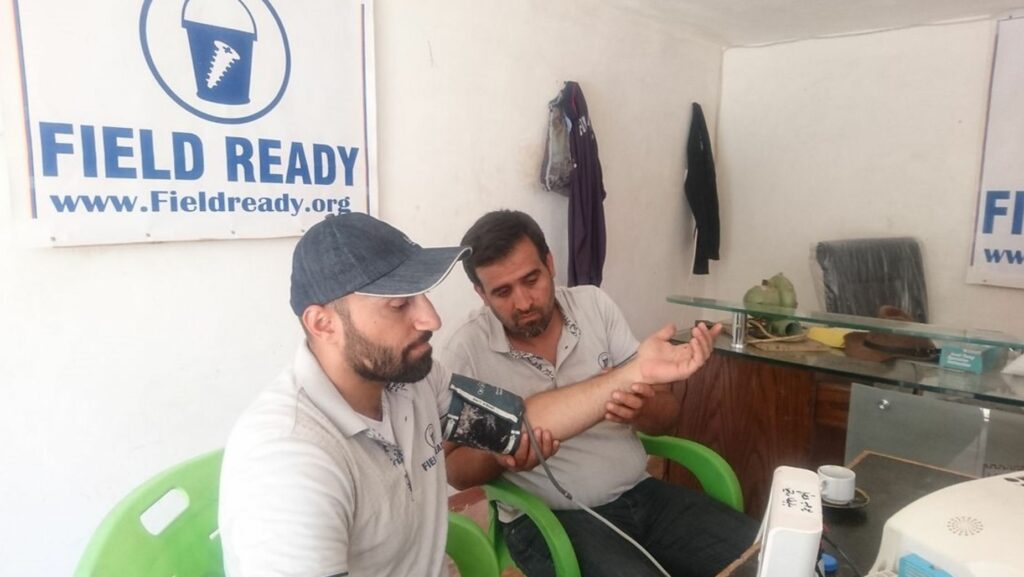 Surprise Soaps
Field Ready also relies on 3D printing for their award-winning and most requested aid item, Surprise Soaps. Surprise Soaps are small soaps for children with a plastic toy inside to encourage children to wash their hands often. The more children wash their hands, the quicker they're rewarded with the toy, and the healthier they make their communities.
Handwashing is known to be one of the best and most cost-effective ways to prevent disease transmission. In disaster, and conflict affected settings where people have been forced to flee or shelter in dirty conditions, people are especially vulnerable to death and illness caused by poor hygiene. Better hygiene, supported by local manufacturing, can help change that. Surprise Soaps aren't only used to improve hygiene, however, production of the soaps also encourages local economic growth. The toys for the soaps are 3D printed in local makerspaces, and local manufacturers then produce the soaps themselves. They can be made to scale; small refugee groups have made the soaps to sell to NGOs, and larger groups such as Iraq's Makers HIVE have made 12,000 of the soaps to give to schoolchildren in Basra, Iraq. Field Ready won a Honey Bee Network Creativity and Inclusive Innovation Award (HBNCRIIA) in 2022 for its Surprise Soaps. The awards, sponsored by the Honey Bee Network, India's Grassroots Innovation and Augmentation Network (GIAN) and the United Nations Development Program (UNDP), are given to the most promising inclusive innovations from around the world.

Training to print
Throughout 2021 and 2022, Field Ready trained people as part of the "Protecting The Frontline" program to use the printers to make both the plastic toys for the soaps and face shields to help prevent the spread of COVID-19 and other diseases. This project covered four countries: Bangladesh, Iraq, Kenya and Uganda and resulted in the making of tens of thousands of useful items. In many cases, the people they trained have continued to grow their businesses and rely on 3D printers to power their expansion.
But they don't only use 3D printing to respond to disasters but also to help build and then boost local economies. In Iraq and Nepal, they have helped local organizations with training and development by using 3D printing to expand knowledge transfer, power start-ups, bring designs to life and create solutions to problems. Iraqi Field Ready staff last year hosted competitions to design new assistive devices for physically challenged people, and have even used the printers to help children explore digital design.
Because 3D printing is so adaptable, the process lends itself to creative problem-solving and innovation in every arena. And it's been proven to be life saving for Field Ready's work, and the people they serve around the globe.