Choosing the right hotend size for each application is crucial in order to fabricate high-quality parts within the shortest possible time. That's why BCN3D offers a wide range of hotends, enabling you to adapt to each project's specific geometrical requirements.


Factors like printing speed and printed part strength are directly related to the diameter of the hotend.
Our fully assembled full metal hotends are optimized and manufactured by the global specialist e3D™, which ensure the highest quality standards, providing a smooth and reliable extrusion under different printing environments.
The BCN3D printers allow printing with different hotend sizes: 0.3, 0.4, 0.6, 0.8, and 1.0 mm. The chosen hotend will have direct consequences both on the printing speed and the resistance of the resulting part: small nozzles are ideal for detailed models, while big nozzles allow fabricating more resistant parts and to print much faster.
It is important to take into account these details in order to decide which one to use for each project so that the prints obtained possess the required characteristics to fulfill their function: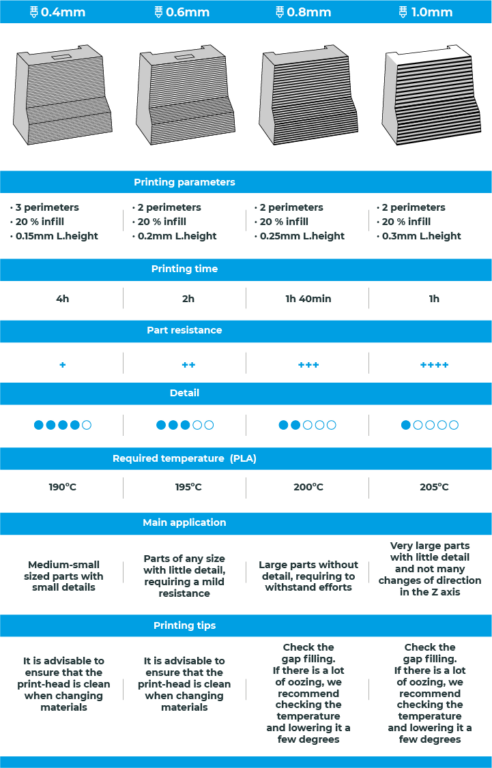 The diameter of your nozzle and the desired quality and printing time to achieve will determine the optimal layer height, which can be calculated according to the following rule:
Adjusting both the hotend size and the most appropriate printing parameters depending on the final use of each project, you will ensure that you obtain high-quality and fully functional parts in the shortest possible time. And you can go back to what matters most: innovating.