The brand new BCN3D 3D Cloud software is a powerful fleet management system, making it the perfect tool to accompany any innovator and their BCN3D hardware. Choose between 3 particularized plans to embrace the power of this essential web-based platform and take total control of your business. 
Are you seeking a simple yet effective workflow to scale your business?
Any 3D printing ecosystem is only as strong as each of its components. And with the integration of 3D printers into businesses growing at an exponential rate, so too is the demand for the management of these fleets that exist in a variety of industries, applications, and locations. That's why we acquired AstroPrint, a world-renowned company with an experienced team dedicated to software developments, to build upon their technology and bring you a brand new high-powered 3D cloud system that levels up to our hardware solutions. 
We've cultivated a brand new platform with a completely reinvigorated user experience and interface. The BCN3D 3D Cloud software is an intuitive control panel to manage your fleet of 3D printers in real-time and stay informed about their operation. It's never been easier to set up a systematic workflow by organizing your company members into teams and allocating responsibility for handling files, printers, queues, and data. 
To get the ball rolling on your journey to an elevated efficiency, pair the BCN3D Cloud with any Epsilon models or our Sigma D25. We've differentiated 3 distinct plans of Standard, Teams, and Private to cater to any level of 3D printing expertise and complement businesses of all sizes and complexities.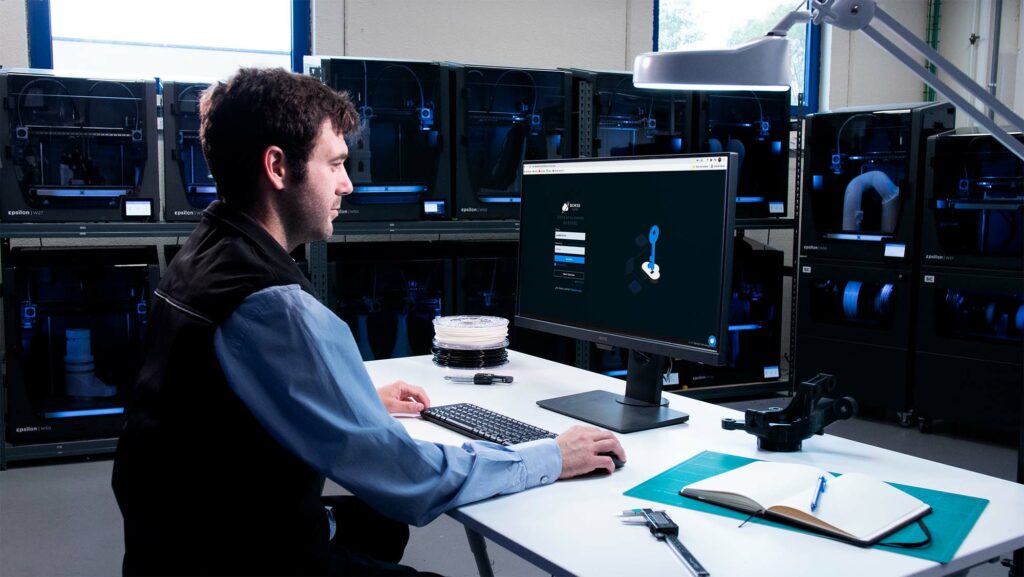 BCN3D Cloud Standard
If you're willing to drive the adoption of additive manufacturing within your company, the free Standard plan welcomes you with a variety of easy-to-use tools to ensure your business grows more efficient, organized, and informed. Utilize unlimited users, unlimited printers, and files up to 5GB.  
Organizing your files is simple and straightforward. You can count on the Cloud to keep them safe, neatly organized, and instantly accessible from any of your devices, anywhere, anytime. 
Manage print queues and prioritize important pieces by arranging, repeating, or deleting print jobs to adhere to your preferences. Keep tabs on your print history to review and repeat your successes.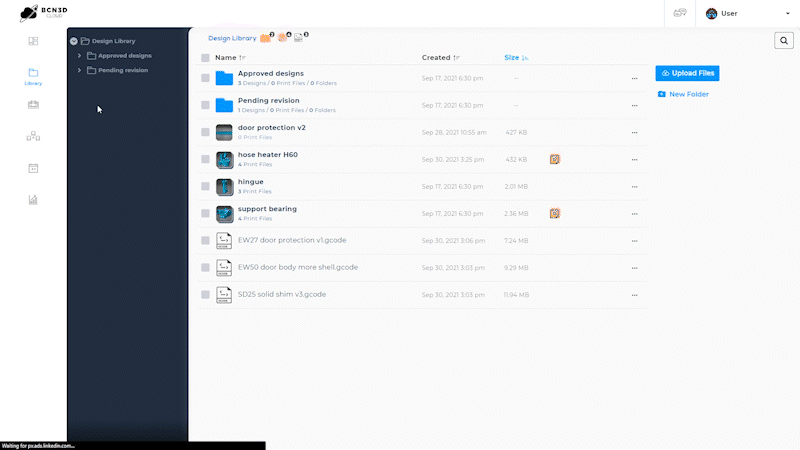 As a way of maximizing efficiency, the 3D Cloud allows you to group your printers into clusters according to different characteristics or capabilities. Categorize according to factors such as print volume and loaded materials to fill shared queues with print files of the same requirements.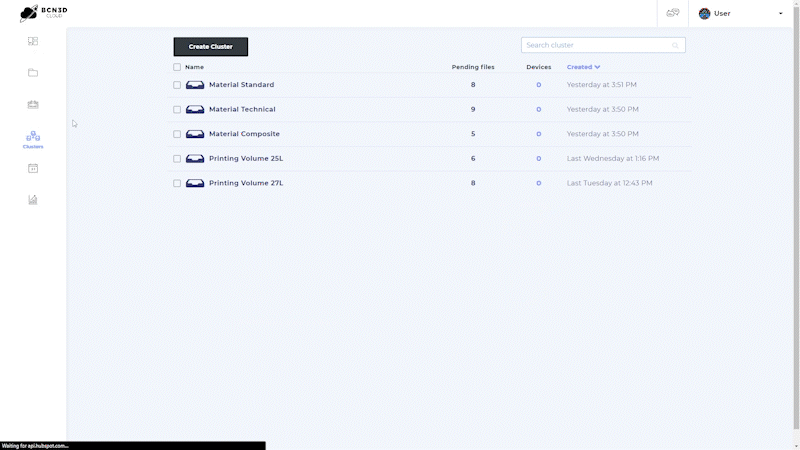 Analyze real-time statistics to track continuous usage, understand and predict 3D printing demands, fulfill production capacity, calculate ROI with material usage, detect workflow inefficiencies and bypass any possible bottlenecks.
Should you run into any difficulties, you can make use of the built-in access that takes you directly to our support team, by your side so that your printing always stays on track.  
You'll be able to experience the BCN3D Cloud Standard plan for yourself from the 13th of October, giving you the time to learn about the new features, UX, and UI for a smooth as possible transition. On this day, the Cloud will be under maintenance from 8.30 am (CEST) for 2 hours.
BCN3D Cloud Teams
The BCN3D Cloud Teams plan retains all the features of the Standard plan and more to provide you with the tools for you to take the reigns. Whether you are running a service bureau, a major university with 100+ printers, or a Fortune 500 manufacturer, we've got you covered. Administrate a departmental structure with customized roles and permissions for members, to optimize your resources and reduce operation times as a result.
It's easy to organize both your colleagues and resources. Simply assign collaborators to teams, just as you would in the real world. Allocate printers to each team and start stocking the library with unlimited files and folders that you can choose to share with others.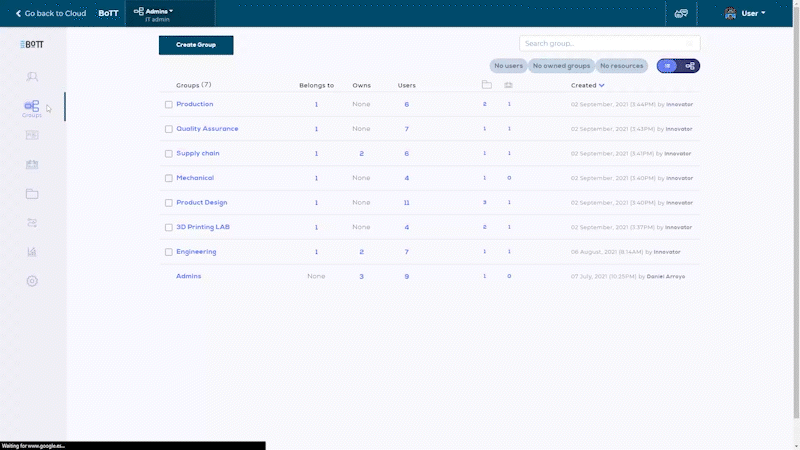 Assign roles and delegate 40+ permissions for individual members for features such as visualizations, printing, access to shared folders, print monitoring, workflow, and cluster management… the world is your oyster. 
Set up workflows to manage and control the printing process all the way from design to the final piece. Depending on the role, some users can add files to the workflow while others are responsible for managing the printing process. This technique benefits organizations where printing must be overseen by a lab technician, or in cases where many users are sharing a group of 3D printers.
Acquire additional data that provides information on both print jobs and your teams to stay in the know and progress your business further. Members with access to this data can capitalize on usage reports to evaluate possible investment on 3D printers, identify material consumption, track user success ratios, and detect high and low performing teams.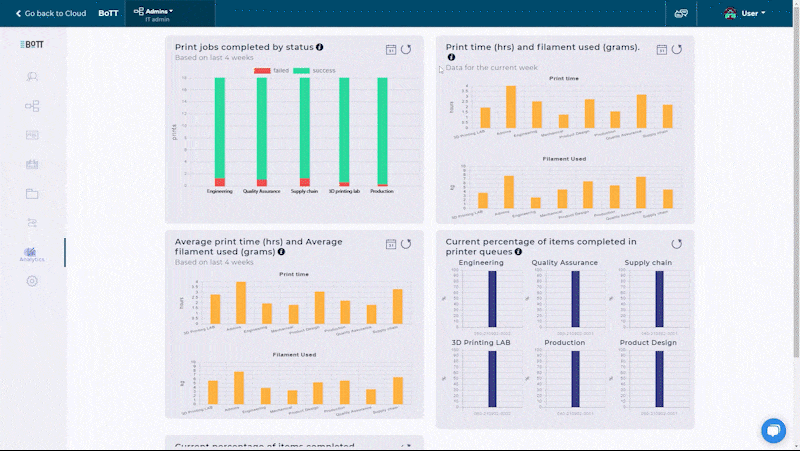 Public folders can be created for instant sharing. The storage strategy is always under the control of the admin, who can choose the most fitting option for their organization.
Try the Teams plan from late October onwards for a 3 month probation period, and then 495€ per year (595$/year). 
BCN3D Cloud Private
For corporations with restrictive security and privacy policies are of course an absolute must. The BCN3D Cloud Private contains all the features from the Standard and Teams plans and more. 
For your peace of mind, the BCN3D Cloud Private plan's local deployment means you're in charge of your own unique system and never run the risk of unwanted transfers of information going in or out of your LAN.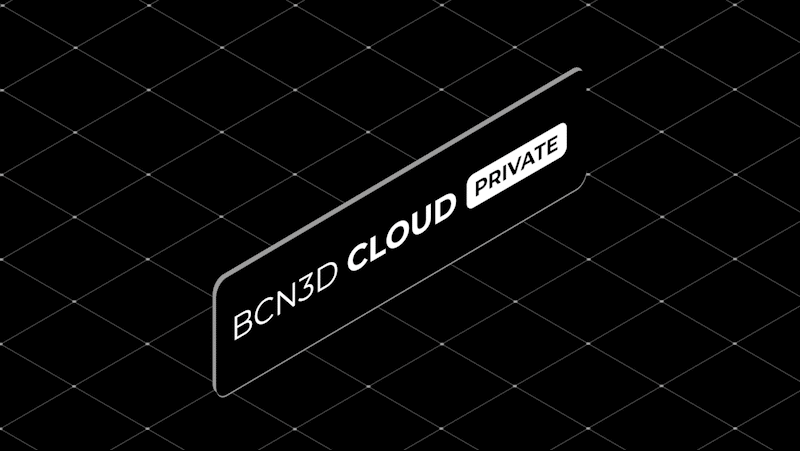 The federated authentication (SSO) is conducted through SAML, a secure way of passing user authentications and authorizations between the identity provider and service providers. This means users can join the platform using the credentials of the organization itself, these identities and attributes of which are then stored across multiple distinct identity management systems. Using OpenID, you can also easily connect to Google Accounts and Microsoft Active Directory. Federated authentication is also available in the Teams plan.
Since the Private plan encompasses specialized in-house training and consultancy, we will evaluate each request individually to ensure the proper deployment. We expect the first installations to be carried out in 2022. 
Now there's nothing stopping you from revolutionizing your business by allocating responsibilities and a fine grain print job management system. To hear more about each feature in detail and see how your company could benefit, register to watch our live webinar coming on October 18th at 4 pm (CEST). Our Chief Software Officer Daniel Arroyo is on hand for a full walkthrough of the 3D Cloud while answering your questions via our live chat along the way.