A huge collaboration between BCN3D Technologies, Victor Ochoa, Undo and AsorCAD has resulted in the printing of a seven metre tall, 3d printed art sculpture for an opera show stage.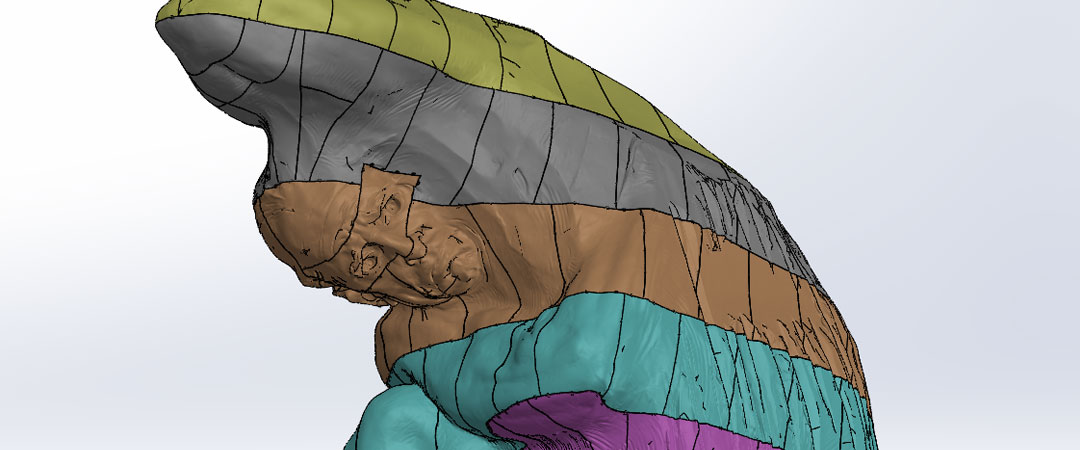 From an original sculpture by Victor Ochoa, an enormous piece of almost two and a half tons has been created by us here at BCN3D Technologies with Undo and AsorCAD. After seven months of designing and printing,  the 3d printed art sculpture has been used as a centerpiece for opera performances in Montreal.
Specialists in 3D printing and distributors of BCN3D+ printers, Undo has been leading the project. AsorCAD is a company specializing in 3D digitization, reverse engineering and the processing of 3D points clouds, and has been collaborating closely with Undo for ten years.

Creating the 3D printed art sculpture from start to finish
The first thing we needed to do to get our monstrously big sculpture into shape was to create a 3D digitization of the original sculpture. This is made in Stereolithography format (STL). Here, the 3D design of the various layers can be viewed, and the treatment of the resulting mesh can begin. To thicken the skin, the STL file is then converted to 3D CAD semi-automatically with WRAP Geomagic software. Other plates are designed with Geomagic software, Design X to achieve a 3D CAD file on which the inner frame is designed. Finally, GCode is the format in which the printer can interpret the file. Here, we fixed the coordinates to three axes (X,Y and Z) of the machine in order to get printing.

In order to be a suitable size for printing by our BCN3D+ machine, the sculpture was divided into sections and subsections. Alongside artist Victor Ochoa, Undo took on the responsibility of printing all the parts and optimizing the mesh, providing thickness to the mold of the sculpture and division of all the plates. In total, more than 2,900 pieces were assembled and each was anchored to an aluminum frame for stability. 
Once assembled, different surface finishes were applied to the pieces for protection and the desired colors and textures. 
Taking its place center stage
After holding a pre-assembly meeting in Madrid, the sculpture was moved to Montreal where it received its finishing touches and took its place on the opera stage.
During the performances, the actors were walking atop the sculpture, proving the high quality and strength of the printing. The sculpture was also hung from above, and throughout the play, the character of Elektra rotates it to show it to the audience from all angles.
The sculpture required seven months of work and a total of 100 people in the different teams participating in the project phases.
We are delighted that, for five months, ten of our BCN3D+ printers were employed in the creation of this project. We believe this is unequivocal proof of the optimal operation and performance of our printers.