To pay tribute to one of our favorite video games, Super Mario Bros, we at BCN3D, developed and fabricated a 3D printed Rainbow Road (SNES) for the new Mario Kart Live: Home Circuit.
The video game Mario Kart needs no introduction as it is one of the most iconic series developed and published by Nintendo. As a tech company that thrives on innovation, we have always been fascinated by Nintendo as a company, especially by their continuous ability to grow and evolve. That is why we had high expectations about the added augmented reality element of the newly released: Mario Kart Live: Home Edition for the Nintendo Switch, and it is safe to say that we were not disappointed!
When our Additive Manufacturing Specialist, Antonio Aranzana came up with the idea to celebrate Super Mario Bros' 35th anniversary with a special 3D printed Rainbow Road home circuit for Mario Kart Live, we went all in!
He chose this track from the very first game of the series, Super Mario Kart from the SNES, because it is the one that usually appears the last in all the sagas and, therefore, it is the most difficult. In the original video game, this circuit appears floating in space with very little, if any, railing and if you do not play your cards well, you can easily fall down into space. If you have ever played the game, we're sure that you've also felt this well-known frustration! In our case, we placed the track on the floor, so even if a player fell down, the car could get back on the circuit, however, in return they would lose a few coins in the game.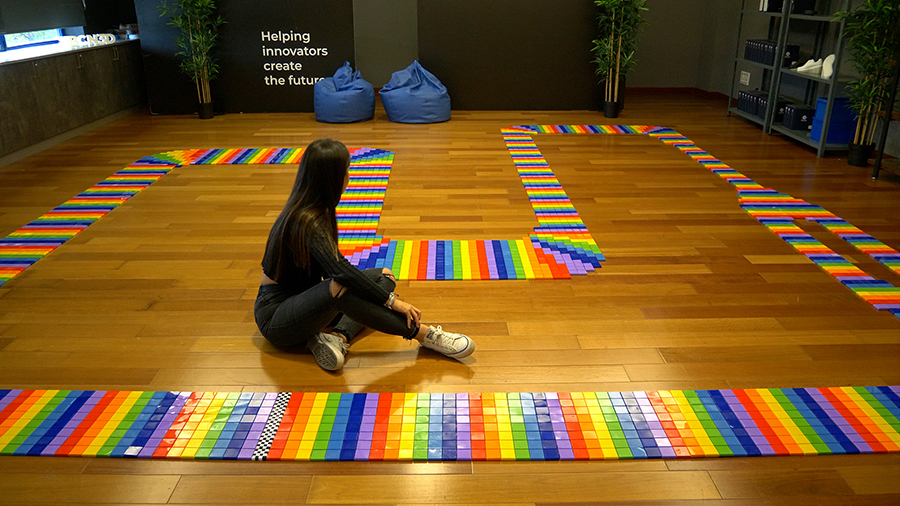 This colorful track consists of exactly 4,434 PLA pieces, all of them 3D printed locally at our headquarters in Barcelona, and its size is 5 by 5,4 meters. There are only 3 different kinds of tiles that make up the entire circuit; one for the sides, one for the center, and one for the corners. The only difference is that centerpieces have holes on all four sides to be able to be attached to other tiles, while the side and corner pieces only have holes on two or three sides. They are very easily attached to each other, just like puzzle pieces. 

The tiles were designed for a 0.6 mm diameter hotend, to decrease the time needed to print them. Each piece needs 9 minutes to be printed and 3 grams of PLA material. To 3D print the entire circuit we used 2 and a half spools of filament of each color of the rainbow.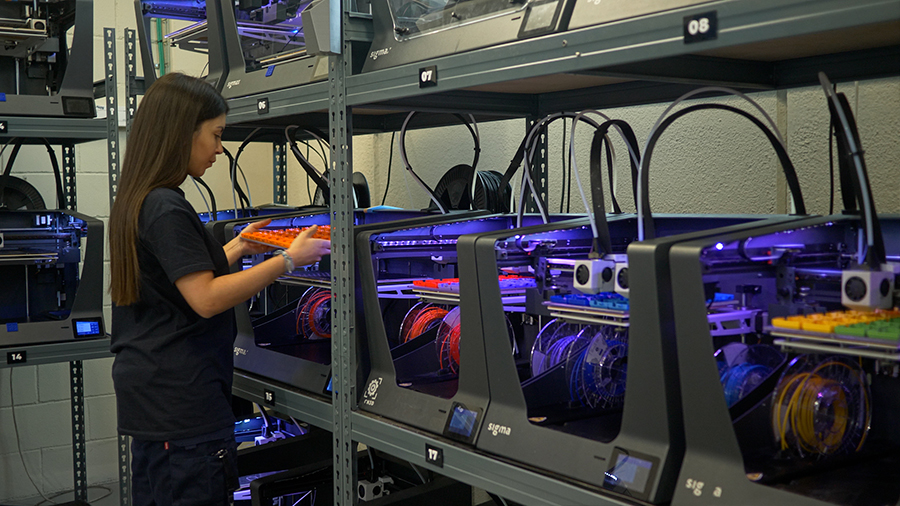 To create the entire track we used our print farm, where we only had Sigma R19s available at the moment, a model which has a printing volume of 210 x 297 x 210 mm and, therefore,  can print 24 pieces in an hour and 50 minutes using duplication mode. This means that during an average 8-hour workday, the printing process can be started 5 times, resulting in 1,200 pieces per day. Using 10 of these 3D printers every day we needed 4 days to finish the circuit, starting the 3D printer a total of 185 times. 
However, if we worked on the same project on a new Sigma D25, the entire track could be done in only 3 days, and the printing process would need to be started 93 times, instead of 185. As the Sigma D25 has a 420 x 300 x 200 mm printing volume, we could print 48 pieces in three and a half hours in duplication mode, resulting in 1,440 pieces per day, starting the printing process 3 times a day. This one day difference might not seem big, however, initiating the printing process 93 times, instead of 185, does make a big difference when it comes to productivity.

At the end of the day, our passion project has also turned into a great case to demonstrate the productivity of our 3D printers and connect augmented reality with 3D printing. Not to mention that most of the staff at BCN3D gave it a try, not so bad for another day at the office! 
We would love to inspire and challenge others to imagine and fabricate their own circuits, so if you would like to also like to bring the fun from Mario Kart into the real world, you can find all the STL files on Thingiverse. Don't forget to share your creations with us!
The Rainbow Road Giveaway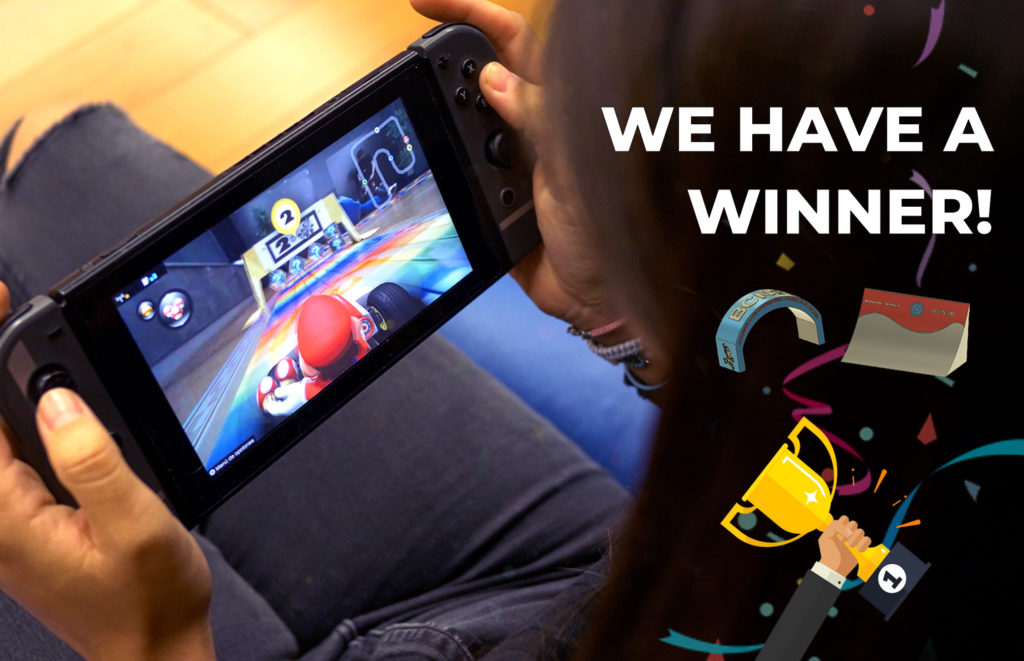 Thank you all who participated and sent us your amazing proposals to improve our 3D printed Mario Kart Rainbow Road circuit. After much deliberation, we are excited to announce that the jury has decided that the winner of our giveaway is Jesús Pérez Martínez. Congratulations!