We visited industry-leading manufacturer Saint-Gobain in its facilities in L'Arboç, Barcelona. Since 2019, the incorporation of 3D printing across its shop floor has saved the company around 170.000€ and reduced lead times of its tooling by 93%. The 3D printed parts take the shape of tools, jigs, and fixtures and perform applications for anything from positioning to quality control. 
If you own a vehicle from car manufacturer giants such as Stellantis Group, Daimler Mercedes, Volkswagen Group, Renault Dacia, and Ford, chances are it's composed of components from global frontrunners Saint-Gobain. Sekurit is a business within Saint-Gobain run from its facilities in L'Arboç that introduced 3D printing to its production line, resulting in impressive savings and incredible reductions in the lead times of its tooling. 
"So far, in-house 3D printing has saved us around a hundred and seventy thousand euros and reduced our lead time by 93%." – Ángel Salas, Maintenance Engineer. 
With these savings, we thought it imperative to provide an insight into how each of these parts served to make the production line smoother. Download our free PDF to see the wide variety of applications and the specific savings for each one in full.
World-leading Saint-Gobain 
Sekurit has been the frontrunner of innovative glazing systems for the automotive industry for over 90 years and annually produces around 19 million backlites and sidelites from its facilities in L'Arboç. 
Of course, for any production line functioning at this high level of quality and output, efficiency is key; and any options for improving in this way are constantly being investigated and tested by the Saint-Gobain team. It was for this reason that the team found that the external suppliers being used to create tools, jigs and fixtures were time-consuming, slow-paced, and a very expensive process overall. 
Renovating production processes with 3D printing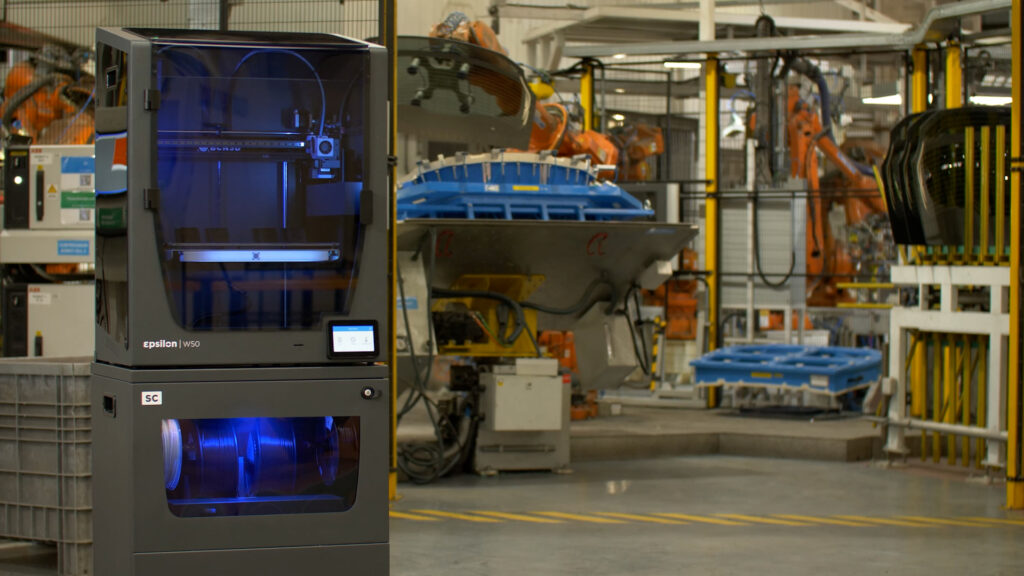 In 2019, Saint-Gobain made the plunge and implemented 3D printing on its shop floor with BCN3D Epsilon W50s and Smart Cabinets. Now, it's easier than ever for the team to make their ideas a reality, with easy prototyping, testing, and end-use parts in a matter of days, all while maintaining top quality. 
"Thanks to 3D printing, we've experienced immense reductions in costs, and a faster workflow adaptable to our needs." – Ángel Salas, Maintenance Engineer. 

Annual costs and lead times at Saint-Gobain
The Saint-Gobain team specified two factors that differentiate BCN3D printers from others on the market: the IDEX technology and big printing volume. While IDEX means productivity is doubled and can abide by Saint-Gobain's urgent lead times, the big printing volume means the engineers can create parts freely without constraints. 
For the production of the aforementioned backlites and sidelites, the process begins with a fully automated line of robots – the glazing is cut into shape, the sides are smoothed, and any designated aesthetic details are added. The glazing is then picked up and placed into an oven to create the curves. Fresh out of the oven, the dimensions and quality of the glazing are checked, firstly through a camera, and then sorted into approved or pending for manual checking. Robots pack away the glazing using 3D printed locators, checking the distance between them and the number of parts ready while doing so.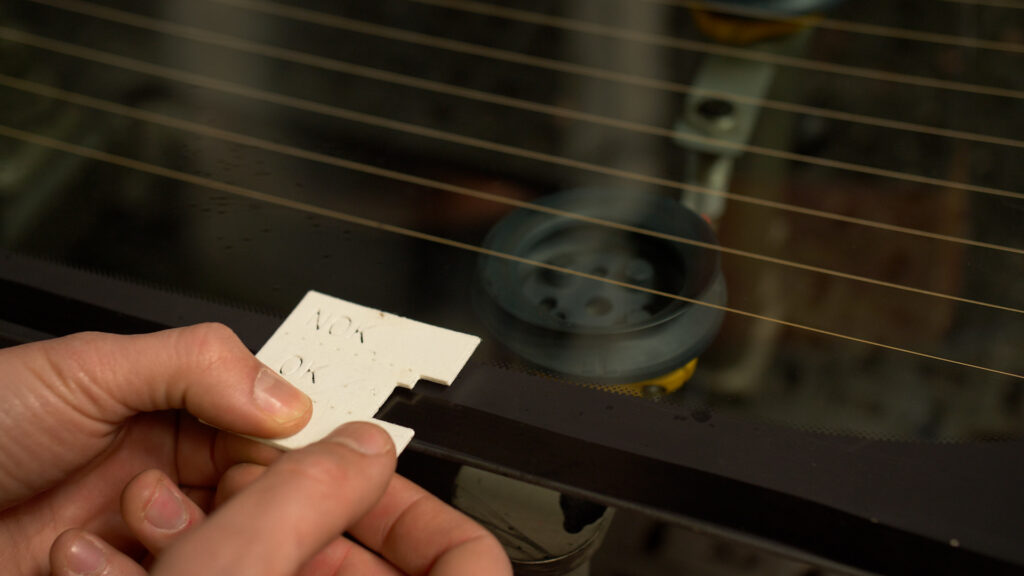 This control gauge is printed with PLA and used as a form of checking the serigraphy process has been performed correctly and evenly. After robots have completed the screen printing, a worker can examine the results rapidly and effectively.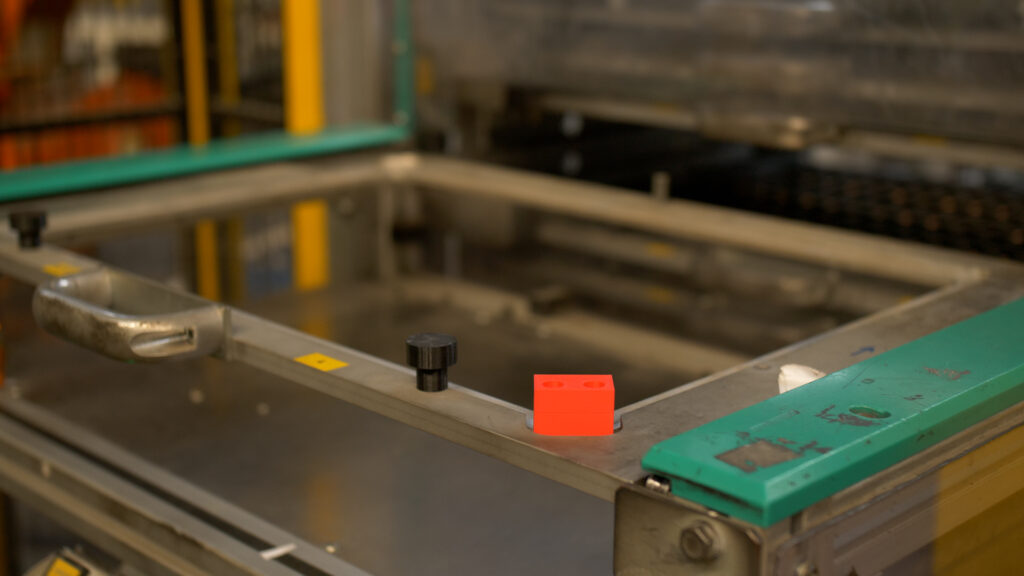 The image above shows a 3D printed squaring focalization in red that helps to support trays and keep them in position. Since the trays contain cables to be picked up by robots, it's important they are kept at a level and secure position. The cables themselves are kept in place with sorters made with our VLM technology.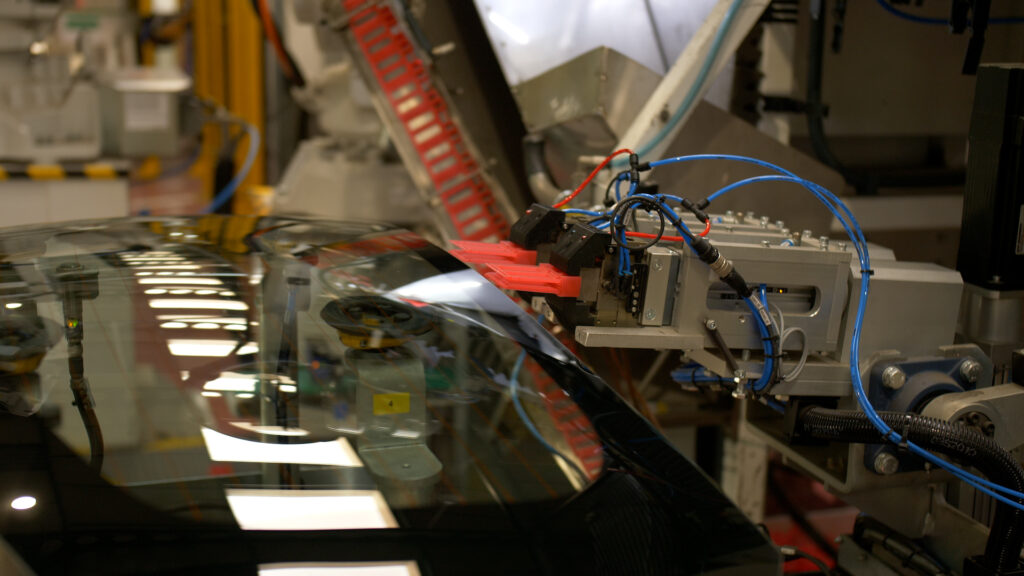 These packaging grippers are used to carry out the pick-up and placement of glass spacers. PLA is cheap and easy to print and provides the right stability for this application. 
With a current accumulation of 170.000€ in savings, Saint-Gobain's continuation of 3D printing is a sure thing. For a company keeping up with the latest innovations, FFF technology can morph its way into many applications – be sure to download our inventory of Saint-Gobain's parts to see even more ways it can be applicable in a production line.