We've been working together with the Born Cultural Centre and the Institut Municipal de Discapacitats to carry out tactile modeling, which enables visually impaired individuals to interpret different dimensions and shapes.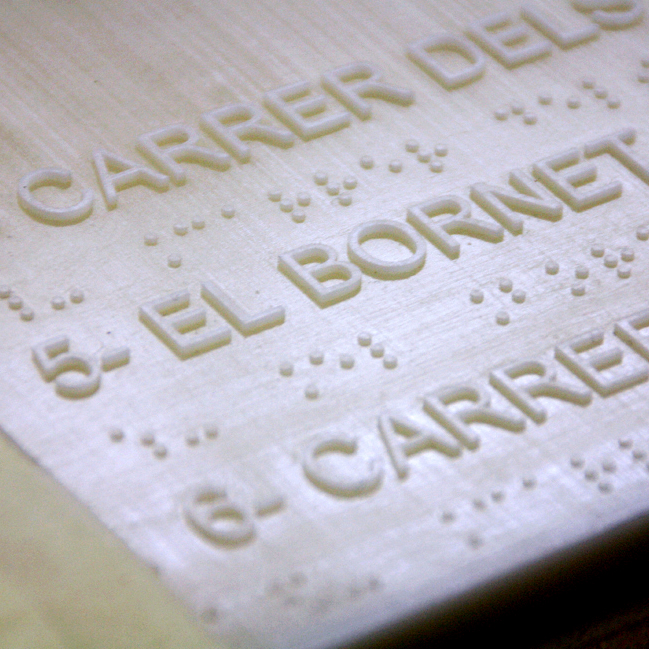 Sometimes, models are solely associated with industrial factories using big production lines. However, the possibilities of the use of new technologies in 3D printing are endless. In this specific case, it is being employed to create tactile models, opening up a whole new world of learning. The models in this case are of buildings, which means that, through touch, visually impaired individuals are able to interpret different dimensions and shapes.
With the help of the Institut Municipal de Discapacitats, the Born Cultural Centre entrusted the Fundació CIM to produce a fully interpretable tactile model, made possible through the codification of information and suitable surfaces.
The power of tactile modeling
The success of the process is entirely dependent on the precision of the model, since hands are perceiving the information. The models emulate the language system of Braille to facilitate the understanding of the space. This means that the real challenge is a complete synthesization of information, so that the different aspects of the space can be communicated and comprehended.
 By integrating a light high relief of 5x5mm square section, the walls that limit each of the dwellings identified to the site have been represented. Thus, the user can distinguish the different dimensions of the houses, while the reliefs indicate when it is an interior space, under a roof, or outside. 
Different materials can be used to understand the concrete designation of every independent space, alongside all the particularities that the designer of the model wants to communicate. To replicate a stone texture for the pavements, a squared pattern is used. The sand pavements are marked with stippling, and the section of the Reguera Condal has been marked with waves.
One innovative step in the process is the construction of these models of a standalone piece with dimensions of 1200x600x12mm. It incorporates the use of stratigraphy (SLA) for a single piece, and is a complete replica of its CAD 3D file.
The use of advanced technologies in this case and its successful outcomes prove the potential of 3D printing for models. It sends a positive message of the future of 3D printing as a means of service to the people.