Barcelona (Spain), February, 3rd, 2022 – BCN3D a leading manufacturer of 3D printing solutions and B2N, an official representative and leading distributor of high-quality 3D manufacturing solutions for South-Eastern Europe, based in Sofia (Bulgaria) announced today their partnership distribution agreement to provide the best possible local experience in the South-Eastern Europe countries. Under this new agreement, B2N becomes the exclusive distributor of BCN3D hardware and software solutions in this area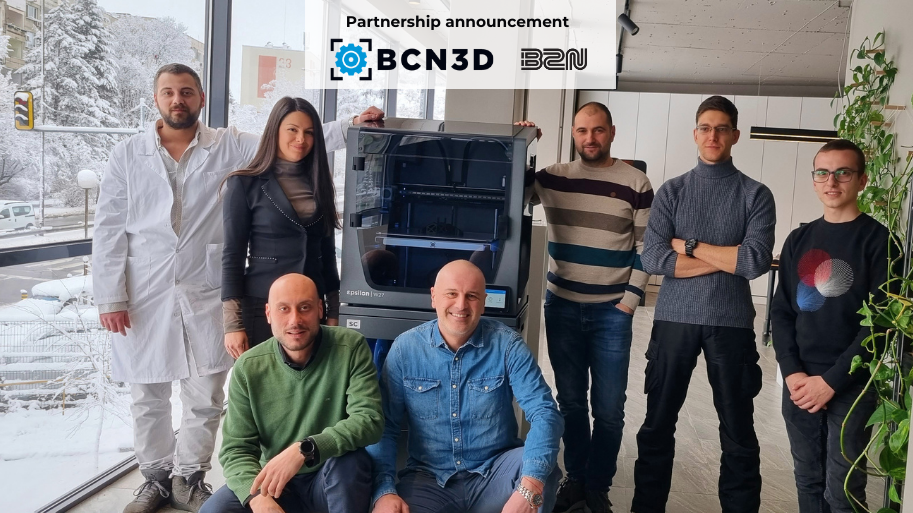 B2N is an official representative and leading distributor of high-quality 3D manufacturing solutions for South-Eastern Europe. B2N's vision is to bring additive manufacturing to every factory in the Balkans so that small businesses and big enterprises can unlock their capabilities for flexible and sustainable manufacturing. B2N provides solutions for rapid product development, production optimization, and innovative product, part, and tool manufacturing.
B2N chose to collaborate with BCN3D because in the past two years we witnessed their steady growth both in terms of technological innovation but also in market share and reliable customer base worldwide. We will be happy to work with the young, motivated and innovative team of BCN3D and further partner with them to reach and satisfy new customers in the Balkan countries. I personally find it appealing and amusing how easy it is to mix BCN with B2N when it comes to the company name, so nothing is happening by accident."" stated by Boyan Pehlivanov, CEO of B2N.
"We are pleased to cooperate with B2N, an alliance which will support us in increasing our sales & support initiatives in the South-Eastern European countries. Their considerable experience in additive manufacturing, combined with top-quality technical know-how, makes B2N the right fit to help us grow and serve in more than 10 countries.", stated Xavier Martínez Faneca, CEO of BCN3D.
About B2N
B2N is represented through a network of local resellers in each of the SEE countries, who offer professional and industrial 3D printers, 3D scanners, software and materials. Every authorized B2N reseller provides delivery, on-site installation, local support, training and maintenance by certified technicians. Part of B2N family are B2N Studio, a professional AM services provider for on-demand manufacturing through 3D printing, 3D scanning, 3D modelling, reverse engineering; Additive Days, a dedicated bi-annual 3D printing conference, taking place in Sofia, Bulgaria and B2N academy, an educational center for professional trainings in using 3D technologies.
About BCN3D
BCN3D is one of the leading developers and manufacturers of 3D printing solutions in the world with an installed base in more than 60 countries. Its main clients include Nissan, BMW, NASA, Camper, Louis Vuitton, and the Massachusetts Institute of Technology (MIT).
Media Contact:
press@bcn3d.com
Barcelona (Spain)