Envision Formula E Racing Team favors BCN3D printers for the production of its bespoke components in the world's first fully electric racing series. The team of sustainability trailblazers leverages the strong and stiff properties of carbon-reinforced materials and faster, less wasteful production with IDEX technology. 
Envision Racing is one of the founding and leading teams in the FIA (Fédération Internationale de l'Automobile) Formula E World Championship, a Championship that is more than just a racing series, it's a battle for the future. Their cars, powered by pure electricity, pave the way for the cars of tomorrow.
The team was part of the series' inaugural race held in Beijing and has gone on to compete in all races to date. During that time, the team has scored more than 1000 points, including 11 race wins and 34 podiums, making it one of the highest points scorers of all time.
Having said this, if you head down to witness the fast and furious Envision Formula E Racing Team in Silverstone, England, there's a high chance you'll also see BCN3D printers making an appearance at the side of the race track!
Senior Technician Matt Roberts elucidates how FFF technology has sped up their production process immensely and brought their material wastage down to almost zero.
"We got into 3D printing because it gives us a lot more scope to make bespoke products very quickly, very efficiently, and at quite a low cost." – Matt Roberts, senior technician at Envision Racing.
What Envision Formula E is all about
Envision is one of the biggest wind turbine manufacturers worldwide. With Formula E being the world's first fully-electric racing series, one of Envision Racing team's main objectives is sustainability, namely by furthering the adoption of e-mobility and renewable energy across the globe to achieve the goals of the Paris Climate Accord. Its "Race Against Climate Change" (RACC) initiative has earned them titles such as the only Formula E team to be certified carbon neutral by Carbon Trust and the only team in world sport to partner with COP26.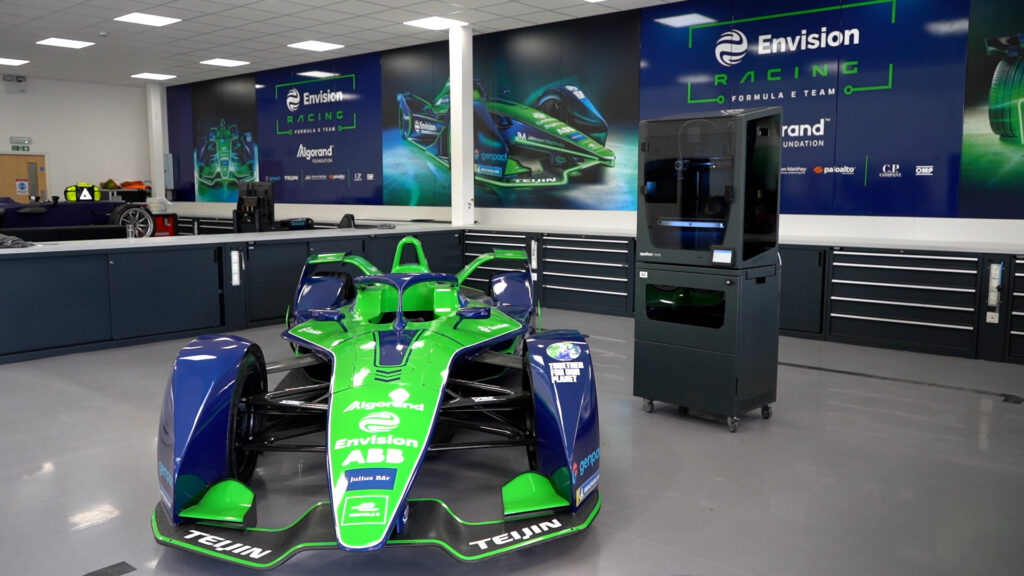 The technicalities
In the past, Envision Racing turned to external suppliers for its production of parts which required costly and timely patent making and mold production. Now the team 3D prints the parts in a matter of hours with IDEX technology, wraps them in carbon fiber, and puts them straight to use. All this plus the daily use of this printer have meant that the initial investment in the BCN3D Epsilon W50 has paid for itself in one turnaround.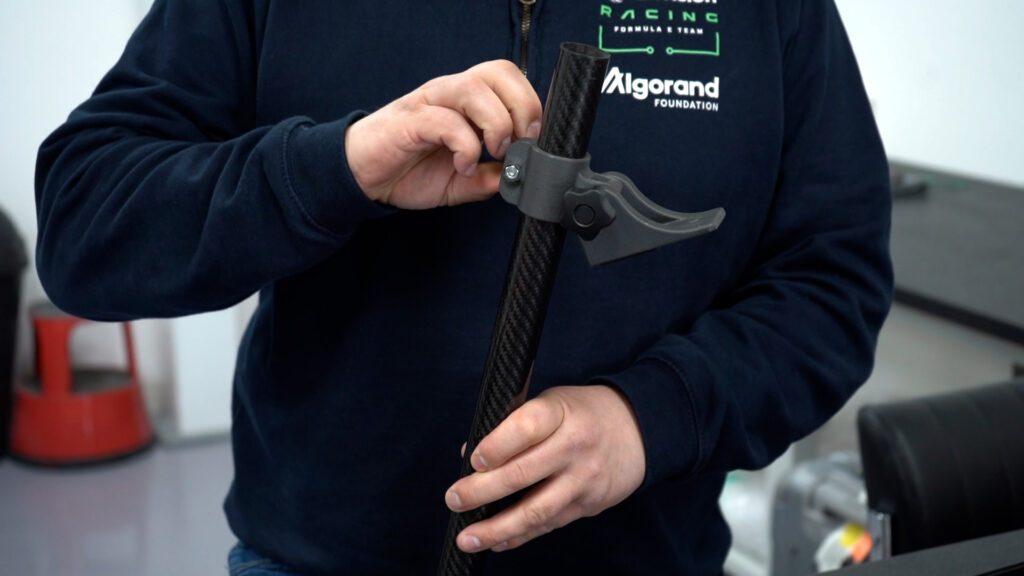 The end-use component shown above can be found in the engineers' station and allows them to set their monitors at just the right angle and height while racing. Carbon fiber reinforced materials are a precious commodity at Envision Racing; PET CF15 is used in this case for its remarkable combination of stiffness, lightness, and versatility.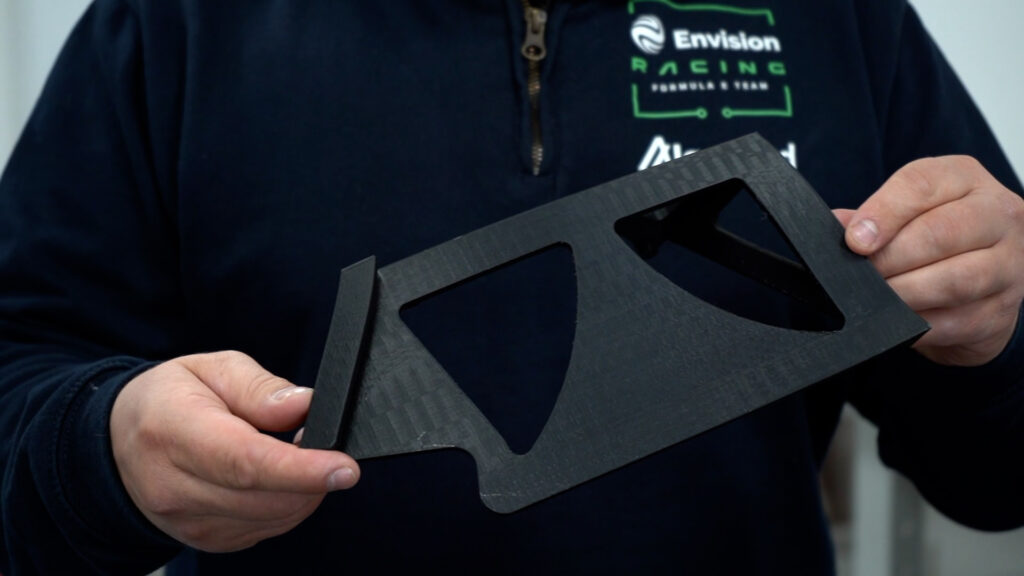 This prototype made from PLA functions as the splash that sits on the front wing and holds the aforementioned fan. Manufacturing this part traditionally would require a 5-axis CNC machine, which would also entail a large amount of waste and a lot of money. With 3D printing, its complex shape and compounding curves can be obtained easily at a low cost. 
"There's zero waste and it costs tens of pounds rather than hundreds of pounds." – Matt Roberts, senior technician at Envision Racing.
Where durability and high-quality matter most, the BCN3D Epsilon W50 has proved itself a top contender for the production of both prototypes and end-use parts. 3D printing is just one way of drastically reducing carbon footprints and the Envision Formula E Racing Team continues to develop new applications and explore more avenues to combat climate change.