Many businesses willing to incorporate the 3D printing technology into their workflow face the challenge of deciding whether to use 3D printing in-house or outsourcing to a specialist 3D printing service bureau. There is no one-size-fits-all solution for this question, but our whitepaper will offer you a complete guide of which are the main factors to consider in order to make the right decision in every case.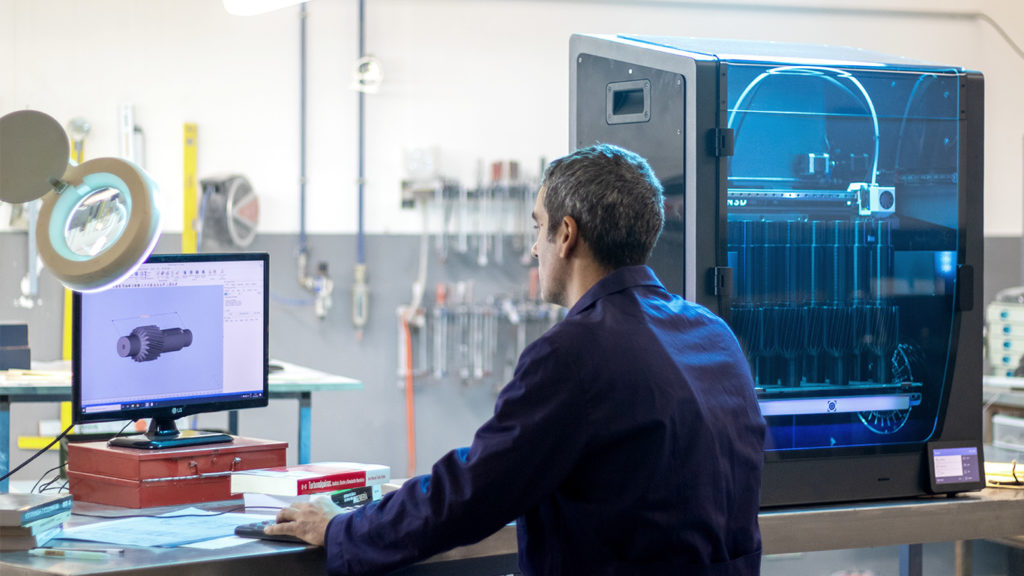 3D printing technologies are revolutionising the way things are manufactured, allowing companies to speed up their product development processes and production. If some business is planning to introduce FFF Printers into its workflow, it is crucial to understand the several alternatives users have when they need to print their models:
Service Bureau
They are better for low volume production and small tests. They offer several types of 3D printing technologies and a wide range of materials.
It is the right choice when considering manufacturing less than 10 pieces per month, especially if those parts require non-standard materials or various technologies. In most other cases, this is by far the slowest and most expensive option.
Professional desktop printer (in-house)
Desktop 3D printers are excellent when parts are needed quickly at a very low cost. To print large batches of parts (more than 200) per week,a 3D printing farm can be a right choice, at the same cost than an industrial printer.
In addition, they offer a wide range of materials with which to print.
Industrial printer (in-house)
Industrial 3D printers are a solid choice for large batches of parts (200 a week or more) fabricated in advanced materials and with high dimensional requirements (± 0.127 mm).
A specialized operator is necessary to manipulate this kind of machinery.
Professional desktop 3D printers compared to industrial printers and outsourcing
Should the number of parts to produce be low and the usage sporadic, there is the option to outsource the 3D printing through a service bureau. If the plan is to work in a medium-long term project, the acquisition of 3D printers can reduce costs significantly.
This acquisition implies an initial investment, but then the price per part becomes approximately 30 times cheaper.
· Costs
The initial investment is the first significant difference between both types of in-house
3D printers, as the price of an Industrial FFF Printer is at least 20 times the price of a Professional Desktop Printer. Material costs are lower in the latter case, and maintenance costs are also much lower, as the purchase of an industrial FFF printer includes a mandatory service contract.
In the case of outsourcing, the initial investment is zero. Outsourcing is a good first step for companies who are assessing the possibility of incorporating 3D printing technologies in-house, in order to validate if it is really what they need.
· Lead Times
The leading times are approximately the same for in-house 3D printers. An Industrial FFF
Printer can normally handle higher number of models in a single print job due to its massive printing volume. However, some Professional Desktop Printers can reduce lead times using high-productive printing modes. These modes can print two identical parts or one part and its symmetrical one simultaneously, doubling the productivity.
Regarding lead times for outsourcing, they are much slower than in-house 3D printing, taking up to several weeks.
· Accessibility
Professional desktop printers can be used by anyone, as their setup and use are intuitive. The interaction with the machine is simple and prepared for non-expert users, including guided and detailed assistants. Since the use of an industrial printer is normally more complex, it requires specialized technicians and dedicated workspaces.
Which solution better fits your needs?
Each technology has its own benefits and applications, so the answer to the following questions about your 3D printing needs will be crucial when choosing the best solution for your company.
· What is my budget?
· Does my company have specialized equipment to support the 3D Printer?
· Do I have a need to print out mechanically demanding parts?
· Will there be designing and application versatility?
· How many printed parts does my company required?
· What is the lead time my company requires?
Would you like to know more about 3D printing? Check out the following white papers:
Ready to save time and cut costs with a BCN3D printer? Request a customized quotation for a BCN3D Printer.