Jordi Bordas, Pastry World Champion and creator of the B·Concept recipe formulation method, uses the BCN3D Sigma 3D printer to produce pastry molds to shape their latest pastry product, the Golden Peanut. 3D printing technology has allowed Jordi and his team to unleash their creativity and produce this unique fascinating dessert, turning pastry into an even more artistic industry.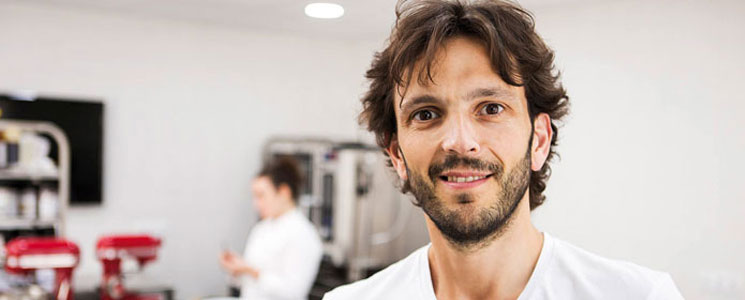 Jordi Bordas, the World Pastry Champion in 2011, is a pastry chef who is revolutionizing the pastry field. Since then, he's been investigating and developing new recipes, opening a pastry school in Viladecans devoted to R&D of new pastry products.
Creation and Development of the Golden Peanut
His last project was making a product whose main flavour was peanut, giving it the shape of a peanut itself, called Peanut Gold. As Jordi and his team didn't find any mould that suited their needs, they realized that they would have to create it themselves.
Inspired by Dinara Kasko, who had also worked with 3D printed moulds for food, Jordi got in touch with BCN3D Technologies, as it is one of the main 3D printers manufacturers. Besides, using 3D printed parts to create food molds is becoming more popular, as 3D printers have always been used to print chocolate in food industry.
There are some alternatives to make moulds for pastry, as creating master models or working with CNC machines, but they are more complicated to use and normally imply more costs. With 3D printing, moulds can be done easily and with complex shapes, getting the best results.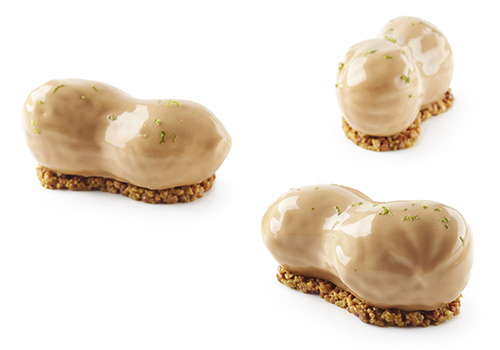 Once the collaboration started, BCN3D Technologies proposed a solution to his needs: to print the peanut with PLA on a scale that'd allow Jordi to create the mould for the Peanut Gold. Then, Jordi's team created the peanut 3D model with CAD software as reliable as possible.
Using a Sigma R19, BCN3D team could print the 3D peanut in high resolution using a 0.3mm hotend, to shape every detail of the model with a smooth surface. 3D printing technology is ideal for producing customized moulds for low-volume production, as it reduces times from weeks to days and reduces costs significantly.

Once the prototype was made, it was enough to print an external structure to be able to pour inside the liquid silicone that, once hardened, would become the mould.
In the following video it is shown a time-lapse of all the printing process and mould production.
https://www.youtube.com/watch?v=Ys_wobnoUz4