Working from home at least a few days per week is becoming the norm for many companies across the globe in modern times, even more so in the last weeks due to the Covid-19 pandemic. A good organisation and counting on the right resources will help you keep your 3D printing rhythm no matter your whereabouts!
The growing health concerns due to the Covid-19 pandemic are driving many companies to alter their usual workflows in order to give priority to their staff's health and wellbeing. One of the most common measures businesses are resorting to is to try and facilitate working from home as much as possible.
Implementing home office seems to be one of the best solutions to keep people safe and sound, and stop the virus from disseminating, but it's not always an easy task to ensure efficiency in this context, specially for those roles which require physical tools and not just computer and internet access.
Find here our recommendations on how to stay productive and connected with your team:
Decentralize your 3D printing farm
At BCN3D, we ourselves have distributed a big number of printers among our entire Design, Development and even Marketing teams, to such a degree that we count on one of the largest decentralized 3d printing farms in Spain, enabling our staff to continue working on new ideas and applications from their own homes.
The secret to this is to carefully pack and transport each 3D printer in its original box and with all its protections. You can find here the unboxing instructions for our Sigmax and Sigma 3D printers, which will also help you box them properly for transportation.
Once the machines have arrived to their new temporary location, it is crucial to carefully proceed with the calibration process, to ensure that the trip the printers just took had no affections in their printing quality. You can find the set up and calibration instructions for the Sigma and Sigmax on our website.
Also, don't forget to check out our guide on how to ensure a good calibration for 3D printing in multimaterial mode!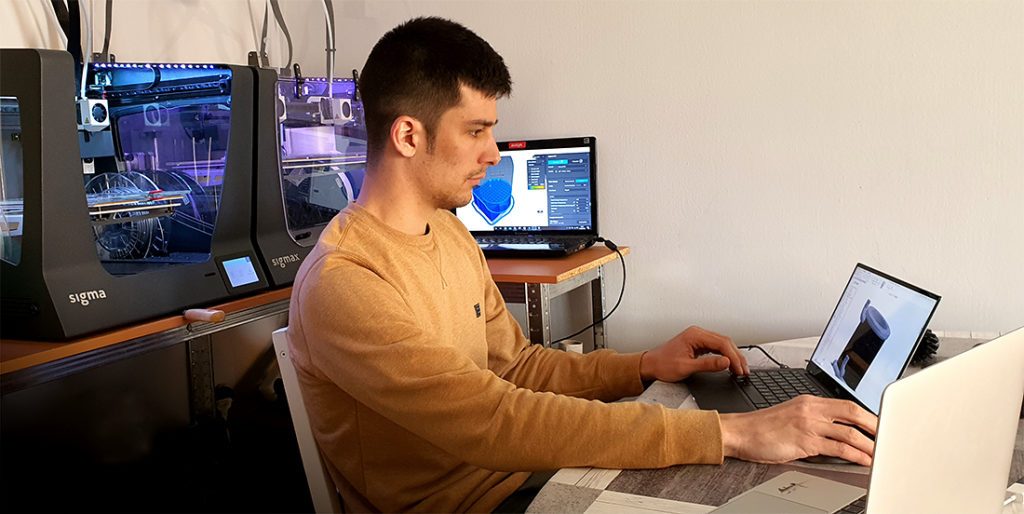 All of our 3D printers have been designed to provide a safe environment for those around it, and can be used at home at no risk for you or others who might be present during the 3D printing process. 
Also, most of the materials commonly used in FFF 3D printing, such as PLA, PET-G or TPU, emit no uncomfortable odors, ensuring a comfortable experience for everybody at the household.
Stay connected with BCN3D Cloud
The recently released BCN3D Cloud allows you to manage your 3D printers and stay informed about their operation wherever you are. 
In circumstances like the ones we are facing, this free solution enables you and your team to streamline the 3D printing workflow, allowing you to directly send print jobs from anywhere, to monitor a group of printers even if they are placed in different locations, and to easily share your printer with other teammates.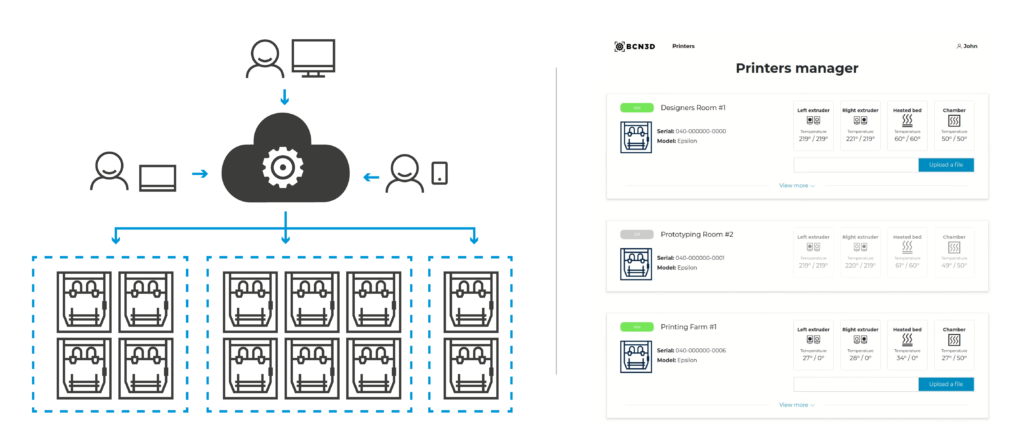 Location becomes, then, irrelevant and production can continue independently of the whereabouts of most members of the team.
In need of parts or tools? 3D print them!
The current work disruptions are generalising, and not only your own business can be affected, but also those of your external suppliers as well. If you find yourself in the need for parts that are taking too long -or not being delivered at all- or tools than you cannot purchase at the moment, try temporarily 3D printing them!
At BCN3D we like to lead by example, and this is the procedure we have been following for a while with our own 3D printing farm. Take a look! 
Maybe not all your parts or tools can be made of plastic, but this solution will allow you to buy some time and keep your production running despite the circumstances.
You can find some inspiration in the work that TensaBelt and NGNY are currently doing – you might end up discovering a solution to reduce costs and time in the long run!
Too much free time? Find a 3D printing project to focus on
All these recommendations can be very useful regarding how to keep production running, but these days disruptions not only affect work, but also our free time and that of those around us.
With extra time in our hands and the firm will to stay in as long as possible to prevent spreading the Covid-19 further, we have prepared a little repository of fun and useful projects you could focus your energy on – even involving the rest of the family on the process!