The key components of a 3D printing quality management plan boil down to the requirements your printed parts have to meet. In this article, we discuss what the plans for relatively new aspects in the industry entail. We cover hot topics such as food-safe 3D printing and biocompatibility.
Any successful 3D printing process needs to come with an unwavering quality management plan. New uses for 3D printing, such as the production of food-safe products and biocompatibility, means that no two plans are the same. Let's take a look at why it's important to ensure your printed parts adhere to the quality specifications you set out. 
Flying with flight-safe printed parts 
For 3D printed parts that need to meet flight safety requirements, properties such as flame retardancy, toxicity and weight are of even greater importance than usual. It is also important to keep in mind the potential variables of 3D printing. For example, if two people print the same part, there could be differences within the infill or orientation. This means that just because the material is certified, doesn't necessarily mean the part is.
Strategists at company Sabic dedicated their time to certifying machines, materials, and processes and now create a variety of products safe for in-cabin uses, such as:
lighting and signage

trolleys

overhead bins

seat cladding
Constructing a food-safe quality management plan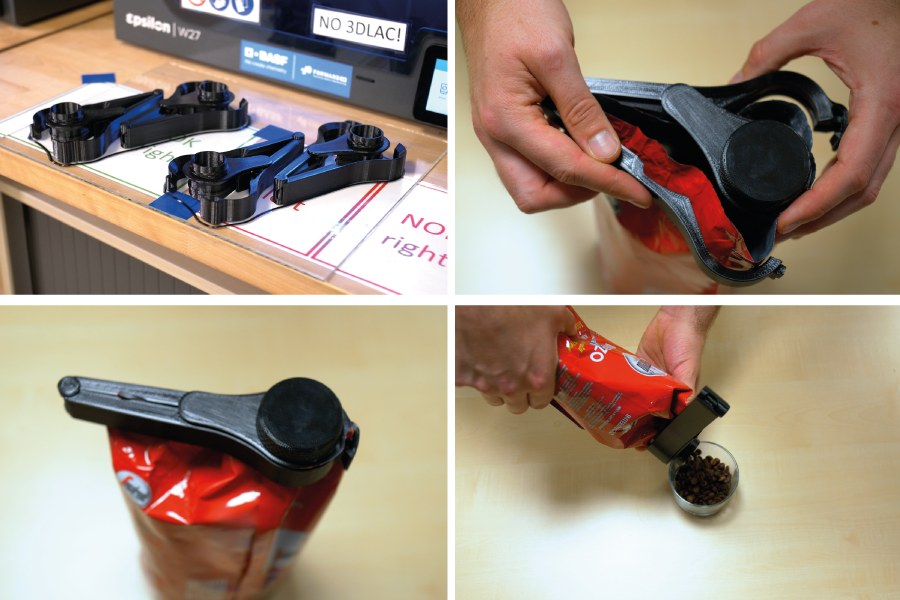 Food-safe 3D printing is an exciting prospect and becoming increasingly more popular day by day. 
Since the printed plastic is coming into direct contact with food being consumed by customers, the quality management plan set in place here needs to detail each step in the process. You'll require a printer dedicated to this purpose only and locked down to just one material. If you print a part through a machine that's already printed with ABS, your part will be contaminated through the leftover material in the nozzle. You also need to consider the use of adhesives on the print bed. You have the option of sterilizing the part afterward or removing the use of adhesives altogether. 
A good example of this strict manufacturing process is Replique and BASF Forward AM's processes for domestic goods manufacturer Miele. 
About 90% of food-safe plastics are colored blue for clear contrast between them and consumable goods. PET-G is an example of a food-safe 3D printing filament. Furthermore, metal detectable PET-G is suitable to be in direct food contact, as it can be detected in food production lines so any rogue toolings parts can be identified before the goods are packaged up.
Revolutionary biocompatibility 
A perhaps lesser-explored avenue for 3D printing is that of biocompatibility. Although many materials are biocompatible and would in theory cause you no bodily harm, doctors and laboratories are of course not permitted to do so without strict certifications. 
A variety of different qualifications exist in this field. First, we have certifications in categorizing the type of device. For example, you could be working with a surface device, external communicating device, or implant device. Then we have the amount of time the device can be used, according to the biological effect on the body. For materials used directly on the skin, the duration is usually classed as below 24 hours, 24 hours to 30 days, or above 30 days. 
An obstacle for 3D printing in this area is that printed parts are not normally smooth. If they are porous, bacteria can grow and attach itself to the part in these openings. However, if smoothed, the part can be completely sterilized and wiped clean. AMT provides this service with a vapor smoothing machine, which the printed part goes through to completely seal its surface. In this case, the whole process needs to be certified. 
The applications for 3D printing are ever-changing and slotting into new applications and industries. In this article, we've touched upon flight-safe and food-safe printing, biocompatibility, and why these cases require a quality management plan set in place. If you're curious to learn more about the behavior of materials and their possible uses, be sure to check out our guide on fiber-filled materials for FFF 3D printing.