The tremendous lack of protective material for sanitary professionals fighting the Covid-19 crisis prompted us to start working on designing, prototyping, and producing parts to keep these professionals safe and comfortable while performing their essential work. In just a month, more than 4,200 reusable face shields from BCN3D have reached over 50 hospitals and health centers across all of Spain.
Business Case "Doubling productivity in times of crisis"
If there is something that we know about at BCN3D, it is fabrication, and in the midst of some of the most difficult times many of us have ever faced, with a global pandemic taking lives and forcing us all to take drastic measures to prevent the Covid-19 virus from disseminating further, we knew from the very beginning that we wanted to put our knowledge at the disposal of others.
From the first moments of this crisis, it was clear that healthcare professionals would be at the battlefront – and that they were nowhere close to counting on the protective material they needed to stay safe. As BCN3D's CEO, Xavier Martínez Faneca, puts it, the course of action was clear: "in a crisis situation like the current one, and counting on technology such as 3D printing, the least we could do as a company is try and help healthcare workers as much as possible".
Everybody at BCN3D wanted to be of service, and once this necessity was identified, a volunteer team involving more than 40 employees quickly started working -together with healthcare providers, government organizations, and our network of professionals- on designing, prototyping and producing different parts that could be used by any healthcare professional in need.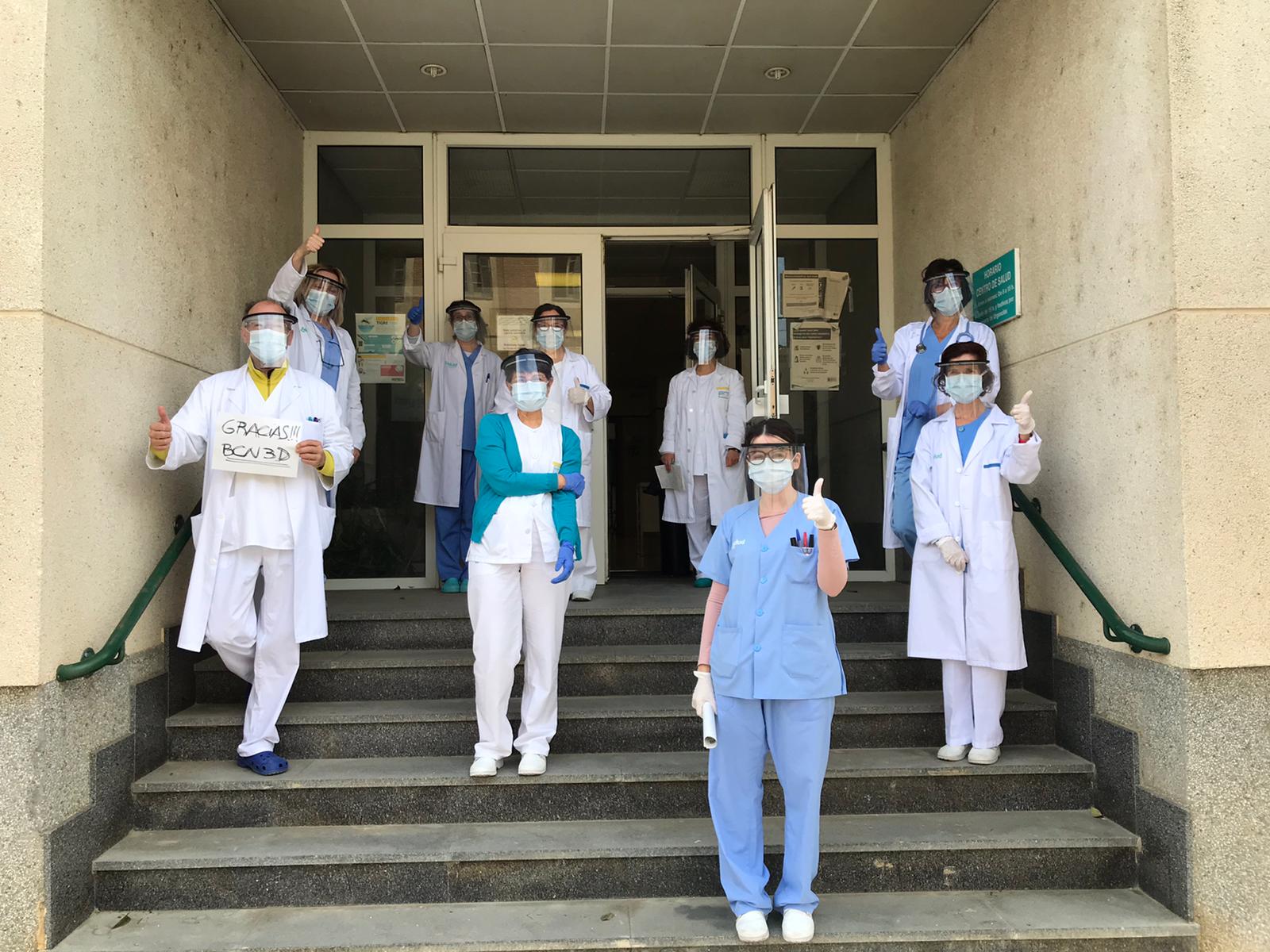 Functional validation: when comfortability and safety are key
In just a few days, the first 100 units of our protective facial shields were ready for functional validation by the staff at hospitals Sant Joan de Déu and German Trias i Pujol, amongst other health centers in Barcelona. This was a crucial step for the team, since it was vital to ensure that all pieces distributed were useful and safe to use. In the words of BCN3D Farm Technician Ignacio López, "one of the most difficult tasks was to fabricate the parts to be ergonomic and comfortable for the staff while, of course, keeping them protected".
The design of these shields, as Antonio Aranzana, Covid-19 Project Manager, explains, was then "based on three main requirements: comfortability, adaptability, and safety". The decision was to fabricate the parts in PET-G "because of its high chemical resistance," so that the pieces could be thoroughly disinfected repeatedly without getting damaged. Therefore, "by using PET-G, we achieved a completely reusable solution".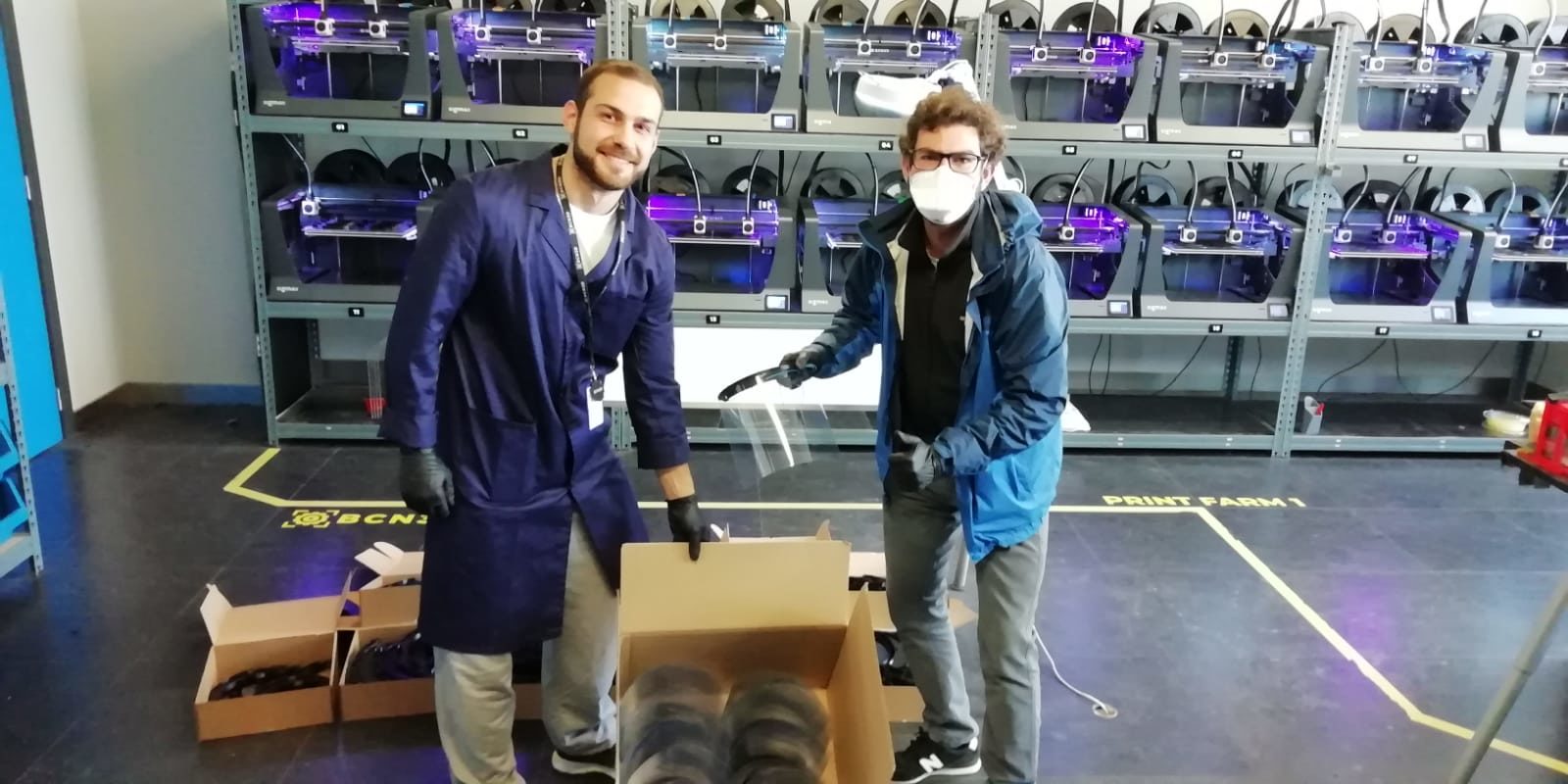 Fabrication: optimizing to the maximum thanks to IDEX
Once we counted on the final validation of healthcare professionals, the BCN3D team turned full-steam to fabrication, in order to produce the highest number of protective face shields in the shortest possible amount of time.
For this purpose, we dedicated fully our own print farm, counting on a total of 63 3D printers, to the fabrication of parts. Download our business case to find out how we could optimize the process to the maximum thanks to our IDEX technology, which allowed us to keep our high-quality standards while quickly fabricating thousands of parts.
Business Case "Doubling productivity in times of crisis"
Production: a whole community united to help
However, this process encountered a big challenge along the way: as Additive Manufacturing Specialist Jesse Wiggins explains, we could quickly fabricate the 3D printed parts without issues, but in a society immersed in a general lockdown where all commerce had been put on hold, "we didn't have enough elastic bands, we were lacking glue, we couldn't find screens…" This absolute lack of materials meant that production would soon come to an end.
Thankfully, the whole community in the Castelldefels area, where the BCN3D Headquarters are located, was extremely swift to jump in and offer help: "they have been extremely generous," confirms Wiggins, "going out of their ways and dedicating time and resources to find and donate all the material they could get."
Thanks to this involvement from the local community, plus more than 400 volunteers from all corners of the world who offered to contribute by 3D printing parts for the protective face shields, in just a month more than 4,200 units have been distributed to over 50 hospitals and health centers, plus dozens of nursing homes and pharmacies all over Spain.
Business Case – Doubling productivity in times of crisis
In a crisis situation like the one we have faced in the last month, we have been able to see for ourselves once more the great capabilities of 3D printing for low-batch production. It is now more clear than ever that our world changes without notice and that additive manufacturing can help to be prepared and to tackle these changes quickly and efficiently.
These past weeks, IDEX technology has revolutionized again the BCN3D production workflow, doubling productivity while maintaining a reasonable hardware investment, and allowing us to keep our high-quality standards while quickly fabricating thousands of parts.
Find out more about how we have optimized the production process to the maximum:
Business Case "Doubling productivity in times of crisis"
White Paper: IDEX Technology, Doubling Productivity While Halving Costs
This all-encompassing white paper will help you understand how IDEX works, how it came to life, and its main differences and benefits compared to single- and dual extrusion. Download it now for free!