Dutch company Yuugn creates 3D printed light fixtures for office buildings, commercial spaces, and schools while putting a focus on sustainability. 
Multiple times a day, we turn on our lights with the flick of a switch, most probably without considering the vast amount of energy being depleted from each bulb.
Lighting company Yuugn in the Netherlands thinks a little differently. This branch of brand Lichtdivisie designs and produces environmentally friendly light fixtures to cater to projects of all needs and specifications. With a name derived from the Japanese word for being at one with nature, they follow through with this philosophy with the help of some BCN3D Sigma D25 printers, in order to minimize waste and utilize biodegradable materials. 
"As a company, we feel responsible to produce environmentally friendly products in order to reduce the pollution of traditional methods."  – Luisa Cisneros, Marketing Manager at Yuugn.
CEO Martijn Broekhuis' light-bulb moment came during his studies of architecture at the University of Delft. After creating a modern chandelier for a side course in light fixture design, his professor noticed that this was something he could make a living out of and the rest is history.  
The 3D printed light fixtures up for grabs
We decided this was something we had to see for ourselves, and so we took a trip to the Yuugn headquarters in the Netherlands that hosts 3 Sigma D25s, used for both prototyping and end-use parts. 
Let's take a look at 3 3D printed light fixtures that caught our eye.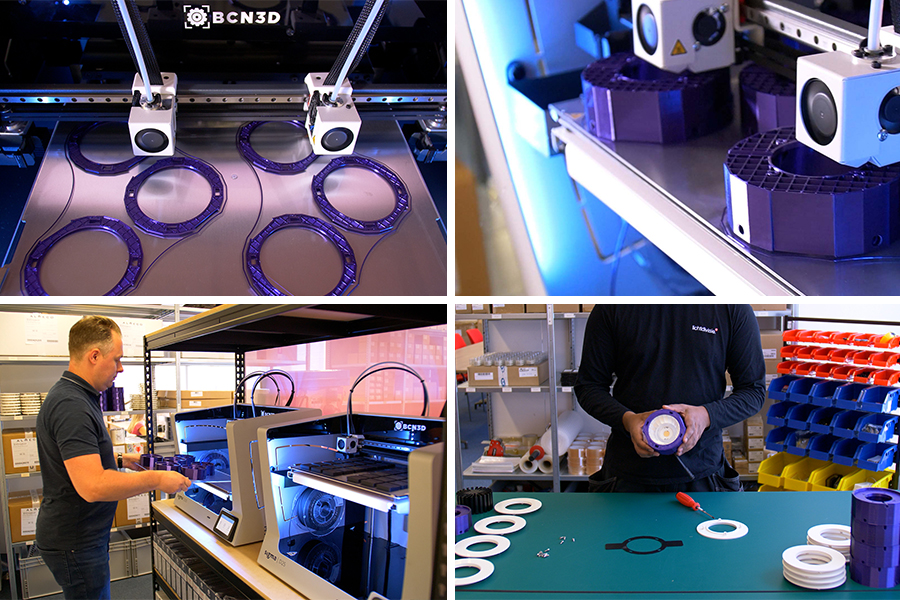 In a striking metallic purple is the body of a vortex downlight, a fixture installed into ceilings to direct light downwards. The ring of the vortex downlight is also 3D printed, with the visible parts facing down on the glass, resulting in a really good quality finish. For this piece, biodegradable PLA enhanced with carbon fiber is employed for its strength and resistance to high temperatures, two vitally important considerations in the lighting industry.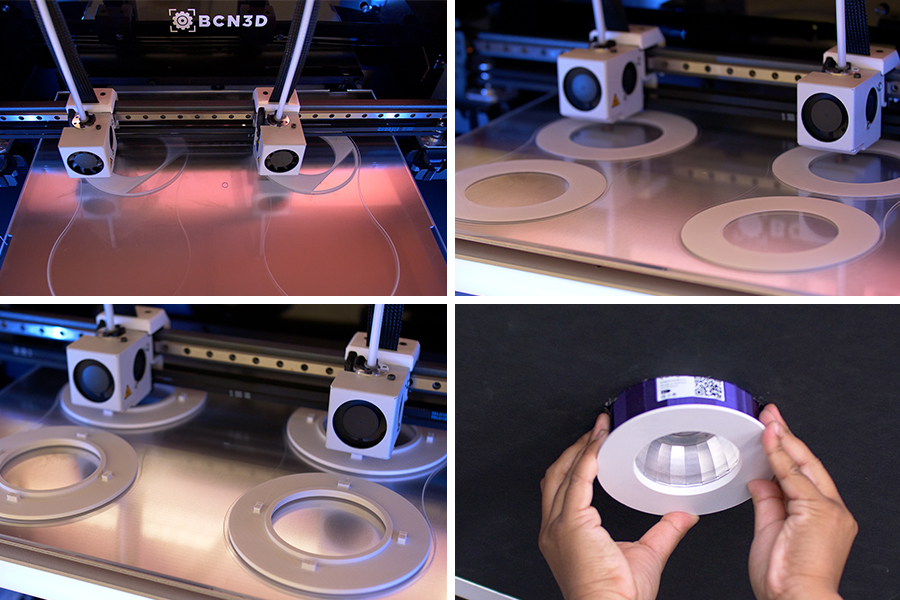 The side caps of the ZIP module 60 LED fixture ensure the components stay in place and feature the brand's logo. These parts are also printed in PLA with carbon fiber. 

Since each product requested from clients differs, customization is key for Yuugn. The journey from the idea, to Stratos, to the printing gives the team the freedom of flexibility to give client's products fully compatible with and customized to the specific needs of their projects. 
How does Yuugn stay sustainable?
The possibility of 3D printing in duplication mode was paramount in their decision to acquire a production method that could reduce their carbon footprint. 
"With duplication mode, you get two 3D printers for the price of one." – Martijn Broekhuis, CEO of Yuugn.
The IDEX technology in their Sigma D25s is saving time, money, and the planet. It also allows for fast prototyping of the customized pieces required for each client, and the ability to produce locally also contributes to a more ecological output. 
"I would recommend the 3D printers of BCN3D to all companies who want to experiment with more environmentally friendly production methods." – Martijn Broekhuis, CEO of Yuugn.
The Yuugn team has a keen interest in scoping out the most environmentally friendly materials. The 3D printing process allows the team to use organic compounds and biodegradable materials made from renewable resources. Right now, they are researching recycled materials, specifically one created from PET bottles that comes in a soft texture and a variety of different colors, that can be teamed with 3D printed parts for an efficient process and high-quality end product. 
So what lies ahead for the bright future of Yuugn? The company hopes to continue in its exploration of new eco-friendly materials and one day use solar power as a direct way of powering its printers. The pairing of the values that Yuugn deeply cares about with 3D printing as the tool that allows them to do so is allowing the company to set the standard for other manufacturers hoping to make a difference.