In 3D printing, using PVA filament as a support material allows you to obtain geometrically-complex parts without damaging the print quality. In this guide, we share our experts' advice to optimize this material to the maximum, ensuring the best results at the lowest possible cost.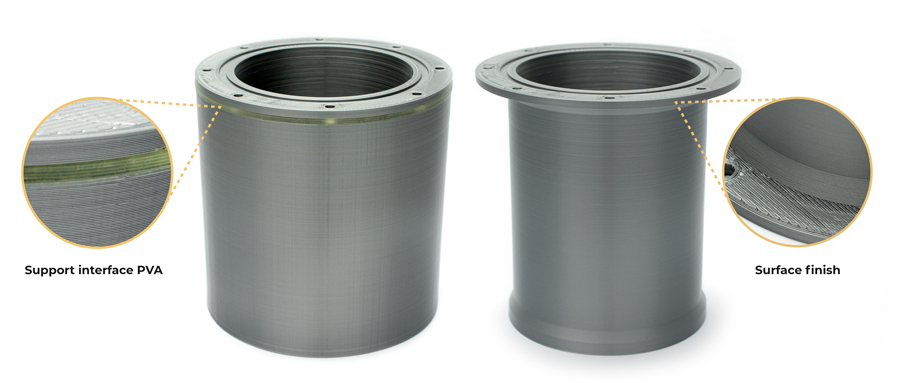 PVA (Polyvinyl alcohol) is a water-soluble thermoplastic, widely adopted as a support material for FFF 3D printers. PVA filament supports allow you to achieve a better surface quality, orientate the part to achieve better mechanical properties, and even print multi-component models and mechanisms.
It is, then, a very useful material to obtain geometrically-complex parts while maintaining a high-quality finish. Thanks to the BCN3D Stratos software we can optimize this material to the maximum, using it only where it is strictly necessary: ​​at the contact points with those parts of the model which require support. This way, we will keep the quality while using the minimum amount of PVA possible.
By enabling the support interface option within BCN3D Stratos, we generate a dense layer between the model and the supports. Then, a skin is created in the upper part of the support to deposit the model, or in the lower part of the support resting on the model.
In order to configure this interface to only work with the water-soluble material, we will select the extruder loaded with PVA in the option support interface extruder *.
In this case, we have selected a model that requires supports on the outside of the piece and must obtain an impeccable surface finish. If all the support is fabricated in PVA, 85 grams of this material would be used. On the other hand, if we activate the support interface with PVA and fabricate the rest of the supports with the same material as the part itself, the amount of water-soluble material to use is reduced to only 3 grams.

According to these calculations, while a single PVA coil would allow us to manufacture 5 pieces in the first option, with the second possibility a total of 166 pieces can be obtained from a single PVA coil.
By following this procedure, therefore, not only the total printing time of each part will be significantly reduced, but the use of water-soluble material is strictly limited to what is strictly necessary and, thus, cost efficiency and the maximum optimization of each PVA coil are guaranteed.
* This option can be found within BCN3D Stratos in Settings -> Configure Setting Visibility -> Support.
** To carry out the actions detailed in this guide, it is important to ensure the correct calibration of the 3D printer in order to work in dual extrusion. You can find our tips to get an impeccable calibration in our guide.